The prominent professional choir of Turkey will perform new pieces for its new season. Having carried out many national and international projects for 29 years, the State Polyphonic Choir is getting ready to present exciting concerts in the new art season under the baton of Burak Onur Erdem.
A capella concerts with songs from the Renaissance to the contemporary period, an anthology from Johann Sebastia Bach's "Matthauspassion," contemporary composer Giya Kancheli's "Styx" for solo viola, choir and orchestra, and İsmail'in Öyküsü (İsmail's Story), which was composed by Hasan Uçarsu inspired by Nazım Hikmet's Kuvayi Milliye Destanı (The Legend of Turkish Revolutionaries) are among the prominent programs for the season.
The Walter Strauss Choir Conductorship Master Class, which has provided an important chance to young choir conductors in past years, and the Polyphonic Choir Composition Competition, which attracts great attention, are also on the schedule.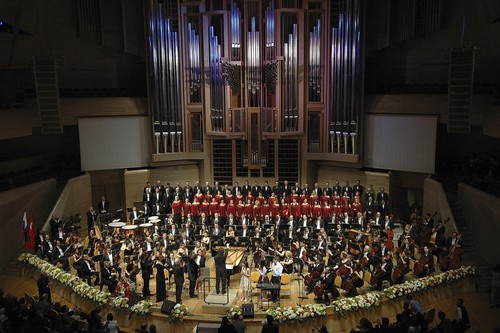 Symphonic choir pieces from all over Turkey
Classics such as Mozart's "Requiem" and Beethoven's 9th Symphony, as well as Beethoven's "Choral Fantasy," which will be played by İdil Biret, an important pianists in Turkey, join Gustav Holst's "The Planets" and "Misa Tango" by Martin Palmeri and Luis Bacalov.
A capella goes mobileın spring
The State Polyphonic Choir will present a different program this season. After the program, titled "Journey," in November, "Sounds of Hometown," which brings together pieces by contemporary Turkish composers such as Hasan Uçarsu, Sıdıka Özdil and İlhan Baran, are on offer in April.
The program "Italian Breezes," which will be under the baton of guest conductor Lorenzo Donati, will be performed in February. The choir will also perform Martin Palmeri's "Misa Tango" with a special bandoneon, piano and choir version prepared by the composer for the Boğaziçi University Classical Music Events. In addition to this, the choir will reach thousands of children around Ankara with an educational concert series as it has done every season and continue to introduce choral music youngsters.
Choir conducting master class with Lorenzo Donati
Dedicated to veteran conductor of the choir Walter Strauss, the Choir Conducting Master Class, which will be held for the third time this year, will host Lorenzo Donati from Italy. The State Polyphonic Choir will open its doors to young conductors for education that will continue for a week with participants from around Turkey. After the master class in February, Donati will perform a concert on the Italian Renaissance with the State Polyphonic Choir.
Polyphonic choir composition competition
The choir, which works to enlarge it's a capella repertoire this season, is holding an a capella composition competition for Turkish composers under the aegis of the Culture Ministry Directorate General of Fine Arts. Awarded works will be performed by the State Polyphonic Choir.
Famous composer Eurico Carrapatoso composed Nazım Hikmet's poem "Söz" (Promise) for the choir in 2017. This new song was composed at the gala concert of the Portuguese Choir Festival in June 2017. The choir will again order a Turkish poem from Italian composer Giovanni Bonato this year as part of this tradition. The first performance of this work will be in Ankara in February 2018.