Allen Hulsey, who is originally from New York and currently lives in Istanbul, is known for his music, songwriting, and performances. Hulsey's father was deployed in Turkey when he was a child, so he spent some of his childhood in Ankara and Konya. It was during his boarding school days in Germany that he realized music and guitar were his passion. After gaining recognition for his voice, Hulsey knew he was good enough to perform on stage and moved back to New York. Hulsey worked with various groups until 2012 and performed a few concerts at major events in New York such as at the Gramercy Theater, Bowery Ballroom, Mercury lounge, and Bowery Electric.
During his time in Boston, he also studied Child Psychology, Music and Literature for Children and Child Development between the ages of 0-6 and worked with children in New York's most successful educational programs. In his lessons, he says he works with both English and Turkish songs. He believes that the most appropriate teaching methods for children are interaction and positive direction.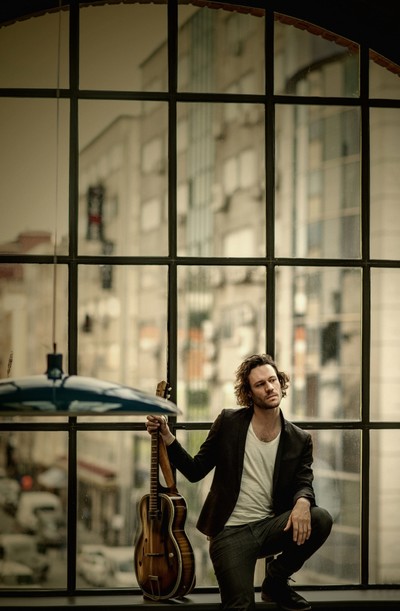 Daily Sabah: How did you get started with music and start songwriting? What was your first big break in the music business?
Allen Hulsey: At the age of 13, I started playing guitar and began writing songs almost immediately. However, I didn't start singing until I was 20 years old. I would consider my first break as getting a scholarship to attend Berklee College of Music and after being hired as a lead guitarist in the band Emperor City Motorcade.
D.S.: What's your typical songwriting process? Do you write lyrics upon request for TV commercials?
A.H.: I think most writers can produce songs upon request but I believe that really great songs come almost all at once. In my experience my best work has come to me rather quickly and without much effort. However, there is something to be said for the meticulous process of working on a song over a long period of time.
D.S.: You are a musician from New York who decided to continue his adventure in Istanbul. What is the story behind it?
I think I was fated to move to Istanbul. At first this move was not intentional but when I look back I am very glad that I settled down and had the chance to learn so much about Turkish music and culture. Right before I came to Istanbul, I was living in Brooklyn and two of my bands broke up and in the meantime, I also ended a longer relationship with a girlfriend. What started as a vacation turned out to be a five-year journey.
D.S.: You have graduated from one of the best music schools, Berklee College of Music. Do you think being a foreign musician in Istanbul comes with an advantage?
I think that musicians have to create their own luck and advantage. Doing business as a foreigner is definitely difficult but I think that I did a pretty good job of finding the right crowd that appreciates my music. It is important to get specialized knowledge from different regions or culture and ultimately to combine opposing elements to create a new situation.
D.S.: Why did you choose to launch your first solo album "Whiskey & Blues" in the first place as a label when on the other hand the market is headed for more technological productions?
"Whiskey & Blues" is a very under-produced and natural album that was released from Noiseist Records. My goal for that album was never aimed at commercial success but more of an autobiographic album that I needed to release for my own development. I currently perform with my new band "Monality," which is an electronic music duo that has a lot more production and a more technological aspect.
D.S.: How did you start your music career in Istanbul? As far as I know, you don't work with a manager. Do you feel like you have to have the control all the time?
I don't think anyone ever has control but our daily actions do define what comes back to us. I like to make plans and set goals but there are no guaranties in life. Music is a tough business but I think self-motivated people with a good method of self-analysis are bound to succeed. I choose not to have a manager simply because I have not found someone who is as dedicated and hard working as me, but I would love to.
D.S.: What do you think about the Turkish Music market? What are some of your latest projects?
I think the Turkish market is similar to most other markets but does have room for growth as far as stage production and mixing go. My latest project is "Monality" and we are currently working on a new EP to be released from a European electronic music label.
D.S.: How can you speak Turkish so fluently?
I made it a point to hang out with more Turks than foreigners, that is probably my biggest advantage, plus, every day I try to learn a new saying or some kind of slang.
D.S.: Were there any times that you were penniless? How did you cope with this?
Yes, I have definitely been broke and homeless before. In those times you have to just keep moving and pull yourself up your own boot straps, as they say. I didn't really learn how to manage money well until I was around 26 or so. It's hard to make money in music but with the right planning it can happen.
D.S.: Apart from your identity as a musician, you played with Kerem Bürsin and Serenay Sarıkaya in the commercial of a Turkish denim brand. Are you also interested in being an actor in the near future?
I think I could be a successful actor in Turkey but it's not really a priority for me or something that I am actively pursuing. I feel that when the right moment comes a great project or role will present itself but I can't be bothered with auditions or castings.
D.S.: As far as I know, you get along very well with children. Will you continue to be involved in charity projects? Do you believe that music is an effective communication tool?
I think music is a wonderful tool especially with children. I love kids and think that I will always find time to work and play with them.
D.S.: I know that you like to cook. Are you creating extraordinary recipes?
I always liked cooking since I was maybe 3 years old. I like to experiment and usually cook based on whatever interesting ingredients I happen to find.
D.S.: What is the importance of luck and coincidence in your life?
I think that people make their own luck by forming mental habits that help them by improving in areas of interest. That said, I do have a lot of coincidences but that often comes from being open to work for new possibilities.
Instagram: @senemselimi