Organized in cooperation with the Istanbul French Culture Center and Babylon, XXF - Very Very French Festival happens Nov. 23 to Dec. 6. In the festival, Amadou & Mariam, Kartell, Erik Truffaz, Vincent Peirani, Amine Edge & Dance, Aquaserge and Juniore will take the stage at Babylon.
The Amadou & Mariama Malian Afro-Blues duo that has shared the stage with names such as U2, Blur, Coldplay and David Gilmour will be at Babylon on Thursday Nov. 23 as part the XXF Very Very French Festival. The duo, which has eight albums to its, has overcome all disabilities through music despite being visually impaired. Its album "Welcome to Mali" was nominated at the 52nd Grammy Awards for "The Best Contemporary World Music Album," and the duo has performed at the 2009 Nobel Peace Prize Award Ceremony and at the opening ceremony of the 2010 FIFA World Cup.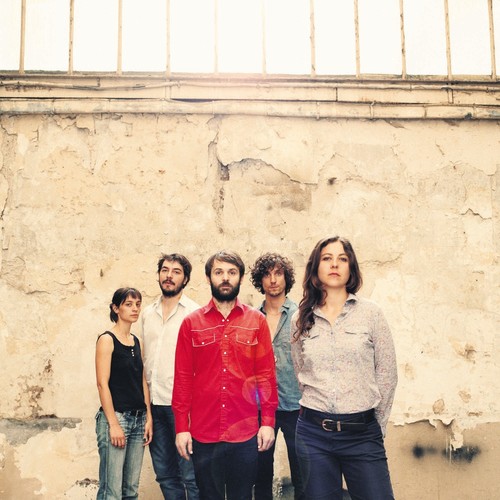 Aquaserge will go on stage for the first time in Turkey at Babylon.
DJs Kartell and Cezaire, among the many shining names in French electronic music, are at Babylon Friday Nov. 24. DJ-producer Kartell produces bold avant-garde music in French house, nu-disco and electronic music. From "Riviera" to "Sapphire" and "Last Glow," Kartell pushes boundaries via his singles released on his personal record label Roche Musique. He presents Parisian music influenced by nu-disco and R&B in cooperation with artists such as Karma Kid and Jabberwocky. Kartell also works with electronic music giants such as Kaytranada, The Magician and Bondax.
Right after Kartell, music continues with Cezaire, a visionary name in French electronic music. The founder and creative director of Roche Musique, Cezaire takes inspiration from traveler musicians such as Kaytranada, Stwo, and Onra. Producing striking tracks bordering on funk, house and hip-hop, the DJ makes a name for himself with his strong interpretation of '80s and '90s groove tunes. Cezaire's latest EP was called "Seize the day." Before Kartell ve Cezaire, DJ-producer Hemi meets music-lovers at Babylon with house, trance and dubstep music performance.
A leading name on the European Jazz scene, Erik Truffaz once again is at Babylon on Friday Nov. 25. The French trumpet player blends jazz with sounds that he selects from contemporary music rather than jazz in its raw form. The artist has a distinct character in the jazz world via his albums and joint performances with musicians from various countries representing musical movements such as İlhan Erşahin, Syl Johnson, Nya, Mounir Troudi, Hüsnü Şenlendirici and Philippe Garcia. Having released countless albums on prominent record labels like Blue Note so far, Truffaz is the winner of the "Prix Special," one of France's prestigious jazz awards.
Vincent Peirani, one of the leading names of French Jazz, is at Babylon Thursday Nov. 30. Having won countless international awards and competitions, the clarinet and accordion virtuoso, vocalist and composer has featured in prestigious festivals in Beirut, Salzburg, Vienna, Rome and Stockholm. Influenced by Bill Evans and French jazz-rock group Sixun, the musician has performed with names such as Michel Portal, Daniel Humair, Renaud Garcia Fons Quintett, Sylvian Luc, Louis Sclavis and Vincent Courtois. Peirani received the "The Musician of the Year" award at the 2014 Les Victories du Jazz. Having released an album titled "Belle Epoque" with his fellow French colleague, soprano saxophonist Emile Parisien, Peirani's musical breadth spans world classics to contemporary jazz and chanson with the various soundscapes of the accordion.
Pioneers of the emerging G-House (Gangsta House) movement in France, Amine Edge & Dance play Saturday Dec. 2. Hailing from Southern France, Amine Edge & Dance utilize house, soul and 80's hip-hop. This duo, who teeters on the edge of techno through their single "Fck Ur Opinion" released on the independent label "Desolat" with the support of Loco Dice, has succeeded in echoing dark rhythms from the stage that have been foreign to people's ears until now. The team has received much acclaim from names such as Solomun, Carl Cox and Laurent Garnier.
French representatives of contemporary psychedelic music, Aquaserge and Juniore will be at Babylon Wednesday Dec. 6. Aquaserge, consisting of elements from Tame Impala, Stereolab, Melody's Echo Chamber and Acid Mothers Temple, appears on stage at Babylon for the first time in Turkey. Having an extensive repertoire ranging from Afrobeat to tango, funk, Caribbean rhythms and krautrock, the group will be at Babylon after appearing on the big stage at the Liverpool Psych Fest, R.I.O. Festival and Faust's Klangbad after releasing its new album "Laisse ça etre."
Juniore, a French indie pop quartet founded by Anna Jean, unites elements from retro French pop with the resonance of surf guitar. Juniore, whose vocal style pays tribute to Françoise Hardy, released their first EP under the members' own names following their first single "Marabout." Releasing their second album "Ouh La La" this past March, the Parisian quartet makes their first Turkish guest appearance at Babylon.