Canadian ethnomusicologist and singer Brenna MacCrimmon has been performing Turkish and Balkan music for nearly 40 years with great passion. She first heard Turkish and Balkan music with TRT (Turkey's state-run TV channel) album recordings at a library in the early 1980s. She spent a year as a guest student in the folk music division of the Turkish State Music Conservatory in 1985-86. In Toronto she led Altin Yildiz Orchestra, arguably Toronto's first Balkan-Gypsy Band.
For Balkan and Turkish music lovers MacCrimmon is like a native Balkan musician. She pays attention to unique local music techniques while performing Turkish, Macedonian, Greek and even Azeri songs. So we can hear old music in its original form as it is written thanks to her musical approach and her success in ethnomusicology.
She has made albums that brought to light unknown songs of Balkan and Anatolian music from old recordings. With the music of MacCrimmon, old music forms are rejuvenated and the new and old enter a love relationship. She is a unique example of a foreigner who performs Turkish music like a native.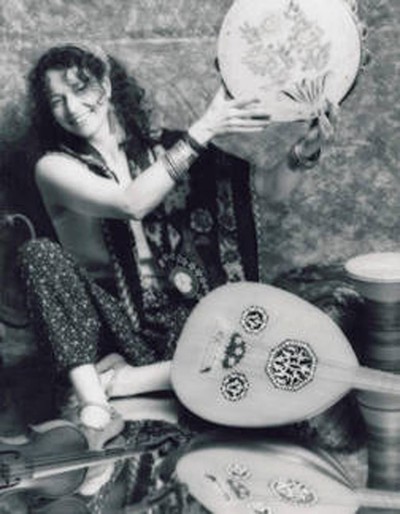 MacCrimmon pays attention to local music technique like musical larynx while performing Turkish, Macedonian, Greek and even Azeri songs.
She has taught Turkish and Balkan songs at workshops across North America, in France, in Turkey and in Japan. MacCrimmon is a bridge between Turkey, the Balkans, the Western world and the Far East. We conducted a special interview with Brenna MacCrimmon about her music, Turkish music and feelings about Turkey.
Puppy love: Balkan music
Brenna MacCrimmon's love for Turkish and Balkan music started in her youth after she met these music genres in a library: "I started to listen to albums in public libraries. Something in common in old Balkan, Yugoslavian and Turkish music really appealed to me. They were village style. Turkish music from old TRT recordings from the 1950s and 1960s are very different than the music of today in the way they are performed."
She says that Balkan and Anatolian melodies have great power, and many people in the Western world are attracted by these melodies. "I think a lot of people come to Turkey as a melody player and just learn melodies. But for singers, if you want to learn what the song is about, you have to learn the language. I work pretty hard to find what a certain song means. Why does that particular community love this song so much? Maybe it is a significant song for specific rituals, entertainment or about a historical event."
'Turkish has a beautiful relation to music'
The Canadian musician says the Turkish language offers wide opportunities to compose and write lyrics. "What makes Turkish music and folk music survive today is how well Turkish as a language works with the lyrics and the rhythm. It gives the song a different kind of motivation. I compare a lot of songs that exist in Turkish, Greek and Macedonian at the same time. I don't want to say that one is better than the other, but a lot of times Turkish folk music has this kind of rhythm pulse."
As an ethnomusicologist, MacCrimmon knows a lot of Turkish folk singers very well. The voice of Nezahat Bayram was among the first Turkish singers that she still cannot forget. "Sabahat Akkiraz, she has a great voice. I never get tired of vintage recordings. If I am feeling nostalgic, I listen to Safiye Ayla. She is ageless, such a beautiful performer and interpreter of classical and many styles. I love listening to Ümit Tokcan, who has a joyful spirit. I don't have a super favorite, but I also love Muzaffer Akgün. They are great singers of the 1960s and 1970s," she said.
Memories of Selim Sesler
During her years in Turkey, she did wonderful work with famous clarinetist Selim Sesler and accordionist Muammer Ketencioğlu. She has also frequently collaborated with Baba Zula, a Turkish psychedelic folk art rock band. She has appeared as a guest on many albums and film soundtracks in Canada, the U.S. and Europe. She is a featured performer in "Crossing the Bridge," Fatih Akın's 2005 documentary of the Istanbul music scene. She toured Europe with Balkan beat DJ Shantel and the Bucovina Club Orchestra.
One day she went to listen to Zen, some members of which formed Baba Zula. They were one of the few bands that were using Turkish instruments in a rock context. There she heard the sound of the clarinet of Selim Sesler. Her friend Sonia Seeman, an expert on Roma music did some research with Sesler and later introduced Brenna to him. Then a new story started: "We learned songs together, famous songs in Balkan like "Penceresi Yola Karşı." But there were a lot of songs; Selim didn't know them either. I found them from Bulgarian, Macedonian, Albanian sources. He understood the music and the style as he was born with them." The death of Sesler in 2014 so saddened MacCrimmon that for a period of time she didn't sing "Penceresi Yola Karşı," which was a special song that she performed with him.
Deep thinking on Sufi music
MacCrimmon shares with us her her thoughts about the depths found in Sufi music: "I think Sufi is appealing to many people. I think Sufi music has the intention of finding peace, tolerance, understanding others, appreciating the world around us and drawing people together to peace. Many foreigners experience that aspect of it - its meditative quality that is unifying." MacCrimmon says that for Canadian people Turkish music often automatically sounds like Sufi music, but there is more than that. She explains the differences between folk music and Sufi music so that foreigners can understand these music genres.
"Turkish folk music has more regional characteristics and can refer to more specific events. The forms of folk music also can be very idiosyncratic, and they differ from one another widely. The universality of folk music comes more from the way it is shared and the enthusiasm with which it is shared. The stories that are expressed in songs can be understood. Maybe the difference is that folk music unites by common experience whereas Sufi music unites by common aspirations."
Turkish folk music is still loved
MacCrimmon describes the biggest difference between Eastern and Western music in this way: "Eastern music is much more based on melody, that's to say 'makam.' To me that's the biggest difference. Deeper emotional power and passion in eastern music strikes people. But passion exists in Western music in a different way."
MacCrimmon wants to do something with other ethnic music in Turkey: "I love the Black Sea. But dialect is critical. I am getting close but not enough. There is so much philosophical richness in the music from Central Anatolia," she said.
MacCrimmon draws attention to the love of Turkish people to their own music despite the big change in Turkish music in 20 years: "Turkish people still love traditional melodies from the Black Sea, Mediterranean, Aegean and certainly Central Anatolia." MacCrimmon has very amusing experience with her audience. She says when she sings Turkish songs in other countries, many foreigners come up to her and tell her of wonderful memories they had in Turkey.
'Don't look at the stars'
MacCrimmon gives hope and good advice for those without hope of a music career. "Listen, listen, listen! I think to find a career in art and in music is very difficult. People who work as musicians and artists, pay rent and look after families. I think if you love music, learn music and try to balance everything else in life around art. I know some very excellent musicians who have another career, and there is nothing wrong with being an amateur. When they are 40 or 50 they start performing or writing. They are actually excellent musicians. Don't look at the glitter, don't look at the stars."
"I have been learning a lot of old music, old North American songs written in the 1880s-1890s. You have to perform that music as if it was written today, as if somebody just came into the room and said here is the song. So 'Yağmur Yağar' has to always be new, and I don't want to get tired of that song. I have little stories for each song. I sing them because I made my own world for each song," she said about her fame and success.