DJ Burak Yeter was popular way before his remix for world-famous Spanish TV series "La Casa De Papel" (Money Heist).
Born in 1982 as the son of a civil engineer/musician, Burak Yeter started to make music when he was just 5-years-old. A few years later when he reached his teens, he began professionally playing guitar and piano.
He had the chance to reside in various countries because of his father's job and he also went on a tour with the hip-hop band that he founded in Antalya.
"In order to reach good music, you need to travel or open a third eye," he said in an interview.
Later, he won many awards with his performances. Yeter's song "Tuesday" was on the top of the world's lists for a long time.
Investing his revenue in the sector
Yeter told Anadolu Agency (AA) that his remix for Ajda Pekkan's song "Oyalama Beni" changed his life and added he won the first DJ Award in Turkey with his remix of another Pekkan song, "Arada Sırada."
He said his awards developed his studio opportunities. He indicated that he invests 70-80 percent of his revenue in this sector and the school where they train new DJs. Yeter stressed that he shares his new songs on the internet.
"Every day, we have new ideas. If I do not share them, they will all be trashed. Therefore, I share what I do and move onto the next one. Actually, this is a feeling of mine. I like sharing something with people. Their feedback is important to me because we make new, different projects according to their comments. I progress in the form of questions and answers," he said.
Explaining the importance of following novelties in the sector, Yeter reported, "Tuesday was heard 750 million times. It reached 400 million people on YouTube. It was on the top of the lists in 78 countries. It was number one in Mexico two weeks ago. I released this song three years ago but it is still on the rise. This means it is not a daily song, rather a long-term one. I am happy to see it rise in three years. We competed with such famous songs, such as Ed Sheeran's 'Shape Of You' and 'Despacito.' We were number one and they came second. Then, they were number one and we were second. We were the only songs changing in the top three spots."
The DJ explained that he excitedly watched "La Casa De Papel," which is followed by millions in the world, and then prepared the remix of "My Life Is Going On."
Tokyo shared on social media
Yeter said that his remix reached listeners all around the world and added, "I went to the studio, prepared a version and shared it on the internet. After that, I got a message from my manager. He said the team of "La Casa De Papel" liked it very much and want to use it officially. Then, we went to Spain and met recording companies there. We also met the vocalist and arranged the song again. Cecilia Krull sang the song one more time, and we released it officially with the team of the TV series in Spain in accompany with Time Records."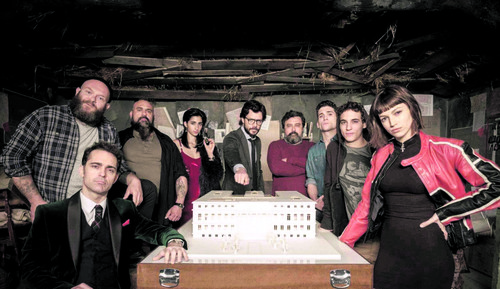 The team of "La Casa De Papel" liked Burak Yeter's remix so much that they wanted to use it officially.
Burak Yeter asserted that the show they did in the Vatican together with dancers wearing costumes from the TV series drew a lot of attention and was watched by tens of thousands of people.
He said that he will attend nearly 120 festivals this year. He also reported that his song was shared by Ursula Corbero, who plays the role of Tokyo in the series, on social media.
Highlighting he has dreamed of preparing soundtracks for TV series since childhood, he said that they got demands for new music from the team of "La Casa De Papel."
Yeter mentioned that they came to an agreement with a managing company which works together with world-famous figures.
"Their programs are professional, and I can sleep now. I did not have enough time to sleep at the companies that I worked with in Turkey. However, this company sends us clear programs that show what should be done. I thank them," he said.
'Music producers should toss out old sound bank'
Mentioning the importance of being open to innovations in music, Yeter said that all music producers should toss out old sound banks in their computers and make changes.
He said he shares music banks with foreign DJs and they can reflect on songs from different cultures this way and as well as into their productions.
Yeter stressed that he reflects 70 percent of his own potential. "In order to create good music, you need to travel or open the third eye. There are some friends who cannot physically travel due to some reasons, but [they] travel with their mind. It is also another success," he said.
Burak Yeter opened a DJ school nearly eight years ago.
"We are the biggest DJ school in Turkey now. We have produced 3,700 students. We opened other schools in Amsterdam and Los Angeles, as well. Our trainers go to these schools and also provide education here. We are planning to open a new school in London. Our aim is to create a strong bond between these four countries. This is why the name of our company is Connection Records and the name of our school is Connection DJ Academy. We like to share," he said.
DJ Burak Yeter will perform at many famous festivals across the world this year in countries such as Serbia, Germany, Belgium, Hungary, Sweden, Bosnia Herzegovina and Netherlands.