Far East culture fans are participating in the K-Pop Academy course where Korean pop music and dance are taught at the Korean Culture Center in Ankara, in order to learn both Korean pop songs and the specific dance that goes along with this style.
The manager of the Korean Cultural Center, affiliated with the Embassy of the Republic of Korea in Ankara, Dong Woo Cho, spoke to Anadolu Agency (AA) about K-Pop vocals and dance lessons.
K-Pop lessons at the Korean Cultural Center have been ongoing for the past few years and Cho noted that K-Pop has become popular in various places around the world among those who like the Korean culture. "The Korean Ministry of Culture and Tourism has realized the project of sending teachers who will teach this dance and songs at embassies in countries that are cultural centers upon the demand of those who like Korean songs and dance," said Cho.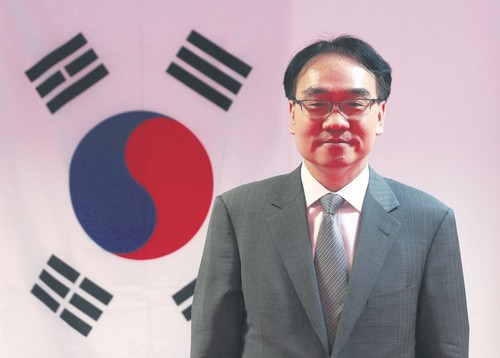 The Manager of Korean Cultural Center affiliated to the Embassy of Republic of Korea in Ankara, Dong Woo Cho.
He noted that K-pop is the abbreviation of "Korean pop" and he mentioned the Gangnam Style as a well-known example. "But both before and after Gangnam Style, various K-pop bands were applauded around the world with their unique Korean lyrics and dance," added Cho.
He also mentioned that he was surprised by the interest from Turkey.
"There are two reasons why I am surprised: First of all, those who like K-Pop are mostly university students in their 20s, yet here, there are even 10-year-olds who like it. The second reason is the annual K-Pop World Festival. Those who come first in this contest visit Korea to participate in this world competition. The number of applicants from Turkey in this competition increases day by day. There are more than a hundred teams that want to participate in the competition in several cities. This year there are twice as many applications as last year. Such interest makes us very happy," said Cho.
'Turks know K-Pop songs better than me'
The vocal instructor from Korea who visited Turkey for three weeks for the course at the Korean Culture Center, Yoo Eui Ju, said K-Pop is a dance-oriented music genre and added that there are songs called "ost" played in Korean series and movies. "These are a kind of K-Pop and play an important role in the recognition and enjoyment of this music genre," said Ju.
He also noted that he was surprised by the interest in K-Pop in Turkey. "Turkish students know K-pop songs better than me. They know the singers and the songs of K-Pop singers who I do not know of or who have lost their lives. They are really incredible," added Ju. 23-year old Merve Ataman, a graduate of Gazi University Faculty of Law who attended vocal lessons, said that she took an interested in the Korean culture with series she watched when she was 12 years old and that she became a member of the Korean Culture Center and started learning Korean and attended other courses opened by the center. Ataman said that knowing Korean would make it easier, yet everyone could easily learn these songs.
'Participants learn with incredible passion'
Dance teacher Choi Jeong Ho said that he came to Ankara to specifically give this course and that while he was hesitant as he and the students do not speak the same language and translation may be required and he was worried whether the students will be able to learn the songs and the dance, he was surprised when participants learned the songs with incredible passion. He added that he was surprised that students learned so fast.
Underlining that the most important feature of K-Pop dance is "clear, sharp and fast movements," Choi also highlighted the importance of in the details of these movements. "For example, legs and arms move at the same time, and these movements are carried out by all group members simultaneously and the harmony between them is one of the most important features of K-Pop. People who do not know Korean may easily follow the movements and make 'point' movements," added Choi.
Choi also noted that he learns traditional Turkish dances from his students.
Gül Alkaç, a recent graduate of Ankara University's Korean Language and Literature program, noted that she attended activities and courses at the Korean Culture Center throughout her university studies and that while she attended many traditional dance courses before, getting lessons from a professional at a K-Pop course was a privilege.