The 3rd Sound Ports Istanbul, the independent art, culture and music festival dedicated to the city and its subcultures; interdisciplinary and intercultural interaction; positive people and thoughts, will be held on Oct. 13 and 14 at the Babylon performance center.
The theme of this year's festival is "Empower One Another." It will be jointly held with Gülbaba Music, Kendine Has and ATÖLYE and A Corner in the World X bomontiada ALT. By giving place to different branches and subcultures of creative industries celebrate the polyphony in Istanbul. It opens a place for polyphony and promises an experience where people listen to and hear each other as well as taking strength from each other and sharing.
Within the context of Sound Ports Istanbul, Babylon and bomontiada Avlu will also present a dynamic music anthology, comprising of electronica, hip-hop, dub, psychedelic and cumbia.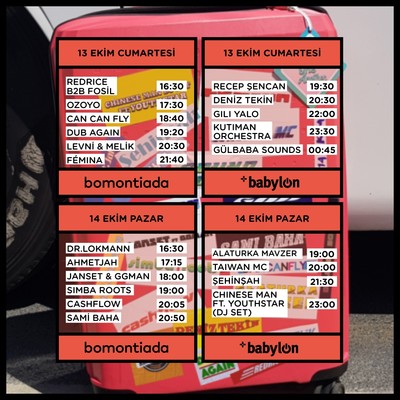 DJ and music producer Recep Şencan, who has been presenting the Caz Türbülans (Jazz Turbulence) program on Açık Radio since Oct. 13, 2005 as part of Sound Port Istanbul; young artist Deniz Tekin, Gili Yalo, who blends his music of Ethiopian origin with modern jazz and soul, and Kutiman Orchestra, the psych-jazz project of Kutiman, will perform in Babylon.
Besides, a number of surprise artists will also perform until 4 a.m. in Babylon, within the context of Gulbaba Sounds, which was a joint idea of Ahmetcan Taşdemir (Ahmetjah) and Serhan Lokman (Dr. Lokman), the founders of Gülbaba Music. On Oct. 14, Alaturka Mavzer, which was established by Selo and Hemsta, two of the founders of Kadıköy Acil and pioneers of Turkish rap music, Taiwan MC, who highlights his creativity with innovative vocal, instrumental and joint works, Şehinşah, one of the figures who left mark at the hip-hop world, will be on Babylon stage. Besides, Chinese Men, an independent French rap collective founded by High Ku, SLY ve Ze Mateo, will meet music lovers together with Youthstar, who is influenced by pop, rock, hip-hop and jungle rhythms.