The agency for K-pop superstars BTS apologized Wednesday for members wearing a T-shirt depicting the explosion of an atomic bomb and a hat with a Nazi emblem.
Japanese television station TV Asahi last week cancelled a performance by BTS after a photo went viral of band member Jimin wearing the offending shirt.
The garment featured the phrase "PATRIOTISM OURHISTORY LIBERATION KOREA" repeated multiple times alongside an image of an atomic bomb explosion and another of Koreans celebrating their independence.
Other Japanese TV broadcasters recently canceled or stopped discussing possible appearances by the band in that country after images spread on social media of a singer wearing the shirt.
As the row escalated, images emerged of a concert last year where BTS wore uniforms and waved flags that critics said recalled Nazi symbols, and a 2014 photoshoot in which band leader RM wore a cap bearing an SS Death's Head logo.
The SS played a key role in the Nazi mass murder of six million Jews during the Holocaust and a prominent Jewish human rights group accused the band of "mocking the past".
"We would like to again offer our sincerest apologies to anyone who has suffered pain, distress and discomfort due to our shortcomings," the band's agency, Big Hit Entertainment, said in a 1,000-word statement released in Korean, English and Japanese.
It sought to distance the septet from the row, saying it bore responsibility, and went on: "Big Hit does not condone any activities of war or the use of atomic weapons."
Responding to further accusations the K-pop stars had used Nazi imagery, the company said it opposed all organizations "oriented towards political extremism and totalitarian beliefs including Nazism".
The T-shirt portrayed an atomic bombing juxtaposed with the celebration of Korea's 1945 liberation from Japan at the end of the World War II. The United States dropped atomic bombs on the Japanese cities of Hiroshima and Nagasaki before Tokyo's surrender.
Before its division into North and South Korea after the liberation, the Korean Peninsula was colonized by Japan in 1910-1945. Many in both Koreas still harbor strong resentment of the Japanese colonial masters. But in South Korea, it's extremely rare for anyone to publicly celebrate the atomic bombings.
The bombings killed more than 200,000 people in Japan. Many Koreans were living in Japan at the time, including laborers who were forcibly mobilized by the Japanese, and estimates of the number of Koreans killed in the bombings range from 20,000 to 50,000.
South Korean politicians criticized the Japanese broadcasters' decision to cancel BTS appearances, accusing Japan of harboring "self-centered views on history" and letting politics interfere with cultural exchanges.
It doesn't appear the T-shirt controversy is seriously affecting the band's huge popularity in Japan, with 50,000 people reportedly filling up the Tokyo Dome on Wednesday evening to watch them perform.
The BTS agency said the A-bomb shirt's wearing was "in no way intentional" and wasn't designed to "injure or make light of those affected by the use of atomic weapons." However, it said it still apologizes for "failing to take the precautions that could have prevented the wearing of such clothing by our artist."
In regard to the hat, it said all apparel and accessories used for the photo book were provided by a media company involved in its publication. It said the flags were intended to symbolize South Korea's restrictively uniform and authoritarian educational systems, not Nazism.
"We will carefully examine and review not only these issues but all activities involving Big Hit and our artists based on a firm understanding of diverse social, historical and cultural considerations to ensure that we never cause any injury, pain or distress to anyone," the agency said.
"It goes without saying that this group owes the people of Japan and the victims of Nazism an apology", said Rabbi Abraham Cooper of the Simon Wiesenthal Centre in Los Angeles.
"Those designing and promoting this group's career are too comfortable with denigrating the memory of the past," he added.
"The result is that young generations in Korea and around the world are more likely to identify bigotry and intolerance as being 'cool' and help erase the lessons of history."
The seven members of the band, which has a worldwide following, in May became the first South Korean artists to top the Billboard 200 albums chart with "Love Yourself: Tear." The band began a Japan tour earlier this week.
South Korean K-pop and movie stars are extremely popular in Japan and other Asian countries.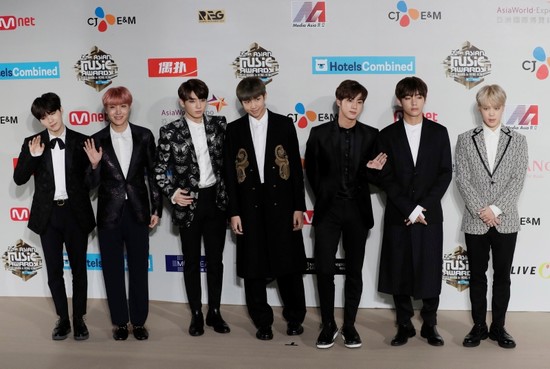 In this Dec. 2, 2016, file photo, members of South Korean K-Pop music band BTS pose for photos on the red carpet of the 2016 Mnet Asian Music Awards (MAMA) in Hong Kong. (AA Photo)

Known for their boyish good looks, floppy haircuts and meticulously choreographed dance moves, BTS have become one of South Korea's best-known and most valuable musical exports.
They have sold 380,000 tickets for their current Japanese tour, and their singles sell hundreds of thousands of copies each.
South Korean fans and media have rushed to defend their idols.
"You have no braincells," one fan tweeted regarding the performance accusations. "It's a song against the education system in Korea."
And in the conservative JoongAng Ilbo newspaper, Min Kyong-won wrote: "Japan is simply trying to find faults."
South Korea's top court last month ordered a Japanese steel giant to compensate victims of wartime forced labor programs, and Min suggested Japanese networks were "making an example of BTS because of the anti-Korean sentiment in Japan".