On Dec. 1, President Recep Tayyip Erdoğan, and Qatari Emir Sheikh Tamim bin Hamad al-Thani signed a series of agreements in various fields from energy to defense. These agreements will play a crucial role in Turkey's response to the vitriolic statements made by Russian authorities following Turkey downing a Russian military jet that had violate Turkish airspace despite being warned several times to exit it.
From the moment the Russian jet was shot down, Russia's threats have centered on economic sanctions on Turkey. Therefore, before moving on to explain the relationship between Turkey and Qatar, we will summarize the economic relationship between Russia and Turkey. In 2014, around $497.8 billion worth of goods were exported from Russia worldwide with the Netherlands, China, Germany, Italy and Turkey comprising the top-five importers of Russian exports. However, although Russia imported $308 billion U.S. of goods in 2014, Turkey was not among the top-five importers of Russian goods.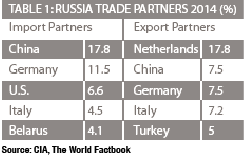 Bilateral economic relations between Turkey and Russia, however, are important. While Turkey exported around $5.9 billion worth of goods to Russia in 2014, it also imported goods to the value of around $25 billion from Russia.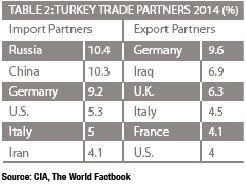 These figures demonstrate that Turkey was a crucial income channel for Russia in 2014. After Russia levied economic sanctions on Turkey, it became apparent that it was necessary for Turkey to find a new trading partner for its imports of raw materials and exports of agricultural products. It is therefore likely that the greatest loser in this exchange will be Russia due to the volume of its exports to Russia. This is contrary the country's president, Vladimir Putin's implications since the start of tensions.
SMALL STATE, BIG ECONOMICS
Moving on from Russian economic interests, we turn to focus on Qatar. As mentioned above, Erdoğan visited Qatar on Dec. 1 to sign several agreements with the Qatari emir and open a Yunus Emre Institute. These agreements had long been anticipated because of the good relationship between Turkey and Qatar and their cooperation during and after the Arab Spring. However, because the timing of these agreements was immediately after Russia levied sanctions on Turkey, they have made an overwhelming impression worldwide. Many have started to question whether Qatar can entirely replace Russia as a new trading partner for Turkey. Qatar is a popular state with many international investments. It is predicted then that Qatar will play two important roles for Turkey initially as a trade partner, but also as a future investor in Turkey.
QATAR AS A TRADE PARTNER


Qatar exports liquefied natural gas (LNG), petroleum products and steel fertilizers among other goods mostly to Asia. The total value of Qatar's export was $131.6 billion in 2014. Among its most important export partners are Japan, South Korea, India, China, Singapore and the United Arab Emirates (UAE). For Turkey, Qatar could become an important gas supplier, displacing Russia.Furthermore, Qatar depends on other countries for products such as machinery, transport equipment, chemicals, agricultural produce and textiles. Therefore, its imports in 2014 totaled $38.23 billion. Qatar's export partners are, in order of significance, the U.S., China, the UAE, Germany, Japan and the U.K. Thus, Turkey would be aiming to provide Qatar with agricultural products, machinery, transport equipment and textiles instead of Russia.
Tourism is important to Turkey, and this is expected to be adversely affected by Russia's sanctions, although only the most nationalist Russians are expected to relinquish their habit of holidaying in Turkey. Thus, Turkish tourism policy should shift to target the Gulf region, which demands conservative values in tourism. Therefore, Turkey is likely to alter its policies toward Gulf Cooperation Council (GCC) countries to close the economic gap that is arising from Russian sanctions.
QATAR'S SOVEREIGN WEALTH FUNDS


Qatar's growing oil wealth - the benefits of oil production started to increase at the end of 2014 - has facilitated the integration of Qatar into the global financial system through sovereign wealth funds (SWF). The Qatar Investment Authority (QIA) is now one of the most important SWFs all over the world. It is valued at $256 billion, making it the fourth-largest SWF in the region, as announced in April 2015. Qatar National Vision 2030 foresees a shift from natural resources-based income to SWF investments in the future. SWFs create huge wealth for states to guarantee future generations in the region have profitable, long-term investments in the event of future reductions in oil income. The QIA invests in prestigious companies worldwide like Barclays, Volkswagen group, Porsche, Sainsbury's, Fisker Automotive, CITIC group and others. Thus, Turkey would benefit from inviting Qatari investment focused not only on real estate, but also on energy, finance, information technologies and health services.
TIME TO SHOW THAT THE WORLD IS BIGGER THAN FIVE


Qatar has a long history of overseas investment and it has the high economic potential associated with oil-rich countries. Furthermore, bilateral relations between Turkey and Qatar are not new as there is already ongoing political cooperation involving Turkey in the Middle East, and a military agreement for a Turkish military base in Qatar. These exemplify the positive communication and strong relationship between the leaders of the two countries, which have recently triggered additional cooperation.
Undoubtedly, due to its geographical location, Turkey has been at the crux of international tensions since its foundation. Turkish leaders are therefore always open to forging new and long-term partnerships with their neighbors in Europe, the Middle East and Central Asia. Hence, challenges in foreign policy typically trigger reactions in the Turkish economy and political map to manage risk-profit calculations. Turkey, due to its central role in the Middle East, demands a diverse partnership portfolio, to which the agreements with Qatar testify.
* Ph.D. Candidate in Islamic Economics and Finance, Business School, Durham University, UK