ANKARA
— Commenting on
the downing of a Syrian army aircraft by Turkish fighter jets on Sunday, Prime Minister Erdoğan said it was in accordance with the existing engagement rules between the two countries. Erdoğan slammed Turkey's main opposition Republican People's Party (CHP) for its allegations that his government was trying to score political points over the incident as Turkey prepares for local elections on March 30.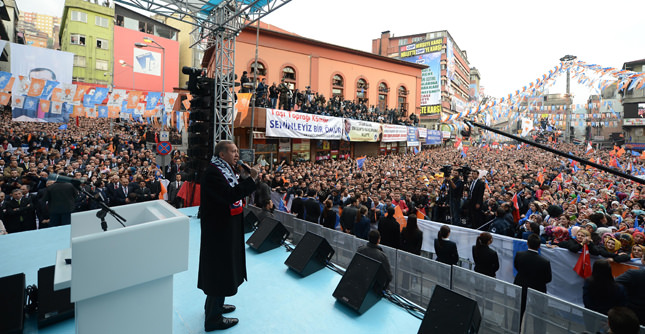 Erdoğan announced the downing of the jet during an election rally: "It is a national security issue but the main opposition CHP is criticizing us, claiming that the government had political motives in mind for the downing of the Syrian jet ahead of the local elections." Concerning reactions from the EU and U.S. on the Twitter ban, Erdoğan said he questioned their reluctance to denounce France, the U.S. and Germany for their requests.
On the Kurdish reconciliation process aimed at solving minority issues in Turkey, particularly those related to Kurds, Erdoğan said that his government was ready to listen to Kurdish politicians, while warning that Turkey's territorial integrity was not up for negotiation. Several Kurdish politicians earlier indicated they would seek "democratic autonomy" from Turkey after the elections.
Erdoğan also slammed the Gülen Movement led by U.S.-based [controversial imam] Fethullah Gülen for its actions within state institutions, including wiretapping thousands of people and manhandling Turkish intelligence officials when their truck was stopped on its way to Syria last month. Erdoğan said, "An action targeting the intelligence service of a country is a direct threat to the national security of the country and the [movement] will pay for it."