Turkish International Cooperation and Development Agency (TİKA) President, Serdar Çam, and the Turkish Consul-General in Jerusalem, Mustafa Sarnıç, paid a two-day visit to war-torn Gaza where they inaugurated TİKA's projects that aim to lend a helping hand to blockade-hit Palestinians.
Israel's 51-day war, which came to an end on August 26, left 9,000 homes in Gaza in total ruin and 8,000 others in partial ruin. As part of efforts to rebuild the city, Çam met with Palestinian Authority chairman of land authority, Abed Alraouf Radwan, who told Daily Sabah that TİKA's project to build 1,000 homes to shelter war-hit Gazans will help Palestinians' efforts to rebuild the city. "We will give all our assistance to TİKA's works to complete this project as soon as possible," he said and added that Turkish officials will help the Palestinian construction company SAKA to receive needed cement from outside the border. "For this project, we need some 60 tons of cement," SAKA chairman said.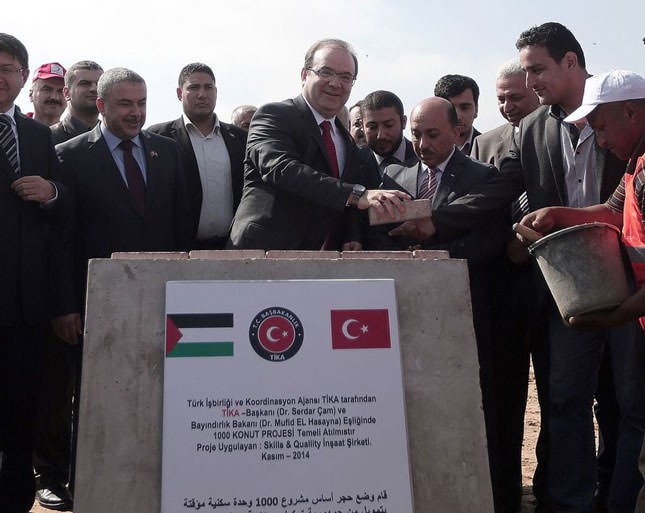 Çam said the Turkish delegation was in the Gaza Strip upon instructions from President Recep Tayyip Erdoğan to tour Turkish projects and assess future projects. Çam inaugurated the water wells that provide water for a large number of Gazans. He said that the water wells inaugurated on Sunday would provide water for more than 800,000 residents.
He said he and his colleagues would work hard to offer help to Gazans who were affected by the latest Gazan war and also contribute to the reconstruction of the Gaza Strip. Çam added that his organization had already raised TL 75 million in its latest joint campaign with the Directorate of Religious Affairs. "I hope this project will soon be finalized. We are also working on projects to solve Gaza's electricity problem," Çam told the press during the inauguration ceremony of the housing project. He noted that TİKA would continue to offer support to the Gaza Strip in every way.
Established in 1992, the government-run TİKA aid agency is mandated with implementing Turkey's developmental cooperation policies overseas.
During Israel's recent offensive, 15,671 housing units in the Gaza Strip were damaged, including 2,276 that were totally destroyed, according to official Palestinian figures. More than 2,160 Gazans were killed and some 11,000 injured during the seven weeks of unrelenting Israeli strikes in July and August. The Israeli offensive finally ended on August 26 with an indefinite cease-fire agreement.
The Islamic University of Gaza, which was bombed, stands strong with help from Turkey
Çam also paid a visit to the Islamic University of Gaza, which was hit by Israeli air forces in the latest war. Çam was welcomed by the university president, Dr. Kamalain K. Shaath, and chairman of the board, Jamal el-Khodary.
"Our ancestors had lived their lives with efforts to gain happiness in the world by sharing and constructing and helping the needy. After the 51 days of cruel aggression that you went through, thank God we are now welcoming a new start. This project that we started is some sort of a message that says, 'Turks are with you and your pain is our pain.' Like dear president [Shaath] has mentioned, we are one, we are brothers and humanity will never die by murdering, bombing and demolishing – 2,400 lives have been lost," Çam said during his visit to the university.
TİKA, which had previously donated $1 million to the airstrike-hit university, has pledged further support. The Turkish delegation later visited university buildings that TİKA built including the Vocational and Professional Rehabilitation Program for People with Disability building where disabled Gazans attend various arts, design and technology courses and rehabilitation sessions to overcome and ease the troubles they face after the war.