Qatari Emir Sheikh Tamim bin Hamad bin Khalifa Al Thani has sent a total of 53 Arabian horses to the Presidency of the Turkish Republic as a present, Turkey's President Recep Tayyip Erdoğan has said.
Speaking at the opening ceremony of the Center for Hippotherapy and Promotion of Arabian Horses in Beştepe on Wednesday, the president stated that former president Abdullah Gül has initiated the ceremonial mounted guard of Turkey, -which consists of mounted guards who attend official welcoming ceremonies- during his tenure. "We have to embrace and protect this significant symbol of our history and civilization" Erdoğan said, who revived the heritage of the past and emphasized the significance of horses for the Turkish civilization.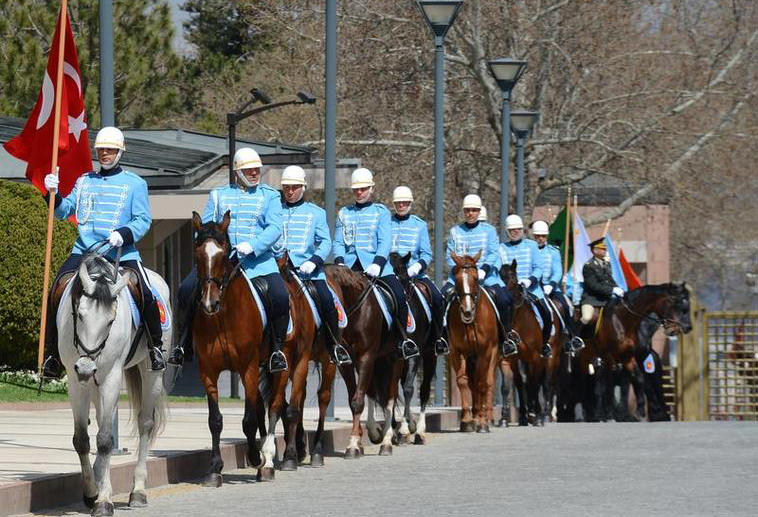 "We welcomed the Qatari Emir with the ceremonial mounted guards when he visited Turkey" Erdoğan said, who added that the Qatari Emir surprised Turkey by sending 53 Arabian horses to the presidency.
The Turkish president stated that the Arabian horses sent by the Emir were currently under quarantine in Eskişehir and would soon be taken under the protection of the presidency.
Among the most significant allies of Turkey, Qatar is the third country Erdoğan visited as president, and the first in the Middle East, following Turkish Cyprus and Azerbaijan in early September. Erdoğan was accompanied on his visit by Energy Minister Taner Yıldız and National Intelligence Organization (MİT) head Hakan Fidan.
Relations between Turkey and Qatar have developed further in the last couple years as the two countries have found themselves on the same side regarding the Syrian crisis and the Egyptian coup. Turkey was one of the most vocal critics of the Egyptian coup that ousted President Mohammed Morsi, and Qatar was the sole Gulf state that raised its voice against the coup.