Facing a number of charges including the establishment of a terrorist organization, wiretapping state officials and top secret meetings, fraud in national examinations, and providing funding for terrorism, Gülenist fugitives who previously served in critical positions have fled the country one by one, - in most cases before their detention warrants were issued – with the assistance of their agents who are still infiltrating state institutions including the police and judiciary.
Gülenist businessman Akın İpek, whose escape to Britain two days before his company faced a probe over providing funds for terrorism, is the latest addition to the list of Gülenists who fled the country to avoid prosecution in Turkey.
According to reports, Akın İpek, who is the chairman of Koza İpek Group, suspected of financially supporting and disseminating propaganda for the Gülenist Terror Organization (FETÖ) reportedly fled Turkey on August 30 for Britain. İpek is thought to have acted upon the controversial Twitter account named Fuat Avni, which is known to be a fabricated account affiliated with and used by the Gülen Movement members to allegedly give exclusive information, shares predictions that occasionally come true. Accordingly, the account has previously claimed that İpek's company would face an investigation, and an arrest warrant was issued on September 1 for İpek and six other suspects working for the company.
Back in August, ex-prosecutors Zekeriya Öz and Celal Kara, who are accused of orchestrating the Dec. 17 and Dec. 25 operations in an apparent attempt to oust the democratically elected government, have fled to Armenia through Georgia, ten minutes apart from each other and ultimately went to Germany.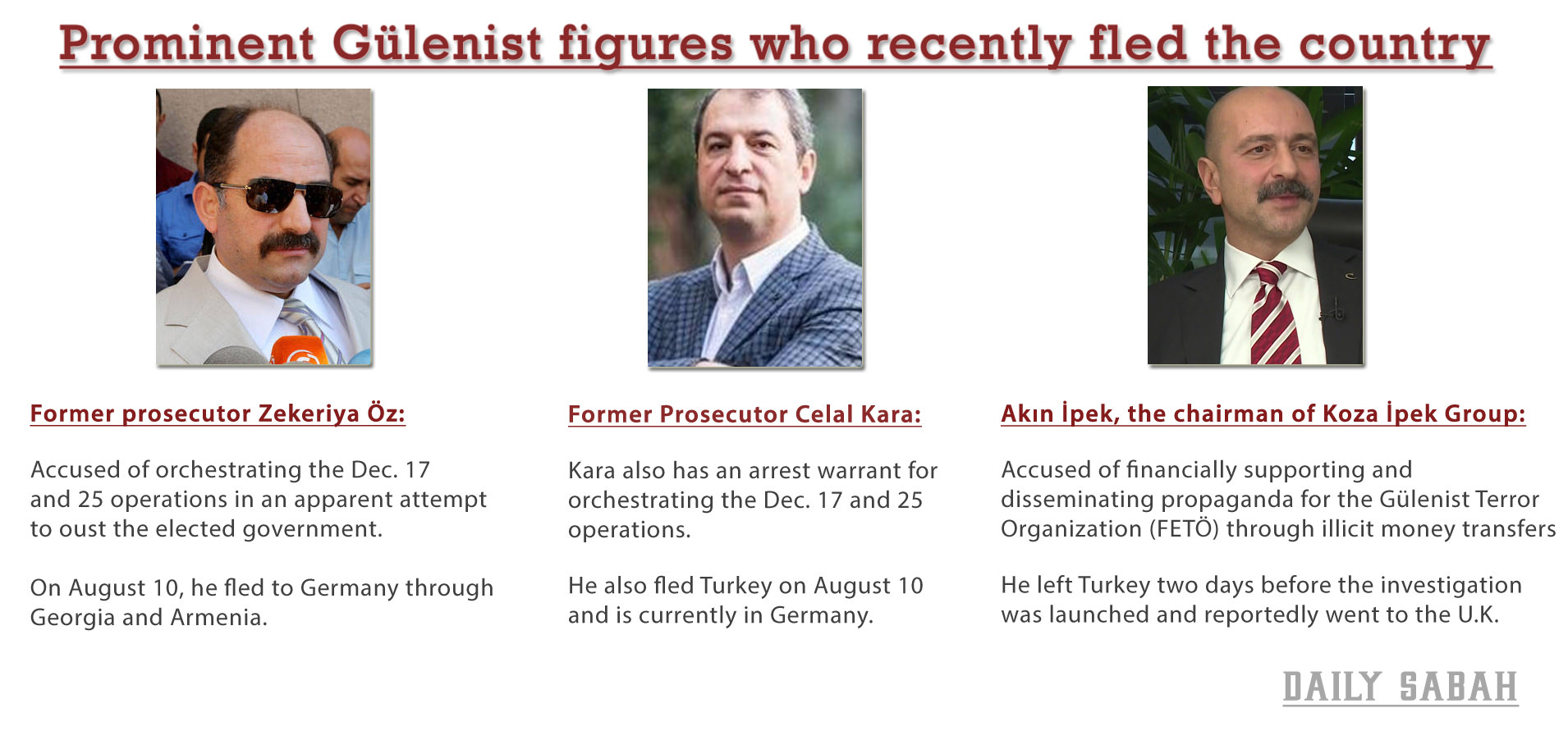 "They tried to fool everyone by claiming that all – Gülenists - will flee, but no one has" Öz has ironically said on his Twitter account, a few months before he fled the country while an arrest warrant was issued for him and his counterpart Celal Kara. It is alleged that Gülenist agents have informed the two about their arrest warrants, enabling them to flee the country before they were arrested by authorities. They were dismissed from their posts as prosecutors in May, 2015, in accordance with Article 69 of the Judges and Prosecutors' Law No. 2802, which states that judges and prosecutors would be dismissed from duty if their acts damage the honor of their profession, and of the reputation of their public post. Öz also had a lawsuit filed against him for insulting and intimidating [then prime minister] President Recep Tayyip Erdoğan on Twitter. He posted the tweets claiming that President Erdoğan's end would be like 'Saddam and Gadhafi' after the operations that targeted high-level state officials took place.
Since the failure of the December 17 coup attempt allegedly carried out by the Gülen Movement, Turkey has launched a campaign to lawfully eliminate the group's agents who occupied critical positions in the police department, the judiciary, national examination centers, and the country's top scientific body (TÜBİTAK) and worked in favor of the movement rather than the state's interests.
Out of the 13 Gülenist suspects, who were accused of conducting organized spying activities and wiretapping President Erdoğan's office during his term as prime minister, two police officers named as Sedat Zavar and İlker Usta had fled to Romania but were later extradited to Turkey. The extradition took place after Turkey sent an investigation file to Romania, where the suspects stood trial twice.
Others, who are accused under the scope of the wiretapping case and are currently fugitives, include Ali Özdoğan, then-Technical Department Chief of Police's Intelligence Unit; then-Security Systems Office Chief of the Prime Ministry's security unit Serhat Demir;then-Deputy Police Chief Enes Çiğci; former police chiefs Zeki Güven and Serkan Sözen;and former chief inspectors Şükrü Bahşi, Ali Temel, Erhan Ülker, and Erhan Solak.
Besides the judiciary and police departments, Gülenist fugitives who are accused of a number of crimes involving nationwide exams, including the prominent Public Personnel Selection Examination (KPSS), have also fled the country following the revelation of misconduct. Over 70 people were accused of cheating in the KPSS exam in 2010. According to the prosecutor's office, 3,227 people answered 100 or more questions correctly on a certain section of the 2010 examination. The exam itself is composed of 120 questions. Around 350 people answered all 120 questions correctly on the exam. Out of these 350 people, 70 of them were found to be couples and 52 others were found to be living either in the same apartment building or on the same street in the same neighborhood.
Baki Saçı, who is one of the suspects, had reportedly confessed that Berat Koşucu, a senior member of the movement, who fled the country two months ago, had sent him the questions for the 2010 KPSS a day before the exam. In his testimony, Saçı reportedly said that Koşucu had called him to tell him to check his email for the answers to the exam. Other suspects have also given similar testimony. The whereabouts of over 30 others who are searched with an arrest warrant are reportedly unknown.
Three other Gülenist suspects, who were accused under the scope of an investigation for infraction of rules during a military high school entrance exam in 2011, have also fled to Kyrgyzstan shortly before the operation was launched. Here, the suspects were accused of providing answers to affiliated members prior to the exam, being members of the Gülenist terror organization to commit crimes, contravening the Student Selection and Placement Center (ÖSYM) law and infraction of rules during the exams.
Two arrest warrants have been issued for Fethullah Gülen, the leader of the Gülen Movement, under the scope of wiretapping and KPSS cheating scandal cases. The court's decision to issue an arrest warrant for Gülen enables the Turkish government to ask Interpol to conduct an investigation and issue a Red Notice since Gülen cannot be reached directly by Turkish officials as he lives in Pennsylvania, United States.
There have been many charges targeting members of the Gülen Movement since their alleged attempt to oust the government became public with the operations they purportedly carried out on Dec. 17 and Dec. 25. They have been accused of trying to topple the elected government by exploiting their authority in key government institutions such as the judiciary, Presidency of Telecommunications and the police, which they had allegedly infiltrated concealing their loyalty to the movement.
The suspects are accused of eavesdropping on top officials and of disclosing information of a highly sensitive nature as well as "forming an organization to commit a crime and being a member of this organization," "violating privacy," "illegally seizing personal information" and "forging official documents." Prosecutors are seeking 21 years to 36 years in prison for the suspects.
The Gülen Movement, led by Fethullah Gülen, has over 140 private schools and organizations around the world including the U.S., Europe, Asia and Africa. It has been accused of infiltrating state institutions to gain control of state mechanisms, illegal wiretapping, forgery of official documents and spying. The Movement's leader Fethullah Gülen has been residing in the U.S. since 1999 in self-imposed exile and has refused to come back to Turkey.