A recent operation carried out by Turkish security forces on PKK terrorists and its local branch in Varto district of eastern Muş province has revealed that the terrorists have shown their organizational local headquarter as a Cemevi –Alevi house of worship-, a rhetoric that was also exploited by Peoples' Democratic Party (HDP) deputies to provoke people against the state.
The region where a cemetery used to bury PKK terrorists and PKK houses is located has recently been bombed by Turkish security forces, which confiscated ammunition belonging to the PKK and two terrorists.
HDP co-chair Meral Danış has claimed on her Twitter account that the "state has raided mosques and cemevis with bulldozers."
According to reports, the so-called cemevi has been used as an organizational headquarter for PKK terrorists, which is seen by PKK's flags and other provocative terrorist elements in the structure, which does not have any features of a cemevi.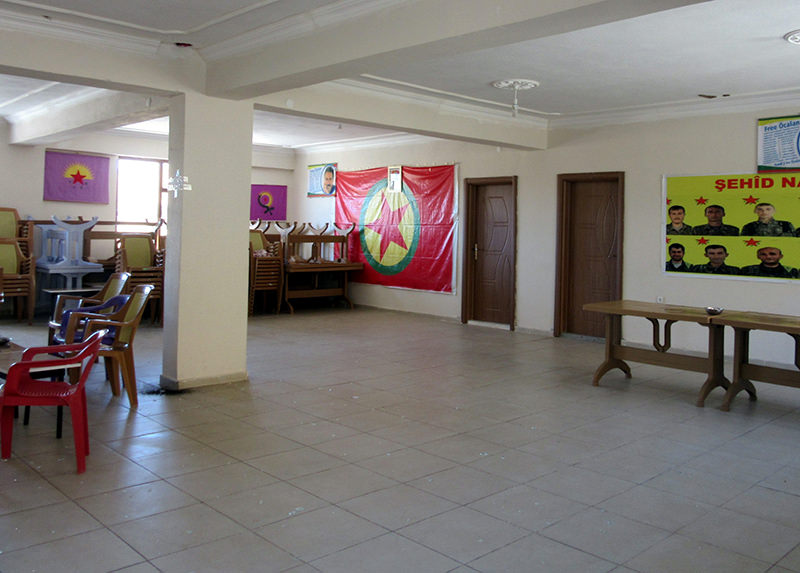 Previously, PKK sympathizers have attempted to stir public reaction by placing photos of Imam Ali on Abdullah Öcalan's -the PKK's imprisoned leader- posters, claiming that the state was targeting Alevis.
The clashes came after Turkish forces launched an operation Thursday following kidnappings by the PKK.
According to the governor's office, the operation uncovered weapons caches that included assault rifles, machine guns, a rocket launcher, hand grenades and bomb-making equipment.
Five people accused of hiding wounded terrorists were arrested, with three later remanded in custody.
PKK terrorists, who are carrying out a bloody terrorist campaign against civilians and Turkish security forces and inflicting serious damage on roads, health services, homes, the local shops, vehicles and everything else on the streets, also use the internet and social media to spread false information and depict the Turkish state as a perpetrator through the use of fabricated and outdated photos, which has especially been criticized when the state imposed curfew in Şırnak's Cizre district.
They have used images from different times and locations such as Gaza and claimed that they were taken in Cizre, in order to deceive and provoke people against the state.
The PKK - designated a terrorist organization by Turkey, the U.S. and EU - renewed its terrorist campaign against the Turkish state in the aftermath of the July 20 suicide bombing in Suruç district that killed 33 people.