The students of Muslim scholar Said Nursi made a joint statement on Tuesday, declaring their support for the current government while praising recent developments in human rights and freedoms.
Underlining the developments Turkey has witnessed in fundamental rights and freedoms in recent years, Nursi's students stated that they 'support the current government' and wish for the continuation of their ruling.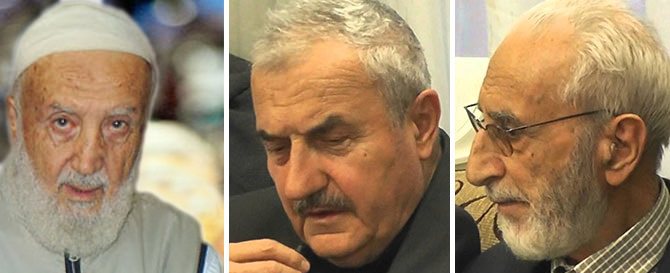 Photo shows Abdullah Yeğin, Hüsnü Bayramoğlu and Ahmet Aytimur. (Photo courtesy of Yeni Şafak daily)
Signed by Abdullah Yeğin, Hüsnü Bayramoğlu and Ahmet Aytimur, the statement expressed gratitude for the Justice and Development Party (AK Party) government and the recent economic, political and social reforms.
The letter pointed out Nursi's political stance throughout his lifetime and stated that he supported the Democratic Party (DP) of Adnan Menderes at the time due to the importance the party gave to developments in freedom of religion, despite Nursi avoiding direct involvement in politics.
Based on Nursi's stance, co-signatories of the letter pointed to the developments in freedom of religion and conscience in recent years, such as the increasing number of imam hatip schools-schools primarily focused on teaching Islamic theology-, the introduction of Quran and Ottoman language lessons in education, and the normalization of performing religious duties in public institutions.
The statement also brought attention to the upcoming elections on November 1 and said that this was not a 'battle of polls' but it is a battle between those who work for the good of their country and nation, and those who try the divide the country and disrupt peace.
An Islam philosopher from the 19th and 20th century, Said Nursi wanted religious freedom in the country. An advocate of teaching religious sciences in secular schools and modern sciences in religious schools, Said Nursi taught his students that 'modern science and logic was the way of the future'.