Chairman of Diyarbakır Bar Association, Tahir Elçi, was killed in an armed attack by PKK terrorists on Saturday after a press release given in Sur district in southeastern Turkey.
Elçi was shot in the head during the armed clashes, while two police officer were also killed in the attack. Three journalists and one police officer were also injured.
Initially only one of the police officers was shot dead, while another was critically injured. The critically injured police officer succumbed to his injuries on late Saturday.
In the footage, Elçi, wearing a grey suit, is seen next to plain-clothed police officers and journalists as fire opened by terrorists in all three directions. As officers shoot to their left, Elçi is heard saying "what is this." Seconds after, a man runs past the group hidden behind a light commercial vehicle, and police officers start shooting to the man. When the camera turns to the right, Elçi is seen lying on the ground.
"A person ran towards Tahir Elçi, fired with one hand and then started to run away. Then fighting started," Doğan News Agency reporter Felat Bozarslan said.
Elçi, along with other lawyers, was in the area to give a press release against ongoing clashes between security forces and PKK terrorists in the area. Following the press statement given next to the historic Dört Ayaklı Minaret in district harmed during the clashes, the group including Elçi and accompanying security forces were attacked by PKK terrorists with automatic rifles and rockets.
Initial autopsy report found that Elçi was killed by a single bullet which entered the back of his neck and exit through his left eye.
Two police officers have been lightly injured hours after the incident when a group of assailants opened fire to the CSI unit in the area where Elçi and two policemen were killed.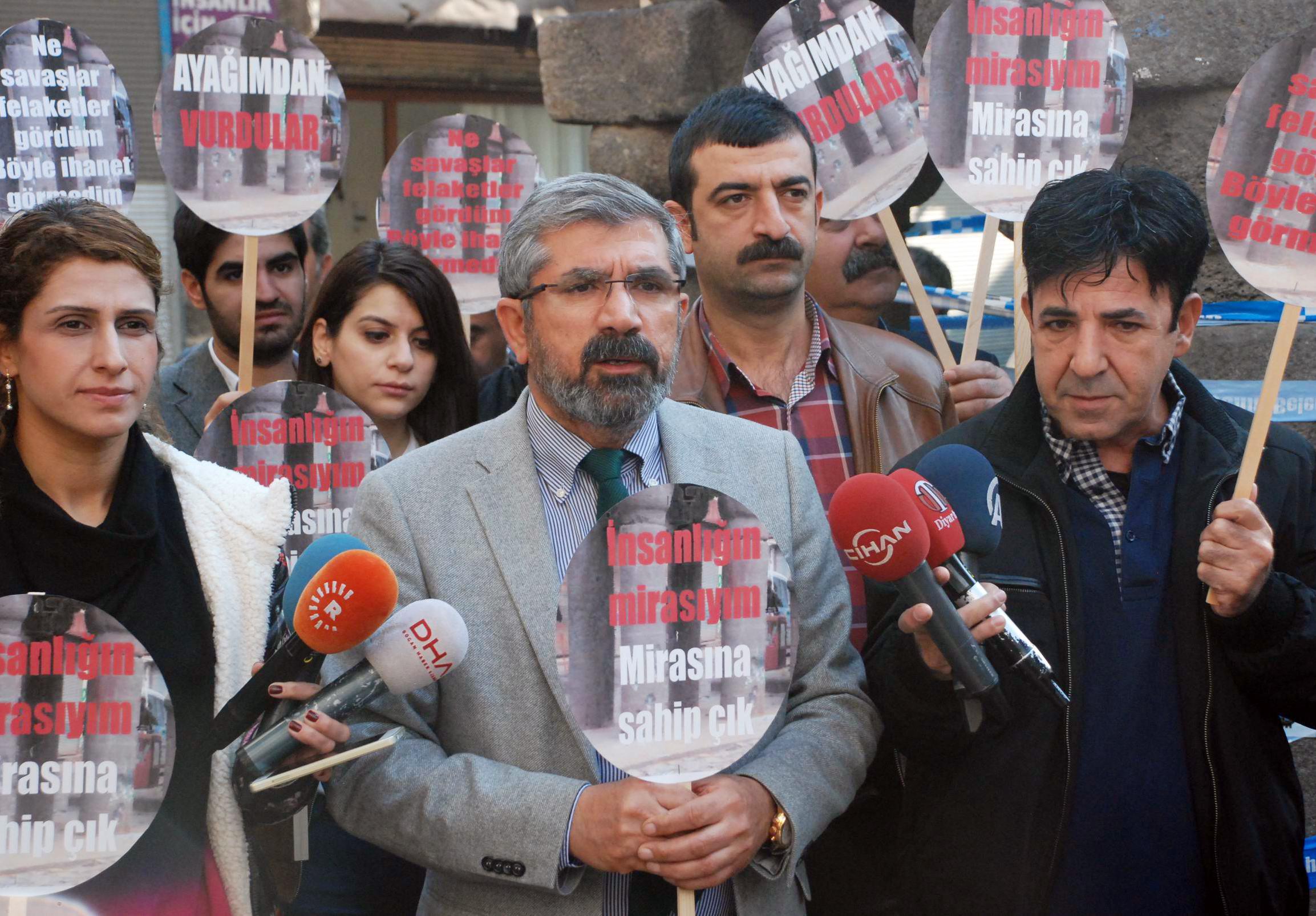 "We do not want arms, clashes, operations in this area, which has hosted numerous civilizations" Elçi said in the press statement given right before the attack. The area where the attack took place has two nearby historic mosques and two churches, and it is located in the historic citadel of Diyarbakır, whose walls were recently admitted to UNESCO World Heritage List.
President Recep Tayyip Erdoğan has made a statement after the attack and condemned the killings of Elçi and a policeman. "Turkey's determination in the fight against terrorism once again has proven right with this attack. We will continue this struggle till the end." Erdoğan said.
Meanwhile, PM Davutoğlu met with Republican People's Party (CHP) leader Kemal Kılıçdaroğlu and Nationalist Movement Party (MHP) leader Devlet Bahçeli on separate occasions in the parliament and shared information about the incident.
Interior Minister Efkan Ala stated that four inspectors were assigned to investigate the attack.
Metin Feyzioğlu, Chairman of the Union of Turkish Bar Associations, stated that along with all provincial heads of bar associations, they will visit Diyarbakır on Saturday to show solidarity.
Born in 1966, Tahir Elçi started his career in 1992 and was active in criminal law and human rights law. Elçi also served as an executive between 1998 and 2006 in Diyarbakır Bar Association, before assuming the post of chairman in 2012.
Elçi was an outspoken critic of state policies in Turkey's Kurdish question. In a recent televised debate on October 14, Elçi described PKK as "an armed political movement with political demands" and received 'wide support' from the public. He was referred to court for arrest for his remarks, and was released on the condition of an overseas travel ban.
Nevertheless, Elçi was also a critic of the urban clash tactics imposed by PKK and its armed youth wing YDG-H since July, which brought life to a halt in entire towns and cities in Turkey's southeast.