Peoples' Democratic Party (HDP) co-chair Figen Yüksekdağ's advisor Sıtkı Güngör has reportedly 'celebrated' the recent PKK terrorist attack in Diyarbakır, which killed five civilians including a baby, a police officer and wounded 39.
"Spring has arrived early" Güngör said in a Tweet he posted on his personal account, and ended it with a hashtag #Çınar, which is the name of the district where PKK terrorists carried out a bomb attack on the police headquarter and lodgings.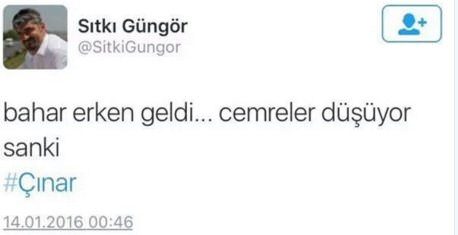 HDP co-chair's advisor deleted his tweet after receiving harsh criticism on social media, and changed his user name from @SitkiGungor to @Sgungor6262.

The parliamentary office of Turkey's Grand National Assembly (TBMM) released a statement saying that Güngör does not have any official affiliation with the parliament. The statement noted that Güngör had previously worked as an office clerk at HDP's parliamentary group office, but was dismissed on June 15, 2015 after failing to fulfill security conditions. "Sıtkı Güngör, who posted the tweets as reported by media outlets has no affiliation with our institution" the parliament's statement said.

PKK terrorists attacked the police department in Çınar district of southeastern Diyarbakır province late Wednesday, killing six civilians, three of whom were children.

The force of the blast caused a house close to the police station to collapse.

The attack killed three relatives of two police officers at the police lodgings, among whom were a woman and her five-month old baby, while three people belonging to the same family died inside the collapsed house. Lokman Açıkgöz, and Sadık Efe Açıkgöz (5), and Ecrin Açıkgöz (1) were reported to have been pulled from the wreckage.

Police buildings and public housings near the department have been also damaged. Additional police units and soldiers have been deployed to the district, along with ambulances and search-and-rescue units.

The HDP has been accused of lending support to PKK, which is recognized as a terrorist organization by the U.S., the EU and Turkey. Some HDP deputies have openly expressed their support for the PKK, and have faced strong criticism and legal inquiry for their pro-terror stance.

There have been claims that municipalities administrated by the HDP provide assistance to PKK by digging trenches and establishing roadblocks to claim control over cities.

Late in December, HDP co-chairman Selahattin Demirtaş said his party would support calls for the formation of a "democratic autonomous regions" in the southeast, as one of 14 items in the final declaration of the Democratic Society Congress, held in the southeastern province of Diyarbakır.

The HDP has reportedly lost significant popular support due to connections to the PKK terrorist group, according to a recent survey conducted by the Ankara-based Objective Research Center (ORC) in early January. Accordingly, only 6.5 percent of participants indicated that they would vote for the party if there were an election held today.

Formed in 1978, the PKK has been fighting the Turkish state for an independent state until the early 2000's. The group then shifted its goal to autonomy in predominately Kurdish inhabited regions of Turkey.