Concerns have been raised regarding a new war between Azerbaijan and Armenia, as Armenian officials recently declared that the cease-fire was over. Speaking to Daily Sabah, Azerbaijan Ambassador to Turkey Faiq Bagırov stated that these crises were not new, and it is impossible to have a cease-fire with Armenia, as long as they continue to occupy Azerbaijani territories.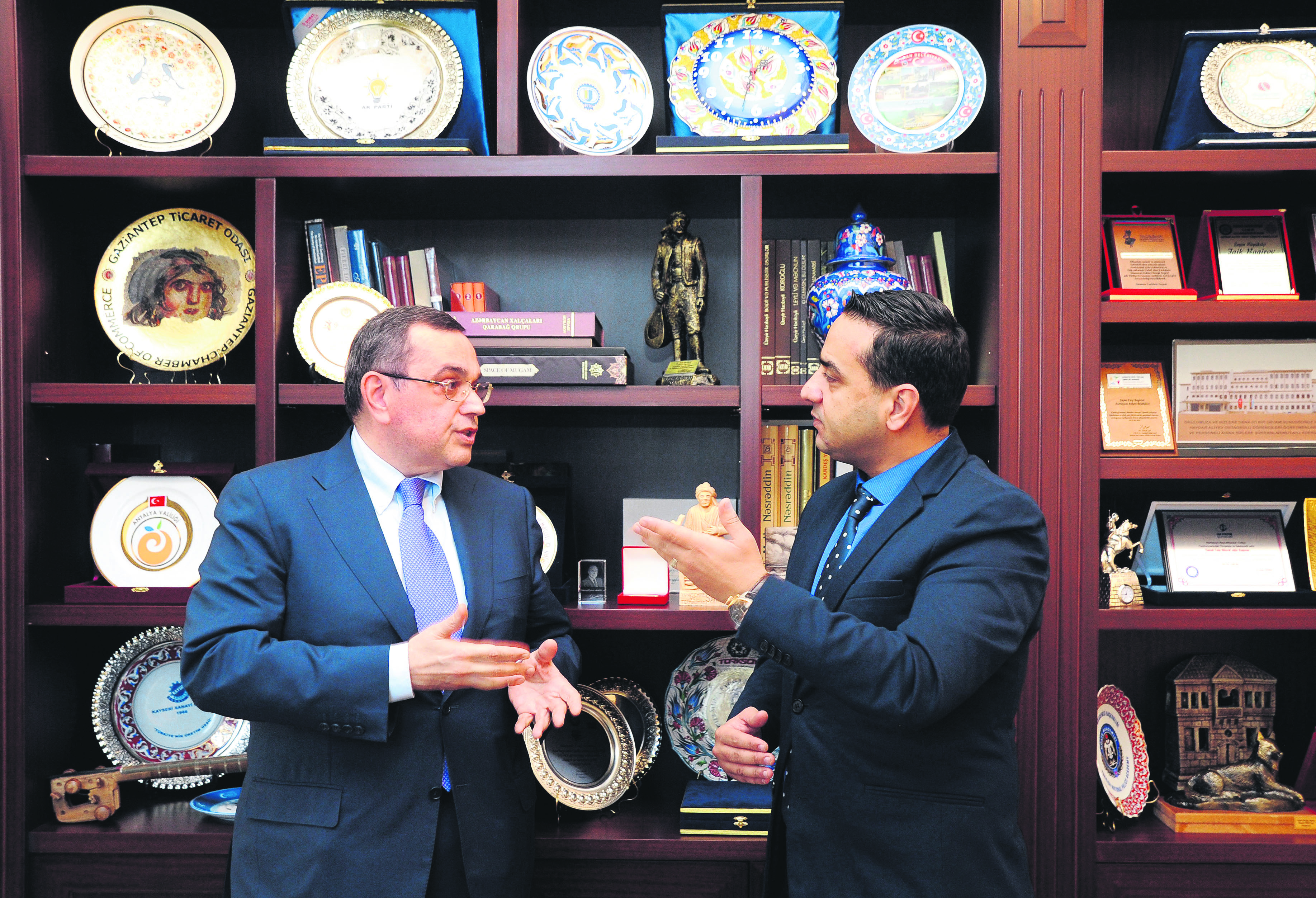 Azerbaijan's Ankara Envoy Faiq Bagırov (L) speaks to Daily Sabah Ankara Representative Ali Ünal.

Highlighting that the draft law regarding discontinuing relations with the U.S. is not of great importance, Bagırov indicated there is increasing cooperation between Azerbaijan and the U.S., especially in the fight against terror and with regard to energy. He also discussed the anniversary of Black January, which was named after massacres that occurred when the Soviet Army entered Baku in January 1990. Bagırov asserted that Jan. 20 was not only a tragic event for Azerbaijan, but also for the Turkic world and humanity in general.
DS: The night of Jan. 20 is known as Black January (Qara Yanvar), when the Soviet Army entered Azerbaijan's capital Baku and massacred civilians on that day in 1990. What would you like to share about this tragic event, as its anniversary draws near?
We will commemorate our martyrs who were massacred on that dreadful day with reverence and the utmost respect. As the Soviet Union administration disregarded Azerbaijani concerns about Nagorno-Qarabag and moved its armed forces into Baku and other cities, the Azerbaijani people voiced their discontent. The Soviet Army responded by ruthlessly massacring defenseless civilians. This is one of the most important breaking points during Azerbaijan's fight for independence. It is also significant, as it was one of the factors that caused the dissolution of the Soviet Union. Two hundred civilians were massacred, and the fate of over 600 people remains unknown. All of this is documented. Azerbaijani people had only reacted to the policy of the USSR regarding Nagorno-Qarabag. At the time of the massacre, Armenia had started to adopt its invasive policies towards Qarabag, and it was clearly supported by the Soviet administration, especially by Gorbachev. Azerbaijani people could not have stayed silent.
I would like to mention that 26 years have passed since the massacre. Azerbaijani people continue to commemorate their fallen with deep sorrow. Jan. 20 is not only a tragedy for Azerbaijan, but also for the Turkic world and humanity. Yet, this day should not only be remembered with sorrow, as it is also a glorious day; the fallen represent Azerbaijan's independence. Every year, thousands of people go to Martyrs' Lane on one of the highest points in Baku, and commemorate the fallen with utmost respect. Years may pass, new generations may come, yet the heroes will live on forever. May God bless the souls of all our fallen.
DS: There was a declaration made in recent weeks by Armenian officials that the ceasefire with Azerbaijan is over. What does this actually mean?


I would like to say that the events that transpired in Nagorno-Qarabag started in 1988 and continued until 1990. Azerbaijani people were reacting, as the Soviet administration did not take any steps to resolve these issues. The reactions peaked on Jan. 20, 1990. As I mentioned, the Soviet administration suppressed the people, instead of listening to them. The people were massacred not by an enemy, but by the very armed forces of the state in which they were citizens. Regarding the ceasefire, it was announced in 1994, which has always been violated by Armenia, as 20 percent of Azerbaijan's territories were and still are under occupation by Armenia. While the U.N. Security Council has approved four resolutions regarding Armenia's withdrawal from the occupied territories, the occupation still continues. This issue is not a newly emerged one. As long as the occupation continues, a ceasefire is not possible. To have a permanent ceasefire, first and foremost, Armenia has to withdraw from occupied Azerbaijani territories.
DS: Border clashes between the two countries are on the rise, especially when we look at last year. What are the chances of these conflicts turning into a new war?
The main reason for the border clashes is Armenia's desire to maintain the regional status quo, as the current situation is perceived as beneficial by Armenia. We can see that they provoke these conflicts. These actions are deliberate. They have an accusative discourse, stating that they are being murdered and facing genocide. As I have stated, these policies are not new, they are Armenia's usual policies. However, the issue is covered by the media due to our responses to their provocative acts towards us.
DS: The presidents of Armenia and Azerbaijan previously held a meeting in Switzerland. Is it possible to resolve the issues through diplomacy?
Armenian occupation of Nagorno-Qarabag is the most important subject of Azerbaijani foreign policy. It has to be a priority, as Armenia has occupied Azerbaijan's sovereign territory. As always, Azerbaijan showed the utmost effort in 2015 for the resolution of this issue. European Council and European Court of Human Rights decisions show that the legal process has started working in Azerbaijan's favor. The European Court of Human Rights' decree against Armenia regarding the blockage of Azerbaijani migrants trying to return to their homes was announced on June 16, 2015, which is an example of this shift. This is also important as for the first time in the European Court of Human Rights, Armenia was legally documented as the occupying state.
On the other hand, Azerbaijan has been able to relay its justified position on this issue to the whole world. In previous years, the OIC (Organization of Islamic Cooperation) documented deliberate destruction of mosques and Islamic monuments. In 2015, with a special resolution, the OIC announced that Armenia has been deliberately destroying Islamic monuments and mosques in the occupied territories. It also noted that they were keeping swine inside mosques, using them as pigpens, which indicates their disrespect towards Islamic civilization and religion.
One of the most important breakthroughs, of course, was the meeting between President Ilham Aliyev and the president of Armenia in Bern, Switzerland on Dec. 19, 2015, which Minsk group delegates also attended. Unfortunately, as you know, the meeting was inconclusive. In this manner, Azerbaijan has once more proved its good will to the world and especially to the members of OSCE's (Organization for Security and Co-operation in Europe) Minsk group co-chairs. Azerbaijan has always advocated a peaceful resolution, the meeting being proof of this. However, the inconclusiveness of the meeting was due to the lack of pressure on Armenia by the OSCE Minsk group co-chairs, as they were unwilling. Unfortunately, double standards are always there. As President Aliyev stated countless times, Azerbaijan will never consent to occupation of its sovereign territories. These territories will be reclaimed, sooner or later, and Azerbaijan will regain its control over these territories.
DS: A draft law was submitted to the Azerbaijani parliament recently, which proposes the discontinuation of all relations with the U.S. Why was it proposed and how will this affect Azerbaijan's foreign policy if it passes?


It is best for diplomats not to comment on decisions of the legislative body in Azerbaijan, the U.S. or any other country. It is natural that any draft law will be discussed in either the Azerbaijani parliament or the U.S. Congress. Yet, Azerbaijan and the U.S. have a relation consolidated by cooperation. Our cooperation with the U.S. is ongoing, especially in the fight against terror and energy. Therefore, limiting this cooperation is out of the question. As the name suggests, this is only a draft law, and only God knows whether it will pass or not. In this sense, we should only talk about facts. As I have mentioned, we have close cooperation with the U.S. in many fields, from transportation to repairing the Silk Road, which is called the South Corridor.
DS: In the last year, there was news about Azerbaijan closing the OSCE office in Baku. Could you clarify this issue? What are the reasons?


I do not know why this has caused such an uproar. Azerbaijan is a sovereign state. The operation of various institutions and agencies in the country depends on Azerbaijan. Thus, it is not possible for an institution or agency to operate in Azerbaijan without its permission. The OSCE office in Azerbaijan operated in Baku until 2013. Afterwards, it only operated as a coordination center for various projects. However, Azerbaijan's development has shown that this office was not needed anymore. It is a matter of curiosity for me why this was deemed as a political action. In my opinion, the office had become irrelevant, and nothing more.
DS: After the downing of the Russian aircraft, there was tension between Turkey and Russia. Azerbaijan is a country that has good relations with both Turkey and Russia. How do you evaluate the current developments? Would this situation affect relations between Turkey and Azerbaijan?


These kinds of developments are not beneficial for the countries of the region, Turkey and Russia included. This subject was brought up right before Turkey's Prime Minister Ahmet Davutoğlu's official visit to Azerbaijan. During the meeting, President Ilham Aliyev clearly expressed the position of Azerbaijan regarding this issue to Prime Minister Davutoğlu. The strategic partnership between Turkey and Azerbaijan also suggests Azerbaijan's position. President Aliyev stated that Azerbaijan would always stand together with Turkey. There is no other example for relations between Turkey and Azerbaijan. Azerbaijan also has good relations with Russia, along with a strategic partnership. We believe that in both Russia and Turkey, the political will is going to be victorious. Thus, relations between two of the most influential countries in the regions will recuperate.
DS: One of the most important joint projects of Turkey and Azerbaijan is TANAP, and it was decided to accelerate it. What are the latest developments on this project?


This project is the result of our government's political decision and support. This project foresees the transportation of natural gas from Shah Deniz Stage 2 through Turkish territory to Europe, both for Turkey to use and to provide security of energy demand for Europe. Since July of last year, TANAP has been progressing without any issues, and 80 percent of the infrastructure materials have been provided by Turkish companies. Prime Minister Davutoğlu, during his last visit to Azerbaijan, stated that TANAP should be brought forward and completed before 2018, which has been supported by our corresponding institutions. We foresee that it will be completed ahead of schedule.
DS: Are there any expected visits between Turkey and Azerbaijan?


One of the most beautiful aspects of relations between Azerbaijan and Turkey are the continuous visits. As you know, as a tradition, the newly elected Turkish cabinet always visits Azerbaijan first. Similarly, when Ilham Aliyev won the presidential elections in 2013, he visited Turkey first. This is a beautiful tradition. Moreover, visits on different levels always continue. There are frequent contacts. The Azerbaijan-Turkey High Level Strategic Cooperation Council is foreseen to be held in Azerbaijan during the second half of the year. Of course, there will be visits at various levels during the whole year.
DS: In recent years, there has been an increased cooperation between Azerbaijani and Turkish militaries and news regarding the formation of a joint army or brigades. Are there any developments in this matter?


The military cooperation between Turkey and Azerbaijan has always been at the highest level. Turkey and Azerbaijan greatly emphasize this matter. It is being discussed to execute continuous joint military simulations. This is also a beautiful tradition. Between the Defense Ministries of the two countries, execution of many joint military simulations is foreseen for this year. It is important to have the same level of cooperation also in the military. Moreover, I would like to state that the defense industries of Turkey and Azerbaijan are also working in cooperation, and this will continue.