The Turkey-EU migrant deal has apparently paid off and European leaders seem to be satisfied with the decreasing number of people crossing the Aegean Sea to Greece. However, keeping Europe migrant-free using Turkey's help may come to an end in the wake of exchanged ultimatums between Brussels and Ankara. The EU is not willing to grant Turkish citizens visa-free travel by early July until Turkey revises its anti-terrorism laws, straining ties with Ankara. President Recep Tayyip Erdoğan is not eager to deliver on the EU's demand at a time when security forces are waging a tough war against the PKK terrorist organization in the country's southeastern provinces. "If there will be no outcome [of visa liberalization] as of June 30, the readmission agreement will not be ratified in Parliament," Erdoğan asserted on Tuesday, giving a warning to the 28-nation bloc. He had previously alarmed Europe, saying Turkey would let refugees through its borders to Europe. "Buses and planes are not there for nothing," he said. Erdoğan has given a deadline to Brussels to call off the deal unless visa liberalization is realized. With the deal is on the brink of collapse, Daily Sabah spoke to refugees in Istanbul. Aware of the growing prospect of the deal breaking down, refugees are already looking for new routes to Europe this summer. "Belgium, Belgium," Aamina shouted when she saw the map, dreaming of a family reunion in Brussels.
"I want to take my mother, who is currently in Lebanon, to Belgium where our other relatives are," she said.
Worried about the future of her six children, Aamina is looking for new routes to Belgium.
Aaya, a 15-year-old girl from Damascus, is also waiting for a decision from Germany that would reunite her with her family. "The decision takes too much time. If there is an opportunity in the near future for us to go to Europe, I swear to God I will go," she said.
Playing games with Aaya on the street, Adila, 13, from Aleppo joined the conversation. "My family will decide if we will go or not," she said, adding that an opportunity could lead her father to make some decisions. "I would go to Germany," she said.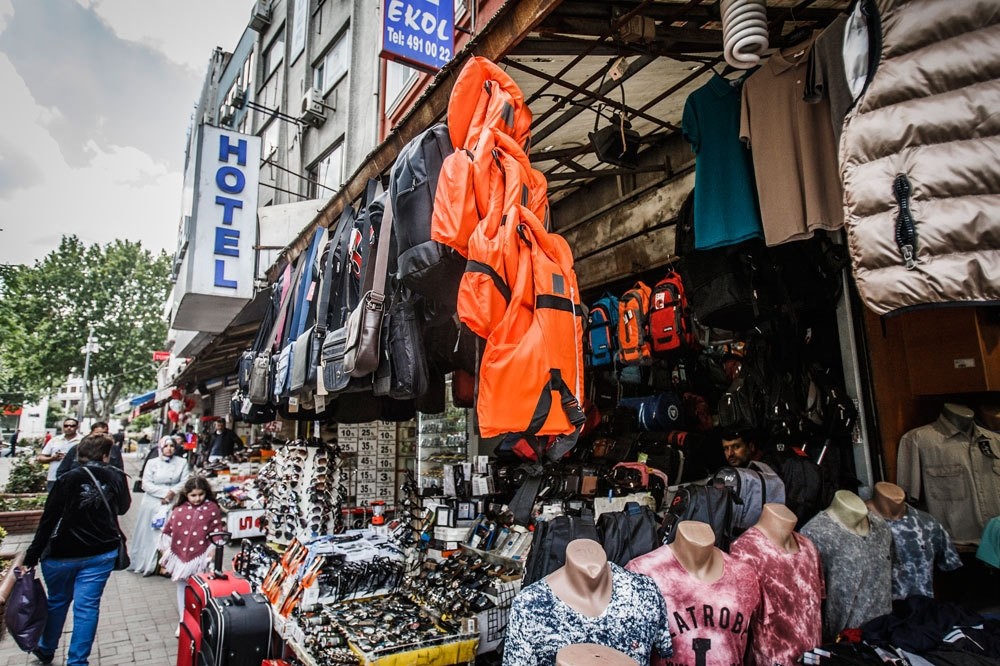 Many shops sell life vests to refugees willing to try to sail to Europe.
As we walked around the Fatih district, we came across another Syrian refugee on a cigarette-break. Mazin works at a restaurant to earn a living. "My brothers are in Germany. I work here only because I need to earn money to be able to buy food, clothes and other needs," he said.
Counting down the days before he leaves for Europe once the Turkey-EU deal ends, Fazin said he did not set out on the perilous journey because it was winter. "Now that it is summertime and there is a possibility, I will definitely go to Europe," he said.
Contending that nearly all of his friends and acquaintances are looking forward to the day Turkey opens its borders to Europe, Fazin prays that the Turkey-EU deal will fall apart.
Muhammad, a 12-year-old boy that we interviewed a couple weeks ago saluted us when he saw us again. Muhammad sells packs of tissues for TL 1 ($0.33). He lost seven of his family members in airstrikes in Douma and has been a refugee since 2012.
Muhammed said he was happy to see us again and asked about the state of the deal that we had spoken of previously.
Having learned that an opportunity to go to Europe could emerge next month, he said he hopes his father will decide to go: "If the deal falls, I guess we will go to Europe."
When asked about how he has fared since our last meeting, Muhammad said: "We are working very hard to earn a living and keep ourselves fed. My father will decide whether we stay or not, but I still dream of Germany."
TRADESMEN SELLING LIFE VESTS EYE MORE PROFITS
Many shops around the Fatih district offer life vests to refugees, whether they usually sell suitcases, toys or electronic devices. As we approached one tradesman and asked how sales have been after the number of refugees trying to cross to Greece fell sharply, he started to compn.
"It's been terrible recently," he said, refusing to give his name. He is also aware that the deal could collapse next month. "God willing, our sales will also increase when refugees make their way to Europe," he said.
We care about their lives. Those who previously died bought low-quality life vests," he said, claiming that he does not sell life vests to those looking like refugees.
EU PUSHES FOR CHANGE, TURKEY NOT EAGER TO OBEY
As the EU pushes Turkey to change its anti-terrorism laws, President Erdoğan and former EU Minister and Chief Negotiator Volkan Bozkır have firmly refused to do so.
Turkey is ready to open its European borders to Syrian refugees trying to make their way to the EU if the bloc fails to keep its promises as part of the EU-Turkey refugee deal, Justice and Development Party (AK Party) Group Deputy Chairman Bülent Turan told Daily Sabah earlier in May.
"Turkey has done its part regarding the visa liberalization process. Our stance on refugees is clear. They are our dear guests. However, if they want to leave for Europe and the EU does not fulfill what is required from them [as part of the deal], we will open our borders," he said.
Stressing that Turkey's border and national security is as significant as that of the EU, Turan said the EU's expectation for Turkey to change its anti-terrorism laws is unacceptable.
"At a time when Turkey is fighting the PKK, DAESH and the DHKP-C [Revolutionary People's Liberation Party Front], it is not acceptable to require Turkey to change its anti-terrorism laws," Turan asserted.