With the fall of the significant Syrian city of Aleppo, around 100,000 people are forced to flee their home due to fears that the Assad regime and Iran-backed Shiite militias could commit massacres. Turkey, home to more than 3 million refugees, is more than ready to accept the civilians fleeing death.
Gaziantep, a southeastern border province, has been sheltering nearly half a million refugees since the Syrian civil war began years ago. Gaziantep Mayor Fatma Şahin told Daily Sabah in an exclusive interview that her city will continue to keep an open door policy toward the oppressed "even without the help of the world community."
According to official figures, Gaziantep currently hosts slightly more than 400,000 refugees. However, authorities told Daily Sabah that the estimated number is around half a million, more than many European countries combined.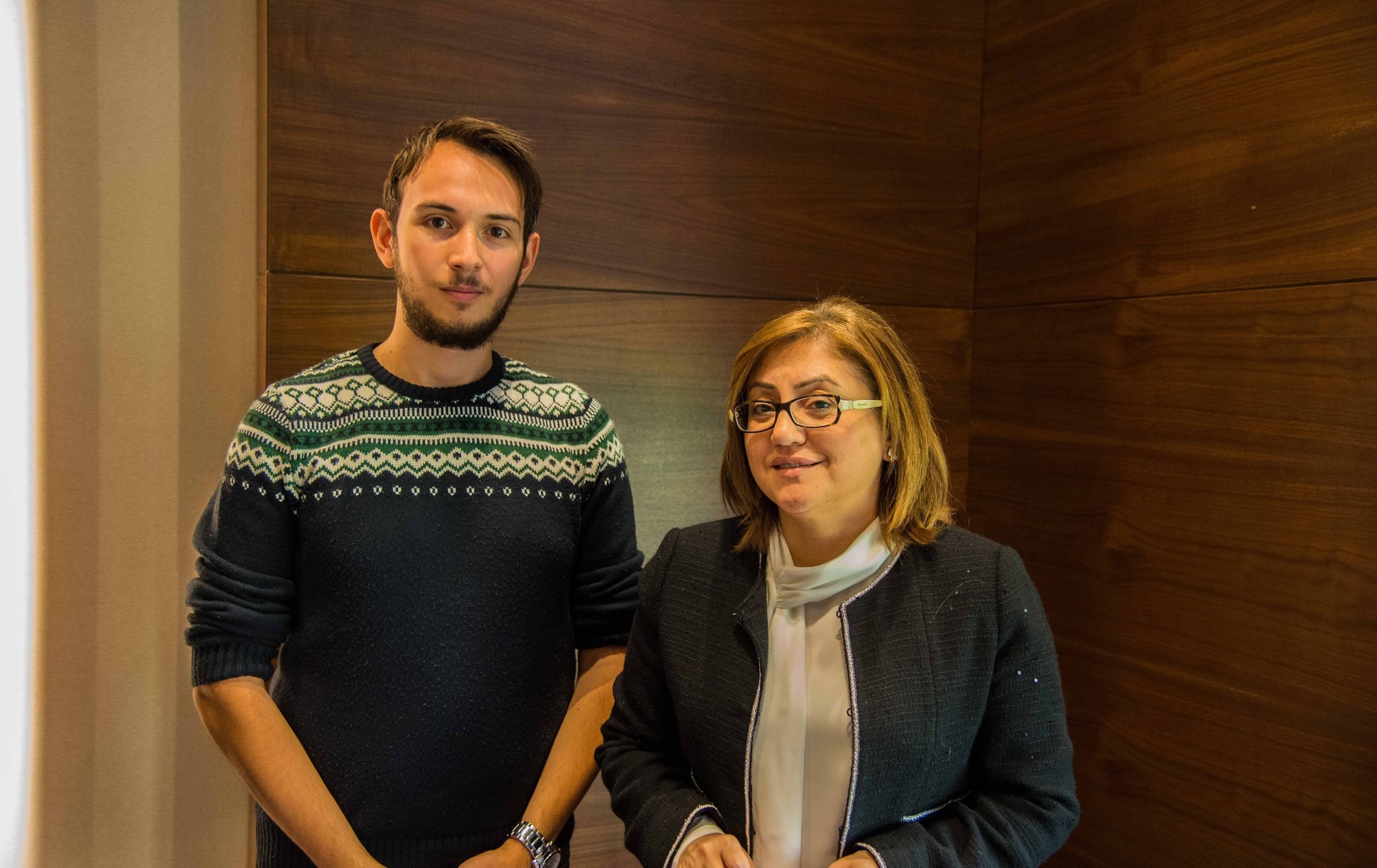 Daily Sabah's Yunus Paksoy (L) and Gaziantep mayor Fatma Şahin
The Turkish Red Crescent has been ramping up efforts to prepare a tent city for civilians fleeing Aleppo. Turkish Red Crescent authorities told Daily Sabah that the preparations are complete. Yesterday, Kerem Kınık, head of the Turkish Red Crescent, said the Turkish Red Crescent was preparing to increase capacity in refugee camps as the number of the people being evacuated was expected to reach 50,000.
"We reached Gaziantep's projected population for 2030 in 2014. It means that the municipality has to invest greatly in education, infrastructure, employment and security," Şahin said, explaining how Gaziantep was tested at the time.
The mayor also gave examples of how the Gaziantep municipality introduced new plans to adapt Syrian women and children to daily life. "Syrian women enrolled at courses opened by our municipality. The number of Syrian children receiving education jumped to 67,000 from 3,000 in two-and-a-half years," she said.
'WORLD LEFT US ALONE, PROMISES NOT FULFILLED'
Şahin slammed the international community for failing to lend a hand to Gaziantep and Turkey in general. "As for Gaziantep, we received backing from the Japanese only. World leaders from the EU and the West came to Gaziantep and pledged help. However, these pledges remained unfulfilled," she said.
Criticizing European countries for building walls to keep refugees out, Şahin said this is not the solution for ensuring the security of the continent. "The world will not be able to defend itself by erecting walls and building cages," Şahin asserted, adding that Europe will not be safe unless Turkey is.
The mayor suggested that Jarablus is a good example that Syrians will return to their homeland once it is safe. The population of Jarablus skyrocketed after it was liberated from Daesh in late August by the Turkey-backed Free Syrian Army (FSA).
"Security must be provided in Syria as soon as possible," Şahin said.
'SMEAR CAMPAIGN AGAINST GAZİANTEP'
Recalling news and rumors about Gaziantep in the past, Şahin said that ill-intentioned circles have smeared against Gaziantep, saying that the city is caught up in terror and hosts terrorists. "Gaziantep is a precious economical center of the region. There are 400 UN officials residing here. Gaziantep will continue to be an attraction center for foreigners despite the smear campaigns," she asserted.
"Gaziantep exports worldwide. This city remains strong thanks to its hard-working and brave people," Şahin said.
'GAZİANTEP NEVER THOUGHT ABOUT FAILING'
When asked about whether she herself thought that Gaziantep could fail in the face of the refugee burden, Şahin said: "No. It is a matter of planning and coordination. With a decent short and long term plan, we can achieve it.
The mayor appealed to foreigners who have no idea about Gaziantep other than it being a city bordering Syria. "Gaziantep has always been able to manage migration. We share our bread with the oppressed. It is a caring city," she said.