The evacuation of thousands of Syrians stuck in Aleppo was completed last week as a result of Turkey's intense diplomatic efforts. Now more than 50,000 Syrians continue their life struggle under heavy winter conditions in the north Syrian city of Idlib, where the Turkish Red Crescent along with other Turkish nongovernmental organizations (NGOs) have been continuing their efforts to ease the ongoing humanitarian crisis. Daily Sabah spoke with Mehmet Güllüoğlu, the director general of the Turkish Red Crescent to find out more about their works for evacuees and the institution's efforts in the other regions where humanitarian assistance is required.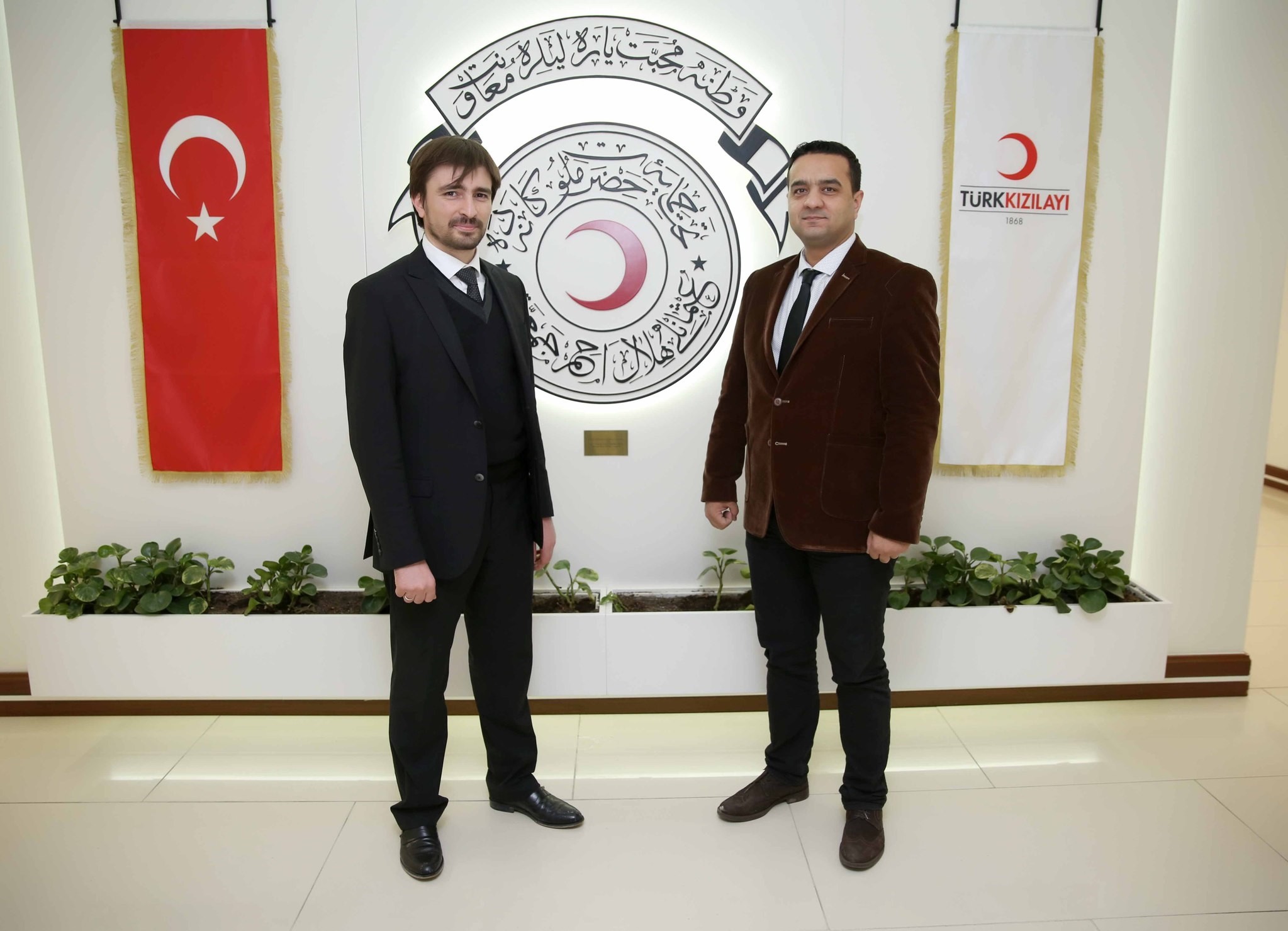 Mehmet Güllüoğlu (L) and Daily Sabah's Ali Ünal
Dr. Mehmet Güllüoğlu said that even under heavy weather the Turkish Red Crescent managed to reach all of the 50,000 evacuees and provided them a full aid package. Providing information about their ongoing efforts for 3 million refugees in Turkey, Dr. Güllüoğlu said that the Turkish Red Crescent is continuing to aid the vulnerable segments of the society in particular and provides financial assistance for up to 1 million Syrian refugees. Recalling that they are also trying to reach refugees and internally displaced persons (IDP) in Iraq, Dr. Güllüoğlu underlined that the Turkish Red Crescent's activities are not only limited to Syria and Iraq and that they are trying to reach any place where people need humanitarian assistance.
Daily Sabah:
The evacuation of civilians from Aleppo to Idlib was completed. Could you inform us about the developments there?
Mehmet Güllüoğlu:
Firstly, we have to talk about Aleppo's position within the Syrian conflict. Syria was a singular country consisting of different ethnicities and socio-economic groups. For instance, in Latakia, the city where al-Assad was born, Nusayris live in the city center, while Turkmens live in the rural areas near the mountain ranges. The region of Al-Hasakah and al-Qamishli, on the other hand, are mostly populated by Kurds and it was a region that was neglected by the Syrian regime. The Kurds were always treated as second-class citizens. Aleppo was a truly cosmopolitan city before the war and it was economically more active than Damascus. Damascus, of course, was the capital and the representation of the order in Syria. Overall, looking at the demographics, we were talking about a Sunni population making up 80 percent of the total population.
In the past five years, this has changed a lot; Daesh and the PYD rose up over the last few years. While the regime tried to prevent Kurds from gaining power, the PYD emerged and gained ground in Syria.
Peaceful protests were initially taking place in Aleppo but unfortunately things transformed into armed conflict. In time, it was divided between four actors: Kurds, the Free Syrian Army (FSA), the Syrian regime and Daesh. Aleppo consists of a city center and a vast rural area surrounding it. Considering Aleppo's rural area, this division is still existent. The eastern part of Aleppo city center was under the control of the FSA and it was estimated that there were around 200,000 people in that area. With the pressure from Russia and the Syrian regime, the FSA started to lose ground, district by district. Turkey started to hold talks with the parties of this conflict to prevent civilian deaths. Ultimately, Turkey and Russia agreed on allowing the evacuation of FSA, their families and any civilians who wanted leave the city. As most of the people saw, this evacuation was suspended and restarted a couple of times. There were attacks to the convoys from different groups and some of the buses used for evacuation were burned down. On the other hand, the evacuation of prisoners of war, wounded and civilians being held at a Shiite-controlled area, which were initially not included in the plan, started being discussed. Nevertheless, the evacuation of the aforementioned people was completed by Wednesday. It is estimated that 50,000 people were evacuated. Currently, Aleppo is completely under the control of the Syrian regime. These 50,000 people either went to Idlib to their relatives or went to other villages and camps. The Turkish Red Crescent had a role in this evacuation. Cooperating with Syrian NGOs, we started to establish new camps and provide extra aid to the existing ones; as some families were united and started to live in the same shelter, we needed to provide extra rations.
Even though these camps are in FSA territory, they cannot be deemed as 100 percent safe. They have been attacked a couple of times over the past couple years, including the ones near the Turkish border, the camps. However, when compared with Aleppo, it is relatively safe. Around 99 percent of the evacuees stayed in Syria, while some of the critically wounded were brought into Turkey for medical aid.
Daily Sabah: What were your initial expectations regarding the evacuations?
M.G.:
Nobody actually knew how many people were to be evacuated, as it was voluntary for the civilians in the city. We prepared 10,000 tents for the evacuees in two installations. Moreover, we cooperated with AFAD to build accommodation for 80,000. We are evaluating every possible scenario. Our equipment is ready at the border towns of Turkey and they are already being gradually employed according to need.
On the other hand, as the evacuation required the evacuees to carry only luggage and nothing else, we are now providing them all the equipment essential for their survival. We provided them with shelters, food, and the means for heating. We are also working on providing education and healthcare services to them.
The awareness about Aleppo in Turkey was immense. A significant portion of our citizens contributed to the humanitarian aid in many ways.
Is the Turkish Red Crescent the only NGO that is providing humanitarian aid in Aleppo?
M.G.:
There are many other Turkish NGOs which are providing aid through us. However, overall, 80 percent of the total aid is provided by Turkish NGOs and the remaining 20 percent are provided by international institutions such as the UN.
This is not an easy undertaking; you have to organize the logistics. You have to send aid with hundreds of trucks. Moreover, if you provide the families only rations but nothing else, this cannot be called aid; you have to cater to all of their needs: food, shelter, clothing, heating etc. We were able to reach all of the 50,000 evacuees and provide them a full aid package.
What is the greatest challenge in shipping humanitarian aid to Idlib?
Firstly, as we did not know how many people were to be evacuated, it was a challenge. Secondly, the organization and the logistics were also challenging, as I have said before. We had to determine what the evacuees needed and how we were going to deliver the aid. On the other hand, weather conditions were also not favorable. While establishing the new camps, it was snowing and there were people arriving by the minute. So we were racing against time. These are all the usual challenges of providing help.
Security is an issue which concerns both the civilians and the humanitarian aid workers there. No one can guarantee that an aircraft will not bomb the camps, unfortunately. We know that the Syrian regime has previously bombed bakeries, schools, hospitals and campsites. Therefore, there is always a risk, but as we see that people are in need of dire help, we have to disregard these kinds of risks and continue our work.
As the Turkish Red Crescent, what kind of aid have you provided and what precautions have you taken during the Syrian crisis?
There are three duties we perform. The first is about the camps and campsites. In 2011, we established the first camps there and we still continue to work on those campsites either by our own means or with the support we receive from international institutions.
After some time, the refugee population outside of the camps increased drastically. Currently, 10 percent of the refugees are staying at the camps, while the rest reside outside the camps and all around Turkey. There are many initiatives to help the refugee population that lives outside of the camps. We provide informal education and language courses to children. Moreover, we have issued a Turkish Red Crescent Card, which is distributed to the refugees and is included in the humanitarian aid agreements between the EU and Turkey as a means to distribute financial aid. We are continuing to aid especially the vulnerable segments of society: disabled, elderly, widows and such.
The third one is about the IDP. There are 12 border gates which the Syrian and Turkish state controls. The state has awarded us with a duty to be a conduit for humanitarian aid. For instance, when a philanthropist wants to help these people, they send their aid to us. We first check whether their contribution is humanitarian aid or not. Moreover, we check the inventory to determine if everything is accounted for. Then, we send the aid to our reliable partners in Syria and we continue to check what is needed in what region. Therefore, we are trying to aid the 6 million IDP who are just across the border.
These people have changed their locations too many times. Some went to Eastern Aleppo running from their villages to seek refuge in the city. Now, they are in Idlib. Helping these people is important for preventing them from immigrating to other countries.
Could you inform us about the statistics of the aid that was provided by the Turkish Red Crescent since 2011, the beginning of the Syrian crisis?
Up until now, we have provided aid worth around TL 2 billion ($568.674 million) to various humanitarian aid organizations in Syria. I can say that the majority of this amount was provided by the Turkish Red Crescent and Turkish NGOs.
As the crisis is more significant in Northern Syria, the aid provided through or by Turkey are the most important. Countries like Jordan and Lebanon also send aid to Syria, but they are comparatively small, as they are far from the actual conflict zone.
How did Operation Euphrates Shield effect your initiatives in Syria?
M.G.:
As the Turkish Armed Forces (TSK) advance, we have increased accessibility and room to maneuver. There is a small area that is completely under control. In this area, we are able to reach each and every person who is in need. The operation has brought some advantages in aiding the people of the region, but the war is still raging in Syria.
The Mosul Offensive has caused around 200,000 people to migrate. You are aiding these people too. Could you elaborate on what you are doing to help them?
Mosul was invaded two and a half years ago and it is still under the invasion of Daesh. After the cities invasion, we immediately opened an office together with the Iraqi Red Crescent in Irbil and started to aid regions close to the Turkish borders, such as Dohuk, Kirkuk and Irbil, along with Baghdad on the south.
The Mosul offensive started two years after the city's invasion by Daesh. The crucial part is that it is always the civilians who are affected from these conflicts. Unfortunately, their plight did not catch the attention of the world as much as Syria did. We are trying to aid them, but there are not many donations made for Mosul and Iraq in general.
The Turkish Red Crescent Card is a project that focuses on Syrian refugees living within the borders of Turkey. Can you explain what the aims are and what the project provides?
This project was first intended only for our citizens. We thought that it was better to provide them a card, instead of rations or cash, as the latter might hurt their feelings and dignity. Then, the Syrian crisis emerged. We first provided hot meals to the Syrian refugees and, later, we adapted this card system for them as well. They can use their cards at shops within the camps.
Then, we started to use this system outside of the camps. We made agreements with certain shops, so that the Syrian refugees would be able to use their cards there. All of these were compensated with the funds coming from international organizations.
As you know, there is a Readmission Agreement between Turkey and EU. As part of this agreement, a financial aid package of 6 billion euros intended for the refugees in Turkey was promised. A total of 350 million euros from this amount was dedicated for the said card system.
We are currently receiving applications for the card system. Syrian refugees can apply for the card with their temporary IDs. We are cooperating with other state institutions for this application process. Certain NGOs are receiving the applications of Syrian refugees, determining whether they are eligible for the card and then submit the application to us. If they are found eligible, they will be provided with the card. Each month, TL 100 will be deposited to the card for each person in a family. They will be able to use this amount as they want: to pay rent, to buy food, to pay for their children's educations, et cetera. These cards will be provided to the vulnerable segments of the society.
There were initiatives of yours regarding the education of Syrian children in Turkey. What are the latest developments in this regard?
We first opened a community center in Urfa in January 2015. It is a center where our citizens and the Syrian refugees met, learned other languages, trained in certain vocations and where people were able to receive psychological support if needed. Then, we opened six more community centers in other cities, including Ankara, Istanbul and Izmir, as well. More than 60,000 are currently benefiting from these centers and it is increasing as there are new centers being opened. There are social activities that are organized in these centers. For instance, a renowned Turkish chef taught a group consisting of both Turkish and Syrian women how to cook some food. In these community centers, language courses are the most popular. There are courses in Turkish, English and Arabic. People know that knowing Turkish is crucial if they are to stay in Turkey.
The Turkish Red Crescent's activities are not only limited within Syria and Iraq. In which other countries are you active?
We have offices in Jerusalem and Gaza in Palestine. As their lives are getting harder by the day, we are trying to help them in whatever field we can, ranging from education to agriculture. We have healthcare and emergency services especially in Gaza, but we also provide this support in the West Bank as well.
We are active in Somalia since 2011. We continue to aid them in construction, education, healthcare and many other fields. This includes building roads, orphanages or hospitals.
In Bangladesh, we are aiding the Arakan Muslims who were forced to leave their lands and live in other cities.
Pakistan is our sister country that has millions of refugees and faces natural disasters frequently. We are also very active there.
Even though we are active in many other countries, we have offices in the countries that I have mentioned. We continue to work with the North Cypriot Red Crescent. Moreover, we had some initiatives in Yemen, as well.
How are your relations with other international aid organizations, such as the Red Cross?
I can definitely say that the Turkish Red Crescent is one of the most significant organizations among other Red Crescents and Red Crosses. We receive support from these organizations in our initiatives and, in turn, we also support them in their initiatives. In this context, as we are deemed credible and reliable, various U.N. institutions are supporting us in our operations. However, considering all the disaster around the world and the budgets provided to Red Crosses and Red Crescents, we are unfortunately pretty far from satisfying the needs of all. Therefore, the donations to the humanitarian organizations should be encouraged by their respective governments. Moreover, wars and armed conflicts should be stopped, while everyone must be prepared for natural disasters. Otherwise, we the humanitarian aid organizations will not have the means to address these issues.
What are the benefits of interacting with other humanitarian aid organizations?
While the Turkish Red Crescent is strong in certain fields, the others are strong in other fields. For instance, in the recent years, we have been effective in immigration management. Now, we are helping other organizations with our experience in this field. Blood drives are a technical issue and we are also helping other organizations in this matter. Moreover, we have experience in working conflict zones as we are active in countries like Syria, Iraq and Somalia. On the other hand, we are receiving funds from other organizations for around 3 million Syrian refugees in Turkey and for our other initiatives as well.
In short, the interactions between the humanitarian aid organizations are more or less about funds or exchange of knowledge.
As the Turkish Red Crescent you also would like to assume the IFRC presidency in 2017. Can you share more information with us on this?
There is a Red Crescent and Red Cross Federation and its headquarters are in Geneva. There is a board of directors consisting of 30 members, including the chair and deputy chairs. We are one of the members on the board. Toward the end of 2017, the meeting of this federation will be held in Istanbul and representatives from all over the world will be attending. An election will be held. Turkey is a strong candidate for the chair and deputy chair. Nevertheless, the ultimate goal of this federation is to address crises, disasters and support people in need.