As Syria peace talks involving the opposition groups and Turkey, Russia, and Iran are scheduled to take place in Kazakhstan on March 14, the U.N.'s Regional Humanitarian Coordinator for the Syria Crisis Kevin Kennedy, speaking to Daily Sabah, praised Turkey's efforts regarding the Syrian crisis, stating that "Without the support of Turkey, we [the U.N.] would be in very difficult circumstances - especially in Syria."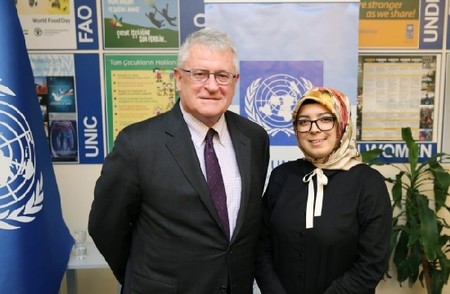 As part of his two-day visit, U.N. official Kennedy met with Turkish officials before traveling to Gaziantep where he visited refugee camps and emphasized that the U.N. has major operations in Turkey. Providing insight regarding his visit, Kennedy stated that he and his team's main goal is to work and support the neighboring countries in their efforts toward humanitarian works, noting: "We've had excellent support from the [Turkish] government here as well as from the people in Turkey. They made a huge difference in these [humanitarian] efforts and I think Turkey should be very proud of that."
Continuing on by praising Turkey's efforts in dealing with the Syrian crisis, Kennedy stated that the Turkish government's efforts both internally and across the border have saved hundreds of thousands of lives: "Without the support, without being able to be based here and operate here with the support of the Turkish government, we would be in a very difficult situation. It is challenging enough and without the support we would be in a deadlock," he added while noting that nongovernmental organizations (NGOs) in Turkey have been playing a major role throughout the Syrian crisis.
Referring to the Astana talks, U.N. official Kennedy said that peace talks have been very helpful in gaining humanitarian access to Syria. Yet, he also stressed that "the support we [the U.N.] need is on the ground, and we need the access to the areas we do not have access to… There are about 18 million civilians in Syria still and nearly 5 million of those are either unreachable or barely accessible by our efforts. We also seek support from the U.S. and Russia to help us gain that access." While he noted that a "safe-zone" proposal by Turkey is not impossible, he emphasized that the immediate necessity is in getting "the shootings to stop and to bring access to humanitarian assistance to reach civilians."
Kennedy further stated that though the conditions to establish the required level of security for a safe-zone in Syria are yet to be established, the U.N. "will not turn down any opportunity from humanitarian access." The U.N.'s regional humanitarian coordinator concluded his remarks by "welcoming Turkey's efforts" and underlined that the problem is a regional one, not just a Syrian problem.