President Recep Tayyip Erdoğan on Friday met the Syrian father who lost his 9-month-old twins, his wife and other relatives in the chemical attack by the Assad regime in the northern Syrian town of Khan Sheikhoun that killed over 80 people.
Erdoğan offered his condolences to Al-Yusuf, whose photos of him holding the bodies of his twin babies shocked the world in a grim reminder of Aylan Kurdi's small body washed up on a beach after drowning at sea or Omran Daqneesh's stunned and bloody face as he sat in an ambulance after his home was destroyed.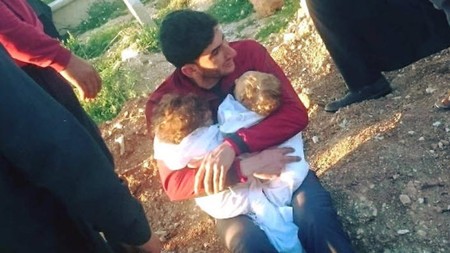 "Syrians' only hope is our brother Recep Tayyip Erdoğan, we hope the world receives our message," Al-Yusuf, a 29-year-old shop owner, said as he showed the last pictures of his babies on his mobile phone.
Abdel Hameed Alyousef lost his two children, his wife and 20 of his relatives in the suspected chemical attack. In footage shared on social media, Alyousef sits in the front seat of a van with the twins, his eyes red as he asks his cousin Alaa to video his farewell to them.
"My children were so beautiful, but they were not the first children who were killed in Syria," Al-Yusuf said earlier at his home after he was treated at a hospital.
"We will show all the world how patient we are. We are not the first or the last. It [Syrian war] will continue. Our children have been killed in our arms for six years. Nothing has been done."