Transport, Maritime Affairs and Communications Minister Ahmet Arslan said that currently 45 percent of the project is completed and that it will serve 90 million passengers annually once the first stage of the project is completed in the first half of the 2018.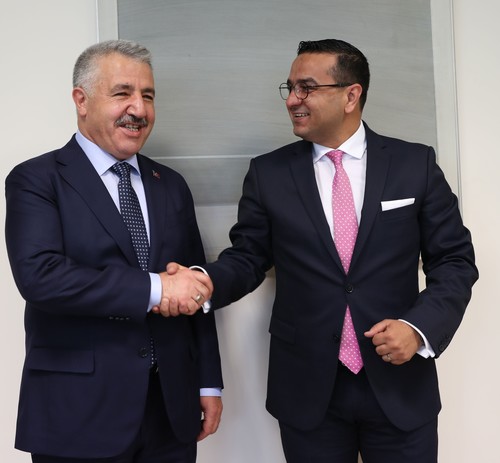 Regarding the Kanal Istanbul project, Minister Arslan said they have currently finalized work on five alternatives and that the project will have a volume of $15 billion. Responding to allegations that Kanal Istanbul will alter the ecology, the minister stressed that the project will not harm the ecology.

In addition, Turkey is in the middle corridor of the One Belt One Road (OBOR) project and Minister Arslan said Turkey would finalize a non-stop Iron Silk Road by finishing the Baku-Tbilisi-Kars railway in June.

Commenting on Wikipedia being blocked in the country, Arslan said that despite all their warnings and calls for cooperation, Wikipedia ignored Turkey's calls to update articles that depict Turkey as a country supporting terrorism and they had no other option to block access to the website and he underlined that they still want to keep channels open for communication with the website.

Daily Sabah: Let's start with the third airport project in Istanbul. Could you tell us about the latest developments in the project?

Ahmet Arslan: Our aim is to finish and open it by the end of next year; however, I have to say that we are working on a challenging land. It's almost like a swamp. We are filling up holes that are 70-80 meters deep, which were caused by coal mining. We cannot fill these holes at once, we are doing it gradually; after we are sure that it's stable, we fill and pressurize it. This requires a certain amount of time; rushing could cause problems in the future. To not have any future problems, we are working on a 24-hour basis; nevertheless, we have certain spots that delay the project because of the filling and pressurizing procedure. At the moment, the project is 44-45 percent complete.

The complete project area of the airport is larger than San Marino's area. The total construction area of the first stage, 3.5 million square meters, is equal to 1.7 times Monaco's territory. The volume of concrete to be used for the main terminal building is equal to 1.4 times that used for the Empire State building. The 180,000 fittings to be used in construction of the terminal building is 24 times that of the Eiffel Tower's metal structure, while the area of the roof of the terminal is 23 times the Colosseum's surface area.

When we complete the project, we will have six independent runways, 16 taxiways and a 500 aircraft park capacity, all of which will accommodate operations of all kinds of aircraft. Flights to 350 destinations will be realized at the new airport in Istanbul. When the first stage is completed, it will serve 90 million passengers a year. After we achieve this figure, our aim is to start constructing the other stage and increase the capacity to 150 million. Our goal for 2023 is to have 200 million passengers annually.

The investment cost for the project is 10.2 billion euros. When the project is completed, we will have 25 billion euros in rent revenue. The first stage, which will be completed in the next year, will create 100,000 jobs, while we estimate a total of 225,000 jobs will be created by 2023. Thus, we will have realized the largest build-operate-transfer project in terms of investment and rent revenue.

DS: There were efforts to lift the tablet and notebook ban imposed by the U.S. and the U.K. to flights originating from Istanbul. Could you tell us about those developments?

AA: We have sent letters to ministers of both countries. Our Ministry of Foreign Affairs is in contact with them. Our technical committee is also in touch. We have progressed more with the U.K. We have indicated that we are taking all the precautions required and told them that their technical committees could come and inspect the precautions on-site. They have agreed.

While we try to correct these unfortunate practices, we are taking more security precautions than required. We are working to install a device that makes tomography scans, so to speak. Two of them will be installed this month; another two will be installed by July. This device scans all devices that pass through the jet bridge. Currently, we take notebook computers from people in the boarding area and give them back at the end of the jet bridge in a special package.

On the other hand, Turkish Airlines has some measures; they provide notebooks inside the plane and free Internet in economy class. As a result of these measures, Turkish Airlines' passenger numbers have not been affected negatively.

If we are not able to have positive results from these meetings, we will meet with the International Civil Aviation Organization (ICAO). If every country acts on its own behalf, these international organizations will mean nothing. Moreover, the practices of these organizations won't be enforced. Therefore, these organizations will have to work hard to enforce regulations and decisions. I believe they will cooperate with us in this matter.

DS: It is rumored that President Erdoğan will be signing bilateral treaties on transportation during his visit to China. What is your response to these rumors?

President Erdoğan will attend the One Belt One Road (OBOR) forum in China and have a bilateral meeting with Chinese President Xi Jinping. During this meeting, topics that concern our ministry will be discussed, and we are currently working on these topics. We hope this work is crowned with a treaty during the visit.

DS: Turkey is in the middle corridor of the OBOR project, and the Baku-Tbilisi-Kars railway is an important project in this context. When will this project be accomplished?

We definitely can say that the Baku-Tbilisi-Kars railway is the most important part of the middle corridor. This project will hopefully be concluded in June. We continue to work hard in the field to realize it. As a part of the middle corridor, Azerbaijan and Turkmenistan are interested in the conclusion of the railway; this project will strengthen their ports.

We are building the middle corridor as a shorter and faster alternative for both northern and southern corridors, so that goods that embark from London can reach Beijing. The Marmaray project is a part of this railway. Nevertheless, by finishing the Baku-Tbilisi-Kars railway in June, we will have established a non-stop Iron Silk Road.

We will be connected to a $31 trillion market with the Iron Silk Road. We want to designate China, with its 1.5 billion people, as a target market for our trade, development and exports and have easy access to this market.

DS: What are the latest developments in ongoing high-speed train projects?

We completed the first high-speed train route between Ankara and Eskişehir in 2009, and we started to carry passengers between Ankara and Konya in 2011, and between Eskişehir-Konya in 2013. Currently, Turkey is the 6th high-speed-train-operating country in Europe and 8th in the world.

The high-speed train project between Ankara and Sivas is continuing; we expect it to be finished in 2018. Our aim is to realize nonstop transportation from Istanbul to Sivas by the end of 2018. Moreover, we aim to transform suburban rails, which are the extension of Marmaray, into metros by the end of 2018. We plan to finish the Ankara-İzmir high-speed train route in 2019.

Beside high-speed train projects, we also have train projects to transport passengers and goods. In the Konya-Karaman-Ulukışla-Mersin-Adana-Osmaniye-Gaziantep railroad project, currently rails between Konya-Karaman and Adana-Gaziantep are being constructed. In this respect, we foresee the completion of the Konya-Karaman segment of the larger project.

DS: In terms of the GSM, last year, Turkey transitioned from 3G to 4.5G. Could you explain why 4G was bypassed and inform us about the progress made in 5G?

We made this transition last year in April. Currently, we have 75 million mobile subscribers and over 51 million 4.5G users. If we had transitioned to 4G, we wouldn't feel the need to develop ourselves. Almost a year has passed, and companies have progressed immensely. Moreover, it was a good experience to prepare us to transition to 5G. Meanwhile, we have started work on 5G, and we will have the technology in 2020. We aim to at least transition to 5G simultaneously with the rest of the world, if not being able to export this technology.

With the implementation of 5G, industrial applications will be developed further and an adequate infrastructure for smart transportation systems will be established. For this reason, we encourage and support all research in this field. To coordinate research on 5G in Turkey, we have formed New Generation Mobile Communication Technologies (5GTR) with relevant public institutions, operators, suppliers, representatives of the academic world and civil society, along with our ministry and the Information and Communication Technologies Authority (BTK).

In this context, the ULAK Project, which foresaw the production of domestic cell towers, was a good example. We have progressed immensely in new generation communication infrastructure and the development of domestic products. We have to progress further so we are able to produce and export all 5G related products domestically, not only 5G technology itself. If our aim surpasses 5G, it will create a new industry that could compete globally. We have great cooperation between the BTK, Scientific and Technological Research Council of Turkey (TÜBİTAK), Undersecretariat of Defense Industry, operators and universities. Six universities are actively working on this subject matter.

We are talking about 40 billion devices being connected to each other through the Internet of things in 2020. For this reason, we should not underestimate 5G, the Internet of things and its contribution to development.

DS: In the past months, a law that eases transitioning yachts and vessels that have foreign flags to the Turkish flag was passed. This law was regarded as a ban to those who don't transition. Could you clarify this issue?

We have passed a legal regulation about foreign-flagged vessels with Turkish owners. With the law that was passed earlier this year, we have provided an opportunity without time limits for this transition; the owners are exempted from all related taxes.

The bureaucratic part of this process was also simplified. Actually, we're having a more hectic transition period than we expected; there is high demand. According to the statistics, there are around 6,000 foreign-flagged vessels that have Turkish owners. As of today, 2,025 vessels have accomplished the transition. We expect all the remaining vessels to go through this process, as well.

More importantly, we want Turkish-flagged vessels in our marinas, instead of foreign-flagged ones. The prestige of our flag is crucial for us. We have also expressed this clearly; despite all the ease, if certain Turkish-owned vessels resist this change, we will enforce sanctions. They will either transition to the Turkish flag or will be obliged to do whatever foreign-owned vessels are obliged to.

On the other hand, we're providing all kinds of support to develop the maritime sector. We have made progress in the last 14 years. The Turkish maritime sector improved substantially with special consumption tax support for fuel, support for sea transport and incentives to producers. We invested $2.8 billion for infrastructure in the shipbuilding sector between 2003 and 2016; now, it has reached an annual volume of $2.5 billion.

DS: What are the latest developments in Kanal Istanbul?

We have worked on five alternatives for Kanal Istanbul, which will be one of the largest projects in our country in the near future, and we're almost finished with these alternatives. We will implement one of these alternatives. This project will have a volume of $15 billion; thus, we're working on financial models. We are in contact with the parties of this project, along with partners who represent the public. We are working on forming a different financial model and making this project viable.

To finance Kanal Istanbul, we haven't considered the wealth fund. If we cannot come up with a suitable financial model and need extra finance, then we can evaluate the fund.

DS: How do you respond to allegations that Kanal Istanbul will alter the ecology, as the Black Sea and Marmara Sea are different?

To not disrupt or alter the ecology of the sea bottom, we are working with academic experts in these matters. First, the difference in elevation is not great; it is around 30-35 centimeters. Currents move from the Black Sea to the Marmara Sea, while the undercurrent flows in the opposite direction. This is due to the difference in pressure. These currents will not be affected by the project.

In determining the depth of the channel, we have two important factors. The first is the size of vessels that are going to use the channel. The second is finding a depth that allows passage of vessels, while not harming the ecology. Experts suggest that a depth of 25-30 meters will satisfy both conditions.

Fresh water sources won't be changing their courses, as well. In cooperation with the General Directorate of State Hydraulic Works, we will build dams in Thrace. Fresh water sources will be connected to each other under the channel with the cistern method. There will be projects to connect water sources in the west with the east, thus Istanbul. Fresh water will be directed under the channel, just like Marmaray or Melen River.

DS: State guarantee for the larger infrastructural investments is a subject that has been criticized over the last few years. What is your take in this issue?

In the last 14 years, the approximate cost of investments for transportation infrastructure is $100 billion. It's possible to make all of this happen using only public resources; however, by cooperating with the private sector, we aim to quicken the completion of projects and the return of value-added.

We had very successful projects as a result of cooperation between the public and private sectors. Up until today, we had invested $10 billion with the private sector's cooperation and the costs of the ongoing projects add up to $10 billion as well.

We provide guarantees to projects that are feasible and credible. Even though these projects may be seen as a burden to the public initially, you decrease the cost of finances, along with risks, as you show faith in the project. If there is a possible risk, as the public you compensate it; if there is no risk, you don't have to provide anything. We realize this through agreements on debts.

The aim is to pay the cost only if the risk becomes real. If the project doesn't reach the designated figures, we compensate the difference. By doing so, we relieve the creditor and the investor. More importantly, we are doing this to achieve our goals as the public sector. We know that when the operating period ends, the project will become public and the public will benefit immensely from it.

DS: How do you evaluate Wikipedia being blocked in Turkey?

In the content of two different URLs, there were baseless allegations that suggested Turkey is a country that supports terrorism. We contacted their administrators and requested these pages be corrected, while sending them documents that rebuke these allegations. However, despite all our warnings and calls for cooperation, they haven't updated the content that has false information about Turkey.

When we consider their founding mission, we accept that they don't have the chance to supervise content; however, if someone contacts you and asks you to update content that alleges that they have terrorist connections, you should be able to do something.

Wikimedia, the association that Wikipedia is an affiliate of, objected to the decision to block the site. The court, rejecting Wikimedia's application, stated that while freedom of expression is one of the most essential elements of a democratic state of law, it's not completely unconditional, and it could be limited in accordance with the principle of moderation. In short, this isn't about freedom of expression, but Wikimedia's failure to cooperate.

Still, we want to keep channels open for communication. We have requested that Wikipedia open an office in Turkey to evade future issues; however, they have yet to respond.