A German journalist was violently attacked Thursday by supporters of the PKK terror group as he was attempting to report the case of a Syrian migrant killed in Bremen.
Martin Lejeune was attacked outside the courthouse where he was following the case of 15-year-old Odei Khaled, who had been beaten to death by PKK terrorists.
Lejune shared photographs on Twitter after the attack that showed a sizable bruise below his left eye and a cut above his right eye. He also confirmed the attack was by PKK supporters and that police did not stop the assault.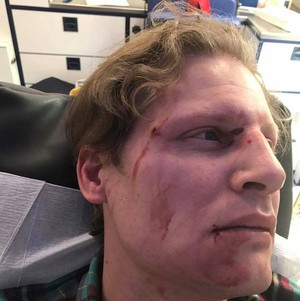 Lejune, known for his pro-Turkey and anti-PKK stance -- is reportedly under medical observation.
Turkey has repeatedly criticized the German government for not cooperating with Ankara's efforts to eradicate the PKK, which is listed as a terrorist organization by Turkey, the U.S., and the EU.
More than 1,200 people, including security force personnel and civilians, have been killed since the PKK resumed its decades-long armed campaign against the Turkish state in July 2015.