The German government reportedly allowed Turkish opposition lawmakers to hold an event in Germany, despite previously rejecting President Recep Tayyip Erdoğan's wish to address Turkish citizens on the sidelines of the upcoming G20 summit in Hamburg.
A poster by the Atatürkist Thought Association (ADD) has been circulating in social media networks since Wednesday, in which three politicians of the Republican People's Party (CHP) are pictured.
CHP deputies Muharrem Ince, Dursun Çiçek and Ceyhun Irgil are reportedly set to address Turkish citizens in southern Germany's Kempten on July 15.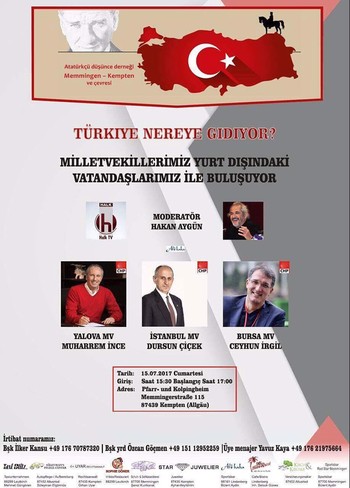 Germany's latest move to allow Turkish opposition members to hold events in the country was widely criticized and interpreted as a show of double standards, as previous events of President Erdoğan and other government officials were repeatedly rejected by Germany.
Relations between Turkey and Germany first became strained when local authorities canceled public appearances of Turkish ministers and government officials campaigning ahead of the April 16 referendum in several different German towns and cities. Officials based the cancellations on poor excuses such as inadequate parking lots and security concerns, however they allowed no-campaigners and PKK sympathizers to rally.
In the meantime, the tense situation between the two countries softened after German Foreign Minister Sigmar Gabriel's visit to Turkey early June.
Gabriel reportedly did not object to President Erdoğan's wish to address Turkish citizens alongside the G20 summit in Germany; however when Turkey made an official request, Social Democratic Party (SPD) leader Martin Schulz opposed such an event, demanding an immediate ban.
Last Friday, Berlin officially banned representatives of foreign governments from campaigning on German soil within three months of polls in their county, dpa said.
German Foreign Ministry spokesperson Martin Schaefer also announced that government representatives from within the European Union were excluded from the ban, and added that the new rule was communicated to all foreign embassies in Berlin.