Turkey has been playing an outstanding roles in different and remote parts of the world that have put the country in a leadership position in the field of humanitarian assistance across the globe, U.N. Assistant Secretary-General for Humanitarian Affairs and Deputy Emergency Relief Coordinator Ursula Müller said.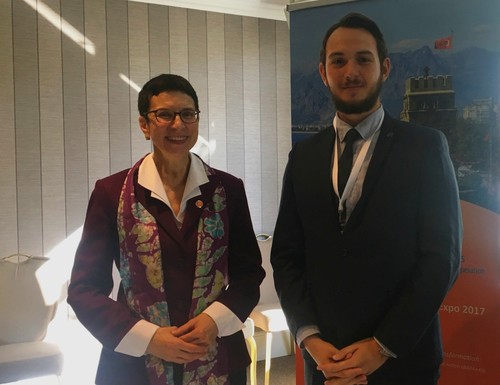 Daily Sabah's Yunus Paksoy (R) with U.N. Assistant Secretary-General for Humanitarian Affairs Ursula Müller.
"Turkey is a global humanitarian leader. This was obvious to the world not only by hosting the first World Humanitarian Summit in 2016 but also given the fact that Turkey is the second-largest humanitarian donor globally," Müller told Daily Sabah in an exclusive interview.
Praising Turkey's humanitarian efforts for the more than 3 million refugees taking shelter in the country, most of whom are Syrians fleeing the bloody war in their homeland, Müller said the Turkish government's assistance also stretches far beyond its borders.
"Turkey is a very generous host to 3.5 million people. … The Turkish government, led by the Turkish Cooperation and Coordination Agency (TİKA), reaches far beyond Turkey's borders in terms of humanitarian assistance in Bangladesh, South Sudan and Congo," the high level U.N. authority said.
Reiterating Turkey's leadership role in the world, Müller said Turkey is a way of distributing humanitarian aid and providing it in the first place is worth noting. "It is impressive the way Turkey provides and coordinates humanitarian aid. I commend Turkey for its leadership role in humanitarian assistance," she said.
The high-level U.N. official praised Turkish governmental and nongovernmental organizations as well. "The Turkish government and people, AFAD [the Disaster and Emergency Management Authority], TİKA and the Turkish Red Crescent as well as the civil society are giving an outstanding response and service to provide humanitarian assistance," Müller said.
While attending the Global South-South Development (GSSD) Expo 2017 Leadership Round Table in Turkey's southern Antalya province this year, Müller said the considerable amount of participation in the event demonstrates how much Turkey's efforts are appreciated by the rest of the world.
"The fact that so many people came to Antalya to attend the Global South-South Development Expo, with more than 1,000 participants from different areas of the world, governments, NGOs, private sectors and academia. It really shows that Turkey has not only convening power but provides a platform where one can find solutions on how to deliver aid more and do it more effectively," the U.N. official said.
Müller also drew attention to U.N. Secretary-General Antonio Guterres's first visit to Turkey as a token of appreciation of what the Turkish government has done so far in the field of humanitarian assistance. "There is no doubt that Turkey's role is appreciated, not only by the U.N. secretary. Actually, he had his first visit to Turkey. I think Turkey gets all the recognition that is due," she concluded.A report published by the U.K.-based Development Initiatives found that Turkey spent close to $6 billion on humanitarian aid in 2016, coming only second after the U.S., which spent $6.3 billion. Turkey, however, was listed as the most generous country for spending 0.75 percent of its gross national income (GNI) on humanitarian causes.
Turkey has the largest refugee population in the world and is currently home to more than 3 million Syrians, according to official data. It has spent around $25 billion to provide for those who have fled across its borders, while the international community contributed $526 million to that amount.
That figure accounts for approximately 45 percent of all Syrian refugees in the region, the U.N. says. An additional 300,000 refugees in the country mostly originate from Iraq, Afghanistan, Iran and Somalia.