Now that the recent wave of deadly protests in Iran have left its place for pro-government rallies, one major question looms; namely, what is the future impact?
Following announcements that the protests over economic hardships have been suppressed, now the task falls to Iranian politicians to address the underlying reasons for the demonstrations.
Speaking to Daily Sabah, Hakkı Uygur, the deputy chair of the Center for Iranian Studies in Ankara, pointed to economic hardships, rivalries in domestic politics and the foreign pressure that has been mounting on Iran as the main reasons that led to political unrest in the country.
Uygur highlighted that the Iranian economy has been going downhill for the last two years, and the people's expectation of economic relief with the nuclear deal was shattered when U.S. President Donald Trump assumed office. The Iran expert stressed that the Trump administration has prioritized Iran since they believe that the previous administration allowed Iran to expand. Therefore, to prevent its further expansion, the U.S. and Israel would continue to problematize Iran he contended. Trump's tweets supporting the protests have also fed arguments concerning foreign meddling in the protests. In addition to the economic hardships, the political rivalries in politics have caused uneasiness in society. Uygur said Supreme Leader Ali Khamenei is struggling with the ensuing problems of the rivalry between former President Mahmoud Ahmadinejad and President Hassan Rouhani.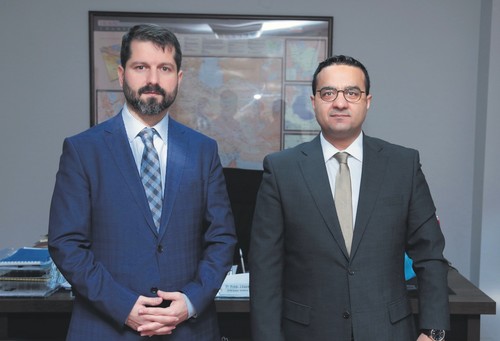 Commenting on the future impact of the protests, Uygur said that a regime change is a far fetched scenario; however, he added that the instabilities stemming from the protests would weaken Iran's hand in Syria.
Daily Sabah: What is your take on the protests in Iran? Why did these protests take place?
Hakkı Uygur: There is a significant rivalry and conflict between former President Mahmoud Ahmadinejad and President Hassan Rouhani. These kinds of rivalries and conflicts have always been a part of Iran's political scene; however, when Iran's Supreme Leader Ali Khamenei intervenes, these discussions and conflicts used to end immediately. Yet, recently when Khamenei called both Judiciary head Sadeq Larijani and Ahmadinejad to cease their conflicts, Ahmadinejad did not heed his call. No one could even imagine Ahmadinejad not heeding Khamenei's call in the past couple of years. Still, it took place nowadays. In short, there is a conflict in Iranian politics, and Supreme Leader Khamenei is losing control. This is one way to interpret the current situation in Iran.
There is also an economic aspect; Iran has been suffering from an economic crisis in the past three or four years because of the sanctions. The very anti-U.S. Khamenei approving the government to ratify the nuclear deal was because of these economic conditions. Iran's oil-based economy was going through hard times due to decreasing oil prices and embargoes.
There were expectations that Iran would be relieved economically with the ratification of the nuclear deal during the Obama era; Iran was anticipating the return of funds that were blocked and the subsidence of the embargo. However, this deal became obsolete in practice with the election of Trump and the economic relief that was promised to Iranian citizens was not realized.
Trump's pressure on Iran also discouraged those who wanted to deal with Iran. Interestingly, China started to freeze the assets of Iranians living in China two months ago. In general, China is the last country to follow these trends. Normally, it would try to protect Iran as long as it could and cut ties when the costs surpass the benefits. Yet, China's initiative indicates that Trump is about to crack down on Iran, and other countries do not want to take risks. I believe the Halkbank and Reza Zarrab-Hakan Atilla trials could be interpreted as a part of these developments. The U.S. is trying to intimidate other countries through these trials, demonstrating that it will punish any country that deals with Iran without U.S. approval, even if they are NATO allies.
The economy is on the verge of collapse, living costs are expensive; the Iranian parliament approved a 50 percent rise in oil prices, while this means a more than 100 percent increase for the people themselves. This is because they lack a transparent economy. Let's say there is a 10 percent rise in oil prices; a taxi owner might just double the price of fares because there is no control. Many commodities are being sold on the black market in Iran, as the economy is unpredictable.
All of these factors add into the explosiveness of the Iranian people. In fact, Iran already constitutes a protest society, and these conditions are just pushing the people to protest. I was a student at Tehran University during the 1999 student protests. Hundreds of thousands of people took to the streets in a flash. If you do not satisfy people's demands, they will find a way. Moreover, we are talking about a society that has already realized a revolution. You have opened a channel for transformation.
Rouhani had great potential to realize this transformation; however, he did not utilize it. Rouhani is half soldier, half religious scholar that has served as the secretary-general of the Supreme National Security Council; therefore, he was a significant component of the Iranian state. They do not allow Rouhani to realize his promises even in his second term. Former President Hashemi Rafsanjani was indicating that reforms should take place. Still, Iran has a system that is reminiscent of an unstable brick wall; when you pull one brick, the whole thing comes down on you. Recently, Rouhani made a speech in parliament. He said that a quarter of Iran's economy is controlled by six groups that he was unable to interfere with. He indicated that he had to talk with the Supreme Leader to interfere with these groups. Nevertheless, he was unable to interfere with these groups because of internal pressure. How could you enact reforms in such a country?
Meanwhile, more than half of Iran's population is young, and they have access to the Internet. They watch the same videos as Turkish, Chinese, Korean and European youths watch. They dream about the same world. The Iranian government's slogans and Islamist approach means nothing for Iranian youth.
DS: What is the difference between the current protests and those that took place in 2009?
H.U.: It is true; the recent protests are being compared mostly with those that took place in 2009. Yet, there are significant differences between those two. First of all, no one is leading today's protests unlike 2009. Moreover, what the protesters are demanding is ambiguous today. They are chanting against the regime; however, they are not proposing an alternative. In addition, protests in larger cities are minimal. Everybody is suffering because of the state economy and politics, but no one is holding protests in Tehran, for instance. The most striking difference, on the other hand, is that neither the protesters nor the security forces used weapons in 2009 despite all the provocations. Today, we are hearing about certain protesters using guns; in fact, some are calling on the protesters to arm themselves. There is also news about certain armed groups that are preparing themselves. If this happens, God forbid, Iran might turn into Syria.
A foreign intervention is possibly aimed through the killings of some protesters and security forces. Last week, both Donald Trump and Mike Pence indicated that they will not "forsake Iranians" like they did in 2009 and that they would "provide such support that would shock all." These statements indicate Washington is planning something.
DS: Beside economic reasons, some are claiming that the most recent protests are the reflection of the internal power struggle between reformists and conservatives. How do you evaluate this allegation?
Let me draw an analogy. As you know, almost half of the voters support the Justice and Development Party (AK Party) in Turkey and a quarter of the voters support the Republican People's Party (CHP), while the Nationalist Movement Party (MHP) and the Peoples' Democratic Party (HDP) are supported by 10 percent each. Suppose there is a protest in Turkey that is only supported partly by the HDP. There are a couple of thousand people on the streets. The AK Party, CHP and MHP are clearly against these protests, while the HDP just observes. Would it have such an impact on Turkey? I do not think so.
In Iran, neither conservatives nor reformists are on the streets. Ethnic minorities are also not on the street. Some people who affiliate themselves with these movements may be on the streets, but not in mass. That's my point.
DS: So, who are on the streets?
People who are against the regime for any reason. Yet, in my opinion, they have mobilized quickly, almost in a professional manner. They demand free Internet for the people, and Iran shuts down the Internet. They are calling for Iranian TVs to be removed from the satellite broadcast. It seems the protesters are playing into the hands of the West.
None of the prominent conservative and reformist figures have announced their support for the ongoing protests. Some might allege that they are not able to do so because of the harsh conditions in Iran. Yet, this is simply not true; during the 2009 protests, certain figures of the Iranian state were openly supporting the protests. Today, no one is supporting the protests.
The Iranian state is clear about the ongoing protests; they believe it is being supported by foreign powers. Iran has powerful lobbies, and they are probably aware of what Washington is planning. For this reason, they claim that foreign powers are behind the protests.
DS: While Turkey, Russia and even China have called for moderation in terms of protests, the U.S. and Israel openly support the protesters. In your opinion, why does the U.S. clearly support the protesters?
As you know, when Trump became the president, his first official visit was to Saudi Arabia. You may remember his photo in front of a globe and his conveyed message about "fighting against extremism." What could Trump mean when he says extremism? He actually is targeting all Islamic movements, regardless of their extremity or the lack thereof. Nevertheless, they prioritized Iran because they believe the Obama era enabled the country to expand its influence. Israel shares the same concerns that Barack Obama allowed Iran to consolidate its power in Yemen, Lebanon and Syria. Hezbollah has become increasingly powerful in recent years. It is similar to our concerns about the People's Protection Units (YPG). Lebanese Hezbollah has transformed from a militia to a regular army. Moreover, the organization has improved in terms of weaponry. During the 2006 war between Israel and Hezbollah, the organization was only able to target the city of Haifa; now, all Israeli cities are in the range of Hezbollah. They have learned how to wage war. They launched an operation in Aleppo, providing logistics to their forces. Meanwhile, the Hashd al-Shaabi is being relocated to the Golan Heights. These are unacceptable for Israel. For this reason, they will problematize Iran together with the U.S. This is very clear. They want to fight Iran. Seemingly, a suitable strategy and position is determined. There is a foreboding silence in Israel. Israel used to always talk about its concerns regarding Iran during the Obama administration; now, it is silent. It is probable that they have agreed on a joint strategy with the U.S.
On Dec. 12, there was a news piece that claimed Israel and the U.S. agreed on a strategy that has five articles. If this is truly the case, they might have already launched an operation against Iran. Of course, this is what I infer from what I see.
DS: It seems the protests are on the decline. Could you assert that the Iranian government has regained control and this issue is over?
I could not assert that, as these are social events. For instance, there was a cartoon crisis in Iran. An Iranian newspaper published a cartoon in which a cockroach said a word in Turkish. Tabriz and Azerbaijan immediately reacted. Therefore, social events are unpredictable and for this reason I cannot assert that everything has subsided.
Meanwhile, the recent protests are not widely supported by the public. So, in this respect, it is a social event that is about to end. Participation is decreasing; however, a provocation might take place in the following days, killing many people. As I have said, they are a protest society and blood is important in the Shiite belief system. So, bloodshed might rekindle the protests.
DS: Could these events lead to a regime change in Iran?
I do not believe the regime would change in Iran. I believe that Iran might divide into smaller entities, as is the case in Syria; this is the worst-case scenario for Iran. Regime change can occur when the opposition is powerful and the regime is weak. Yet, the Iranian regime along with military and intelligence is powerful. Therefore, the state is powerful now. Unless the U.S. itself attempts to invade the country, the regime will stay. I know that Iran's Revolutionary Guards, Khamenei and the administration would rather die than let the regime change. We are talking about a theocracy. They believe that they have already earned paradise, so they do not have anything to be afraid of. In short, Iran might face chaos rather than a regime change.
DS: The U.S. has stated that the Iranian regime is known for killing its own people in the past. Could it be inferred that the U.S. will intervene if the number of losses increases in Iran?
Even if the U.S. decides to take such action, it would not be supported by the U.N. Moreover, China, Russia and even Europe would not support this decision. The U.S. might attempt to realize this hypothetical intervention by itself. It is easy to create chaos.
However, I should underscore that I do not expect a direct U.S. intervention in Iran. Iran's borders are an issue; it is not possible to control its borders with Afghanistan, Pakistan, Iraq and the Kurdistan Regional Government (KRG).
If such an intervention happens, Turkey's connection with Asia will be cut. Moreover, cutting Turkey's connection with the Arab world would be a tremendous risk. Iran is one of the countries that we procure the most energy and oil from. In addition, we have a significant export volume with Iran. Turkey also receives tourists from Iran. Therefore, a crisis in Iran would hit Turkey hard.
It is obvious that the region is being redesigned. This does not only target Iran, but all countries in the region.
DS: How would a crisis in Iran affect Iraq and Syria?
H.U.: Iran losing power would empower all actors other than Iran in Iraq and Syria. Yet, Iran's loss of influence would not benefit Turkey contrary to some assertions. The most important issue for Turkey is that the YPG is not supported by Iran, but by the U.S. Therefore, Iran's loss of power would not mean the empowerment of Turkey in Syria and Iraq. This completely depends on how strong are you in the field. It would allow Russia to seize more power in Syria. The Syrian regime would get closer with Russia in the case that Iran loses its influence. Meanwhile, Israel, the U.S. and secular Shiite movements in Iran would gain power, yet, none of these mean Turkey will gain more power.
Think about it. What would have happened during the Qatar crisis if Iran were not there or during the Kurdistan referendum? In this respect, Turkey might have some conflicting interests with Iran, however, we have more common interests than conflicting ones.