The local organizations of the main opposition Republican People's Party (CHP) are pursuing a new congress to replace the party's leadership, including the chairman, due to the recent defeat it suffered in the June 24 parliamentary and presidential elections. Incumbent President Recep Tayyip Erdoğan regained a majority in the first round of the presidential elections by garnering 52.6 percent of votes. Also, his ruling Justice and Development Party (AK Party) earned 42.4 percent of the votes in the parliamentary elections, securing a parliamentary majority with its partner in the People's Alliance, the Nationalist Movement Party (MHP).
The CHP's presidential candidate Muharrem İnce, a former deputy of the northwestern province of Yalova, gained 30.7 percent of votes and came in a distant second. Meanwhile, the CHP's votes in the parliamentary elections remained at 22.6 percent, a gap of nearly 8 percent between İnce's total vote and his party's. "I see no success here. The party's leadership should mull over these results, and all party leadership including the chairman should be held responsible," Tufan Akçagöz, the CHP's former province head in northern Samsun province, told Daily Sabah. Akçagöz also criticized his party administration not to hold a primary election to determine candidates, which, according to him, caused the nomination of incompetent candidates in some provinces.
The CHP's party officials, particularly Chairman Kemal Kılıçdaroğlu, have long been criticized on poor performances in elections since Kılıçdaroğlu took office in the CHP in 2010. Under Kılıçdaroğlu's rule, the party has lost four general elections, two presidential elections, two referendums and one municipal election. Contrary to criticism on Kılıçdaroğlu, İnce's performance has been praised after he had only a month-and-a-half to prepare for the elections.
Tolga Bayraktar, a member of the CHP's northwestern Edirne organization, told Daily Sabah that İnce's success is undeniable but it ruled out possibility of an extraordinary congress due to the forthcoming municipal elections, which is expected to be held in the first months of 2019.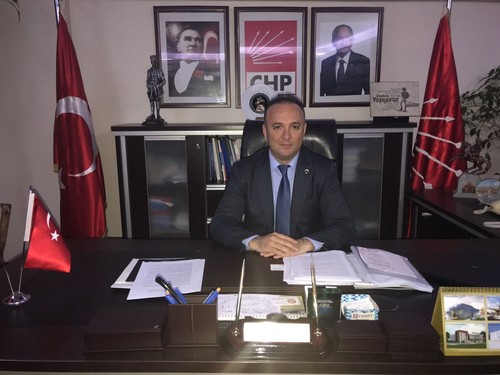 Tufan Akçagöz, the CHP's former province head in northern Samsun province.
"However," he added, "outcast deputies such as Haluk Pekşen, Barış Yarkadaş and Eren Erdem have their own factions in the party organization. They can try to trigger an extraordinary congress to replace Kılıçdaroğlu with İnce."
The CHP will prepare a detailed report upon the request of Kemal Kılıçdaroğlu, the Anadolu Agency (AA)reported on Saturday. Deputy chairmen and Kılıçdaroğlu's advisers will contribute to the report, in which the CHP's poor performance will be discussed in detail. It will then be evaluated by CHP's parliamentarians, provincial heads at party meetings, and a road map will be determined according to result.
Kılıçdaroğlu is also expected to meet with İnce this week to discuss the results.
Last week, a group of CHP supporters gathered in front of the party's headquarters to protest Kılıçdaroğlu, calling for his resignation.
The CHP supporters voiced their criticism regarding the 8-percent gap between the votes for the party and İnce. They also chanted slogans demanding İnce become the party's next chairman.
Veteran figures of the party, including former deputies Kemal Anadol, Nur Serter, Şahin Mengü and Onur Öymen, also called on Kılıçdaroğlu to resign.
On the other hand, the CHP showed no tolerance for intraparty criticism, and is moving to expel dissent figures. The party authorities decided last week to refer the party's Elazığ deputy Gürsel Erol to the disciplinary commission to expel him following his criticism of Kılıçdaroğlu.
Many pundits and columnists have said that the party's incumbent leader should resign after repeated failures and that İnce had a more dynamic campaign ahead of the elections.
Ahmet Hakan, a columnist for the Hürriyet newspaper, said on Friday that the CHP would not have even garnered 22 percent of the votes in the presidential elections if İnce had not run as their candidate.
Hakan further asserted that the CHP will fall below the election threshold if it continues on the same course.
Mahmut Övür, a columnist for the Sabah newspaper, wrote last Thursday that despite his populist rhetoric, İnce's approach was genuine. He claimed that İnce will become an important figure not just for CHP but also for Turkish politics if he takes the right steps.
Tuğrul Karali, who works for the the CHP organization in Istanbul's historic Üsküdar district, told Daily Sabah that İnce's real success was his ability to attract voters from different political backgrounds. He asserted that the CHP's presidential candidate was previously only known for its fiery debates in Parliament, but now he has become a well-known figure.
"Yet, I do not believe that İnce will call for another congress. Provincial heads who are close to him can reach the quorum for a new congress," Karali said.
Before being nominated by the CHP administration to run as the party's presidential candidate, İnce unsuccessfully ran twice against Kılıçdaroğlu in party congresses in 2014 and 2018. In the 2014 congress, 740 delegates voted for Kılıçdaroğlu while İnce received the backing of 415 delegates. In 2018, 790 delegates voted for Kılıçdaroğlu, while İnce received 447 votes. İnce's supporters have been criticizing Kılıçdaroğlu for piling up the party with delegates who are close to him.
Yet, some İnce backers have different opinions about his political future. A CHP member, who spoke to Daily Sabah under the condition of anonymity, said that İnce is thinking about running for the Istanbul mayoral post in the upcoming municipal elections.
"Erdoğan was Istanbul mayor before he served as prime minister. Kılıçdaroğlu also became CHP leader after he was a runner-up in Istanbul's 2009 municipal elections," the CHP member said.