President Recep Tayyip Erdoğan was among world leaders who walked slowly through the rain up the Champs-Elysées in Paris to mark a century since the end of World War I on Sunday.
Around 47 heads of states, 23 governments' heads and 15 international institutions' chairs walked toward the Arc de Triomphe and the Tomb of the Unknown Soldier, located at the base of the arc on the famous Champs-Elysées Avenue.
French President Emmanuel Macron and his wife Brigitte Macron met Erdoğan and first lady Emine Erdoğan at Elysee Palace prior to the walk.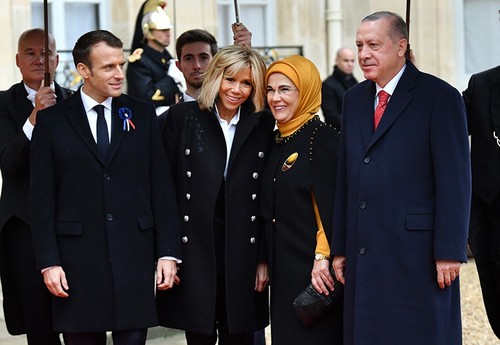 There were two notable absences at the walk: Donald Trump and Vladimir Putin.
The U.S. and Russian presidents skipped the bus ride and the unified walk, but joined the solemn ceremony at the Arc de Triomphe.
White House Press Secretary Sarah Sanders said Trump, who wore a cornflower -- France's war remembrance flower -- in his lapel, had arrived separately "due to security protocols."
His trademark bright red tie stood out among the dark coats in the front row as he and Putin stood either side of Macron.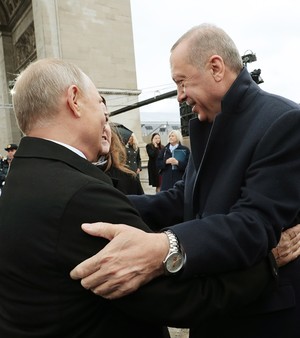 After the ceremony, Erdoğan and Putin had a brief chat.
Trump's absence at the walk came a day after he called off a visit to a U.S. cemetery because of the rainy weather – a move sparking widespread criticism.
Nearly 100 world leaders are gathered in Paris this weekend for Armistice Day, marking the 100th anniversary of the cease-fire that ended World War I. Nov. 11 marks the 1918 end of World War I between the Allies and their opponent, Germany, on land, sea, and air.