Turkish security forces have captured one of the top Daesh terrorists, code-named Abu Zeyd, in a counterterrorism operation, President Recep Tayyip Erdoğan announced Thursday.
Terrorist Bashar Khattab Ghazal al-Sumaidai, codenamed Abu Zeyd, was captured in a successful operation by the Turkish intelligence and Istanbul police, Erdoğan told reporters on the presidential plane on his way back from a three-nation Balkan tour.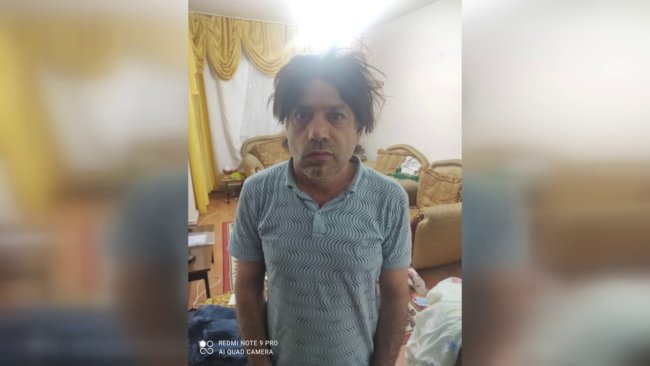 "International reports and the U.N. Security report also contained information that this terrorist was one of the senior executives of the Daesh terrorist organization," he noted.
Erdoğan said that the police put the terrorist's connections in Syria and Istanbul under surveillance for a long time. There was also intelligence that he would enter Türkiye illegally.
Istanbul Police also found out that the terrorist had been using a fake identity and using props to disguise himself.
Erdoğan said the terrorist was transferred to the judicial authorities on the order of the Istanbul Chief Public Prosecutor's Office, after being questioned by the National Intelligence Organization (MIT) and the Istanbul police.
In his interrogation, he also stated that he was a so-called 'qadi' of the so-called ministry of education and ministry of justice. A qadi is a judge in a sharia court.
Erdoğan did not say when the Daesh commander was captured.
"This terrorist's connections in Syria and Istanbul had been followed for a long time, and intelligence information was obtained that he would enter Türkiye illegally," Erdoğan said.
"This terrorist was caught in a successful operation of the MIT security service and the Istanbul police."
A U.N. Security Council report published on July 11, 2022 said the terrorist took part in the management of the terror group.
According to the report, on Feb. 3, Daesh leader Amir Muhammad Sa'id Abdal-Rahman al-Salbi was killed in the U.S.-led operation in Atmah, near the Turkish border, and on March 10, Daesh announced that Abu l-Hassan al-Hashemi al-Qurashi would take his place.
Although the actual identity of Abu al-Hassan has not yet been determined, it is considered among the member states that this person is most likely Bashar Khattap Ghazal Al-Sumaidai from Iraq.
After a meteoric rise in 2014 in Iraq and Syria that saw it conquer vast swathes of territory, Daesh saw its self-proclaimed "caliphate" collapse under a wave of offensives.
It was defeated in Iraq in 2017 and in Syria two years later, but sleeper cells of the extremist group still carry out attacks in both countries.
In 2013, Türkiye became one of the first countries to declare Daesh a terrorist group.
The country has since been attacked by the terrorist group multiple times, with over 300 people killed and hundreds more injured in at least 10 suicide bombings, seven bomb attacks and four armed assaults.
In response, Türkiye launched counterterrorism operations at home and abroad to prevent further attacks.
'West has never conducted proper operations'
Erdoğan also said Friday that the West has never conducted proper operations against the Daesh terror group, while he vowed to decisively continue operations.
Compared to other countries in the world, Türkiye carried out the most "determined and far-reaching operations" against the Daesh terror group, he underlined.
"Our National Intelligence, Ministry of Interior, and Armed Forces have carried out the most determined and far-reaching operations in the world against Daesh," Erdoğan told reporters after Friday prayer in Istanbul.
Saying that the West has never conducted a "proper operation or fight" against the Daesh terror group, Erdoğan said: "They just keep talking about this matter. There is nothing else they do."
Erdoğan also said that the United States continues its wrong steps regarding the PKK terror group's Syrian branch YPG, adding he will discuss the issue with U.S. President Joe Biden during an upcoming visit to New York.
The PKK is a designated terrorist organization in the United States, Türkiye and the European Union, and Washington's support for its Syrian affiliate has been a major strain on bilateral relations with Ankara. The U.S. primarily partnered with the YPG in northeastern Syria in its fight against the Daesh terrorist group. On the other hand, Türkiye strongly opposed the YPG's presence in northern Syria. Ankara has long objected to the U.S.' support for the YPG, a group that poses a threat to Türkiye and that terrorizes local people, destroying their homes and forcing them to flee.
Under the pretext of fighting Daesh, the U.S. has provided military training and given truckloads of military support to the YPG, despite its NATO ally's security concerns. Underlining that one cannot support one terrorist group to defeat another, Türkiye conducted its own counterterrorism operations, over the course of which it has managed to remove a significant number of terrorists from the region.