By the end of the colonial era after World War II, a wide-ranging revival emerged in the Islamic world. A cultural awakening was on the horizon while previously-colonialized Islamic countries were grasping political independence one by one.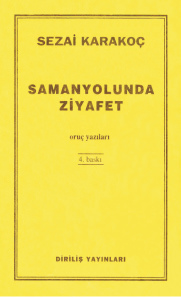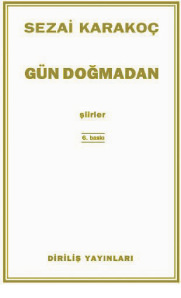 Karakoç resembles his leftist peers in poetry but he is close to right-wing intellectuals in politics. Ideological irony is the most common theme in his early poems.
However, neither the political nor the cultural awakening in Islamic countries in the post-war conditions implied a restoration of conservative or classical values and institutions. In general, the political rulers and the cultural elite of the new independent states founded on old Islamic lands were modernists. Even the Islamic or conservative parties and cultural circles had been heavily influenced by the modern elements they had encountered from Western colonialists.
In the post-war conditions, Turkey's situation had always been different to other countries with a Muslim majority since Turkey had never been colonialized. Turkey was rather reborn from the ashes of an aged dragon, the Ottoman Empire. For this reason, Turkish people were not in need of a post-colonial revival even though intellectuals had been talking of "a Turkish renaissance," or "the Turkish enlightenment," since the late 19th century. Most of them were certain that Turkey was part of Europe, not the Middle East. Even the writers who continued to bear Islamic or conservative viewpoints were not looking at the progress of other countries in the Islamic world.
In the 1950s, a young poet named Sezai Karakoç from southeastern Turkey was the only man considering the political and cultural revival of Islamic countries for Turkey. Karakoç derived the concept of "Islamic resurrection," which would become the trademark of his thoughts by the late 1960s, from the post-war salvation of the Middle East.
Early life
Sezai Karakoç was born the son of Yasin and Emine in May 1933 in Ergani, Diyarbakır. Yasin Efendi was a tradesman with moderate earnings who died at the age of 74 in 1963. Emine Hanım was the daughter of Ahmet Efendi, who was a public servant in the civil registry. Emine Hanım died at the age of 52 in 1957. Karakoç noted her death in an imagist poem named "Yoktur Gölgesi Türkiye'de" (She Doesn't Have a Shadow in Turkey).
His father named him "Muhammed Sezai," even though the civil registry recorded the baby under the name "Ahmet Sezai." Unfortunately, this was not the only mistake by the civil registry. His date of birth was recorded as Jan. 22, 1933, which was incorrect, as his mother said that he was born "in the month of the roses," referring to May.
As a child, Sezai lived with his family in Ergani and Piran - the old name of Dicle - of Diyarbakır and Maden of Elazığ, due to his father's business. He attended elementary school in Piran and Ergani. In 1944, he attended a boarding secondary school in Kahramanmaraş before he moved to Gaziantep in 1947 to attend the boarding high school.
After graduating from high school in 1950, Karakoç attended the Political Sciences Faculty of Ankara University, again as a boarder. In 1955, he graduated from the finance department, and began to work as a public servant for the Finance Ministry despite the fact that he wished to continue his academic studies.
"The wind has torn my kite, friends"
"Life is lyrical, yes," Karakoç wrote in his memoirs, "It carries the tissue of happiness, too, as it is tragic. It is sometimes cut, and sometimes it flows. At times, it is fluent as a river. The destiny of the river is to disappear into a lake or a sea at the end."
The words "lyrical" and "tragic" can also be used to define the mood of Karakoç's first poems. These are passionate and dark love poems written with folkloric meter and rhyme. They reflect the introspective thoughts and feelings of a country boy. He did not include these initial works in his books until the early 2000s. He first officially published his famous love poem "Monna Rosa" about half a century after it was written.
1953 was a milestone for Karakoç's art. In that year he began to start writing imagist free-verse poems with some political references and implications. In one of his most cited poems, "Ötesini Söylemeyeceğim" (I Would not Tell You All), Karakoç wrote a dramatic monologue of a little Muslim girl speaking against "the civilized man." It was like a salutation to the salvation of Algeria from French colonialism.
Another theme in Karakoç's early poetry was ideological irony. Though he was among the young modernist poets of the İkinci Yeni (the Second New) movement, Karakoç was a rightist, unlike the leftist members who formed the majority of the movement.
Similar to many modern poets, Karakoç lived a double life. In the day he worked in an office as a public servant and after office hours he spent his evenings writing delicate poetry. In 1956, he passed the proficiency exam and became a public finance auditor.
In 1957, he wrote another imagist poem with political references in order to salute the Hungarian Revolution, which brought him the "Freedom Medal" submitted by the Hungarian Writers on Exile Association. "Kan İçinde Güneş" (Sun in Blood) was a unique piece as the rest of the world silently watched the Russian invasion of Hungary in 1956.
A double vision: Imagist lyricism and politics
Karakoç is known for his silence and loneliness. He never married, mostly due to the fact that he fell in love with and never forgot a school mate of his from Ankara University named Muazzez Akkaya who married a diplomat after leaving school. Instead, he devoted his life to poetry and Islamic thought. He is deemed to be one of the most significant contributors from the Turkish Republic era.
Karakoç published his first works by issuing a literary periodical in 1955 called "Şiir Sanatı" (The Art of Poetry). But he only managed to publish two issues of the journal. Karakoç had connections with the Hisar (Fortress) journal, which was a rightist defensive literary journal among the humanist and leftist periodicals. He published many works in Hisar despite the fact that he did not approve of their thoughts on philosophy and politics. He wanted to be part of a progressive movement of political thought, a fact that reveals the impact that Necip Fazıl had on him.
Karakoç resembles his leftist peers in poetry but he is close to right-wing intellectuals in politics. He uses modern language, but insists on reviving metaphysical and abstract concepts of the past. He thinks that the modern Turkish language would endure, thus it was meaningless to resist it. In writing with contemporary language, he differs from every other rightist and Islamist.
A metaphysical poet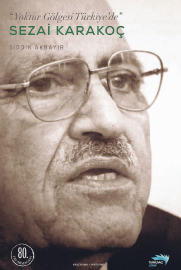 In the 1960s, Karakoç tried to build his body of work as a new collection of epics. He wrote "Hızırla Kırk Saat" (40 Hours with a Godsend), a long modern epic poem that can be compared to the "Waste Land" of T.S. Eliot and the "Cantos" of Ezra Pound in style. Karakoç, too, like Pound and Eliot, utilized ancient leitmotifs and archetypes in order to paint a conservative image of the new world. He continued this in later poems as well.
Beginning in 1966, Karakoç stated his own philosophy. Affected by the post-war salvation of Africa and the Middle East and the Islamism of Necip Fazıl, Karakoç developed a new approach that he called "the resurrection of Islam." He named his journal, publishing house and political party after the idea. The word "diriliş" (resurrection) brings Karakoç to mind immediately for anyone aware of the political and literary events of the last 50 years. He put his own stamp on the word.
Karakoç paid for his uniqueness with a hard life. He resigned from his official duties in 1973. He then managed his own publications and party, which was founded on 1990. He is now officially a politician, but in reality, his goal has never been to gain a position through elections. He continues today to write and give speeches.
He has affected generations since the late 1960s. In 2011, the Presidency awarded Karakoç with the Culture and Art Grand Prize. However, Karakoç, as his followers would expect, did not attend the award ceremony.