The conflict between the concepts of war and art is enormous. Most people would admit that the arts are blossoms of peace and civilization. The creation and performance processes of artists generally rely on predictable conditions including trust between the artist and the audience. How can you compose or sing a love song under the rumble of cannon balls?
Art was a special topic within the framework of what was called "Yugoslavia" once. Since Yugoslavia was a federation of several Balkan nations that had a history of conflict with each other, the founders and rulers of Yugoslavia appreciated any action or event that might bring the members of these conflicting nations together. As a result, the arts and sports were greatly promoted by Yugoslavia. The very idea of a united Yugoslav state first originated with a group of poets, folk writers and administrators in 19th-century Croatia, known as the "Illyrians."
However, the civil war in Yugoslavia that broke out in 1991 cut the cultural ties among the "Yugoslavian" nations in one night. It became apparent that there had never been a cultural sphere called "Yugoslavian," but there were "Serbian," "Bosnian," etc. In particular, it was the genocidal violence by the Bosnian Serbs directed toward their fellow Muslim citizens in Bosnia between 1991 and 1995 that demolished any hope for a further united cultural and artistic formation.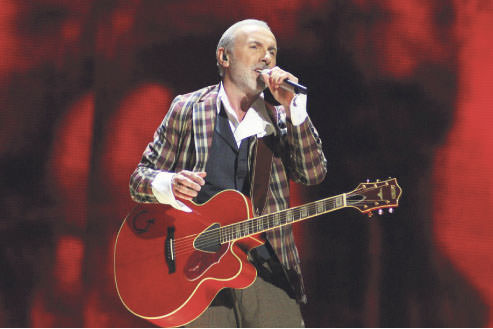 Every artist and person of culture should decide to take his or her part in clashing concepts. One can choose the side of the oppressor or the oppressed after the Srebrenica genocide, where officially 8,372-plus Bosniaks were massacred in 11 days by the Bosnian Serb forces commanded by Ratko Mladic ("The Butcher of Bosnia"), who was later indicted by the International Criminal Tribunal for the former Yugoslavia (ICTY) for genocide, war crimes and crimes against humanity. The famous director Emir "Nemanja" Kusturica is an example of the former, while singer and songwriter Dino Merlin is an example of the latter.
Early life and career
Dino Merlin was born "Edin on Sept. 12, 1962, in Sarajevo. "Dino" is the name his mother used to call him when he was a little child. Dino Merlin is the most renowned singer and songwriter from Bosnia-Herzegovina and indisputably one of the greatest popular music icons in the Balkans.
Among his other record-breaking successes, he is the only performer ever to have filled to capacity Kosevo Stadium in Sarajevo three times in a row (with his "Middle Way," "Burek" and "Starting Anew" tours in 2000, 2004 and 2008, respectively) and the Belgrade Kombank Arena three nights in a row (Nov. 25, 26 and 27, 2011). These performances are considered to be the most significant post-war music events in the region of former Yugoslavia.
In a recent interview, Dino Merlin explained that his family was a religious Muslim family, and he started his music career as a muezzin ("the crier who calls Muslims to prayer in the mosque five times a day"). He said: "I was brought up in a family for whom religion was a significant part of life. And when I had my own family, religion again played an important role in my life. I think both religion and music are a matter of personal choice. To me, they constitute a natural mixture of genres."
Blossoms bloom all over Bosnia
In 1983 he established the pop rock band "Merlin," for which he both composed music and wrote lyrics as well as being the band's lead vocalist, becoming one of the most admired front men in the former Yugoslavia. He made five albums with the Merlin band.
Dino Merlin is a delicate singer, though he has composed some patriotic songs too. "Bosnom Behar Probeharao" (All Over Bosnia, the Blossoms Have Bloomed) written in 1989 and "Vojnik srece" (Soldier of Happiness) under the Sarajevo siege are two significant examples of his patriotic songs. The latter song's English translation goes like this:
"If the worst should happen, if it hits me tonight, I won't die from death. I will die from love.
Because I am a soldier of happiness, bullets don't like me.
You can kill my summer, but spring will live.
Shoot, you can't harm me. I am as big as the universe.
Shoot from 300 cannons, this heart is made of steel.
If the worst should happen, if it hits me tonight, don't cry, put a smile on your face, It's not a sin to die for this city."
What a poetic challenge against the cannon balls and sniper bullets, which made living in Sarajevo under siege in the early 1990s hell. Dino Merlin would not leave his beloved city during the civil war. This has proved that he is a delicate singer with a dauntless heart.
Flying the Bosnian flag forever
Our sentimental but fearless singer started his solo career in 1991 under the stage name Dino Merlin. He has written around 150 songs, many of which are considered classics and are among the most popular songs both in the region and among the Bosnian diaspora all over the world.
Dino Merlin wrote the lyrics of the first national anthem of Bosnia, "Jedna si jedina" (You are the one and only), which was the official national anthem of Bosnia from 1992 until 1998. The music of the song is derived from a traditional Bosnian folk song. The song was adopted as the national anthem in November 1992, eight months after the declaration of independence in March 1992. Though another song was officially adopted as the national anthem in 1999, the Bosniaks consider "Jedna si jedina" as the real national anthem of Bosnia.
He also wrote a very touching song for Alija İzzetbegovic, the great leader of Bosnia, "Da te nije Alija" (If it weren't for you Alija).
Singing in peace again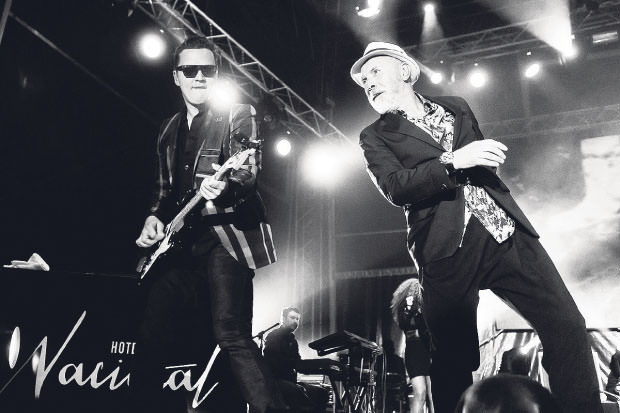 Dino Merlin has participated in many European festivals to represent Bosnia-Herzegovina, including the Eurovision song contest, the Copenhagen festival and Turkovision.
Merlin climbed the steps of fame rapidly after the Bosnian war.
Indeed, he was one of the most beloved popular icons of the former Yugoslavia. However, war changed everything among the former Yugoslavian nations. For that reason, his concert in Belgrade in 2011 was a critical challenge against the former hatred. Fortunately, nothing bad happened during the concert and thousands of his fans in Belgrade, the capital city of Serbia, enjoyed Dino singing again for them.
Actually, since the late 1990s, Merlin has played a great role in re-establishing peace in the Balkans through his concerts, albums and tours. Many people think of his touching songs more than the painful memories of genocide when Bosnia or Sarajevo is mentioned.
Merlin has participated in many European festivals to represent Bosnia-Herzegovina, including the Eurovision song contest, the Copenhagen festival and Turkovision.
Speaking on his album "Hotel Nacional," Merlin referred to himself as "a Caesar who has only one Rome," by which he means that he has a tenacious personality. I think he has proven that so far.