Ashik" (literally meaning "lover") is a special name given to local bards who sing and play folklore tunes. The ashik and his or her "saz" (long-necked Turkish lute) are as old as Turkish culture. For centuries, maybe even for millennia, ashiks have amused their audiences.
Though having a solid place in Turkish society, the ashik culture has suffered a fall in the 20th century. Cemal Süreya, the famous "İkinci Yeni" (Second New) poet declared, in an infamous article published in 1966, that folklore was the enemy of poetry. According to Süreya, folkloric songs were good for their musical qualities; however, according to him, the ashik was not a true poet any more. His example was Aşık Veysel, the latest celebrity of ashik culture. Süreya explained that Veysel's singing, though it amused people, was filled with clichés.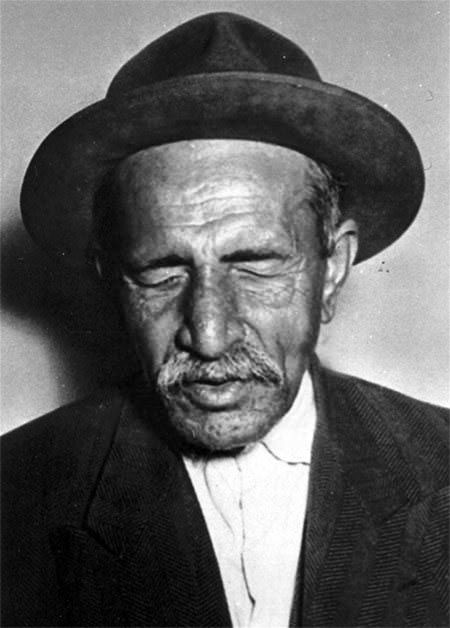 Was Cemal Süreya right? Had folkloric poetry come to an end leaving the ashik with his saz alone? In the 1960s it was still going strong when Süreya told his readers modern poetry should be prized over the ashik culture, however, today we sadly don't have ashiks, like Aşık Veysel, who truly deserved to be named among famous poets.
Early life
Veysel Şatıroğlu was born on Oct. 25, 1894 in the Sivrialan village of Şarkışla, a sub-province belonging to Sivas in eastern Turkey. His parents lost two infant daughters, before Veysel was born, due to smallpox, a severely-contagious disease that caused the loss of countless small children in Turkey. Unfortunately, Veysel also suffered from the same disease and lost his both eyes at age seven.
Veysel's father was a peasant named "Karaca" (Blackish) Ahmet and his mother's name was Gülizar.
After Veysel lost his sight, his father Ahmet gave him a "bağlama" (a type of Turkish long-necked lute) for his amusement. After learning how to play the bağlama, Veysel would play it and sing the elder ashiks folkloric songs traditional to the Sivas territory.
Indeed, peasant Ahmet's house was a popular place to visit. Friends and ashiks used to meet at this house, play music, sing songs and read poems. Veysel would have learned much from these frequent visitors.
Alawi ashik
Veysel was of Afshar descent. Afshar is a branch of Oghuz Turks. His family practiced the Alawi rituals. His village, Sivrialan, is still an important Alawi heritage site. There are two groups living in the village. One is called "grandfathers," because they follow the rural Alawi tradition. The second group, the "dervishes," are those who continue the Bektashi rites.
Having lost his sight at a very early age, Veysel devoted himself to playing bağlama and singing old songs. He was first instructed by his father's friend, Çamışıhlı Ali Ağa, an ashik who helped him play and sing poems from various other significant ashiks including, among others, Karacoğlan, Pir Sultan Abdal and Dadaloğlu.
Black soil
It's heartbreaking to learn that Veysel's hardships didn't end with losing his eyes. He was left behind in the village while all his peers and his only brother rushed to fight during the World War I. The bağlama was his only friend in the deserted village during that time.
After the War, in the early 1920s, Veysel married a woman named Esma. They had a son and a daughter. Veysel's son died ten days after his birth and around the same time he also lost his parents.
Disaster followed disaster when his wife, Esma, ran off with a servant and left Veysel alone with their six-year-old daughter, who in turn, would die at a very young age too. What a life!
Embraced many folks calling each a friend
My only constant love is the black soil
Wandering in vain, tired for nothing
The famous lyrics of an Aşık Veysel song, known and sung by nearly everybody in Turkey, is a response to his bad luck and shows a great part of his character. Veysel was no humanitarian, but he had the patience and mildness of a dervish.
Discovered
Ahmet Kutsi Tecer, a famous Kemalist poet and politician, who was teaching at the Sivas High School, discovered Aşık Veysel in 1930. The poet and the rural ashik met at a poetry night in Sivas. Tecer was a prominent figure in the Kemalist regime's support of folklore. He was among the founders of a special association to preserve the ashik culture.
Ahmet Kutsi Tecer sponsored Aşık Veysel officially having him tour many cities of Turkey and share his art with the people. After the İsmet İnönü government decided to found rural schools named the "Village Institutes," Aşık Veysel was paid as a teacher of bağlama officially. He visited various village institutes in different provinces of Turkey and taught village kids how to play bağlama.
Although he was seen as an ideological figure, Aşık Veysel never showed any interest in politics. In 1965, the Turkish Grand National Assembly awarded Aşık Veysel with a monthly wage of TL 500 (around $200) for "his contribution to Turkish language and national solidarity."
Aşık Veysel died on March 21, 1973 in Sivrialan, where he was born.
As a poet
Aşık Veysel's poems are very simple, but witty pieces. He generally uses the traditional folkloric meters and rhymes. Some of his free-verse pieces carry modern inspirations. Veysel is known for two major features. One is the meekness of his persona and the other is a little bit mysticism.
Brother, do not look down on me
Are you golden while me brazen?
We are made of the same stuff
Are you silvery while me zincky?
Since the early 1970s many singers, such as: Selda Bağcan, Hümeyra, Gülden Karaböcek, Fikret Kızılok and Esin Afşar, have made covers of Aşık Veysel's songs. For the forty-first anniversary of Aşık Veysel's death, the State Opera and Ballet staged the "Dostlar Beni Hatırlasın" (Let My Friends Remember Me) musical, comprised of excerpts from the ashik's poems. Şarkışla Sub-province hosts a culture festival in his name annually.