Nationalism determined every state action in Turkey under Mustafa Kemal's presidency. To be more specific, the Kemalist Cultural Revolution depended on two main pillars: Secularism and nationalism, leading some cultural historians to consider the Mustafa Kemal years "the national culture period."
Transforming Turkish society from a collective Islamic community to a modern-European nation was Mustafa Kemal's dream. This dream later became a public nightmare due to the cruel actions taken for the sake of secularism.
When Mustafa Kemal died in 1938, the public administrators declared that they had created a new nation, at the same time, pronouncing the death of the old-Ottoman Islamic culture. However, acceptance of the new ideals was only seen in urban areas. Attempts to spread nationalism and secularism to rural Turkey, where 75 percent of the people lived, had failed.
Inventing homo-Turkus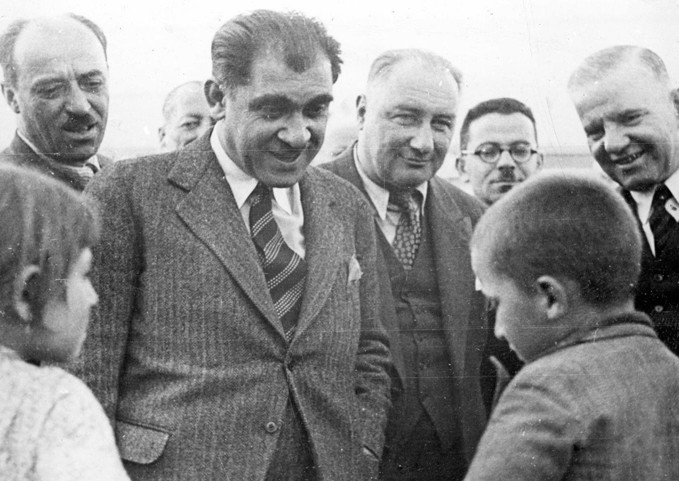 Intellectuals submitted various arguments during the nationalist revolution concerning basic anthropological questions: What should a "Turk" be like? Where did they come from? What are their main characteristics? And what is their global goal?
After İsmet İnönü became president, a new cultural policy, called the "Humanist Cultural Policy" by historians, was enacted. Public administrators decided that they could only accelerate modernization by spreading it through the country as a whole, leading them to conclude that education would be the key. However, educating the people effectively would also be a challenge, leaving administrators debating how and by what methods they would approach the task.
Hasan Ali Yücel, then-minister of education, stepped-in to write the "Western Classics" publications and soon became the main mouthpiece of the "Humanist Cultural Policy." Yücel, with his secular Sufism, intellectual and artistic background, is generally remembered for the "Western Classics" series and the Village Institutes, which were the basis of rural secularization in Turkey.
Early life
Yücel was born on Dec. 17, 1897, in Istanbul. His father was a public servant, while his mother belonged to a notable family. His familial environment was rich and enlightened with influential people and obvious Sufi inclinations. As a child, Yücel participated in his family's visits to the Mawlawi house near Yenikapı in old Istanbul.
Yücel received a musical education from a Mawlawi master. His schooling started at the age of four, he learned how to write and was a very eager student. He was fond of telling the new facts he had learned at school to the family's servants as they gathered in the kitchen.
Yücel was admitted to Vefa İdadisi, which was a prominent high school at the time. However, upon the start of World War I, he was drafted by the military during his senior year and served in the army during most of the war's duration.
Education inspector
Yücel was admitted to the School of Law; yet, he quit the college to move to the Teachers' School where he graduated in 1921 and began working as a teacher of literature.
As a student, Yücel wrote papers on a daily basis and published some short books on education during the mid to late 1920s. In 1927, he became an inspector for the Ministry of Education and shortly thereafter, he published Latin versions of several Tevfik Fikret poems in 1928, an achievement made on the heels of the alphabet reform implemented by the founder of the Republic of Turkey, Mustafa Kemal Atatürk, in 1928, attributable to his talents as an editor and publisher.
Yücel was sent to Paris to study the French education system, including its institutions, laws and educational methods. In 1930, he accompanied Atatürk on a domestic tour of Paris as an education consultant. In reward for his service, he was assigned as the etymology chief of the Language Studies Institution, founded in 1932.
Yücel published his major works - "Mevlana'nın Rübaileri" (The Rubaiyyat of Rumi), "Türk Edebiyatına Bakışlar" (Essays onTurkish Literature) and "Goethe, Dehanın Romanı" (Goethe: A Novel of Genius) in 1932.
Politician
Yücel was quiet, obedient and hardworking, which helped him in being assigned as a member of Parliament in 1935. Despite moving slowly, Yücel always moved forward and upward, shining all the way. He was an intellectual bureaucrat - not a politician - and he served the single party rule, and the party always thanked him by granting him optimal positions.
When Celal Bayar established the first cabinet after Mustafa Kemal's death and under İsmet İnönü's Presidency, he did not forget Yücel and offered him the office of Minister of Education. Yücel was entrusted as the man who would prompt a new Westernization policy or "humanist" cultural reform that included publication of Greek, Roman and Western classics for school-age children.
Yücel served as minister of education for eight consecutive years. During this time, he opened the Village Institutes, an educational institution that aimed to instruct teachers on how to teach villagers. However, the Village Institutes functioned as a propaganda tool for the Republican People's Party (CHP) and helped recruiting fanatics for the party.
Yücel signed the UNESCO convention in the name of the Turkish Republic. He contributed to the opening of engineering and science colleges, including Istanbul Technical University, Ankara School of Medicine, Science Faculty of Istanbul and Ankara universities.
As mentioned earlier, he was no politician. After the multi-party regime was adopted but the CHP cheated in the elections in 1946, he resigned from the ministry. He also resigned from the CHP after the party lost the 1950 elections. The CHP could lose, but Yücel could not. He became a free writer for Cumhuriyet, which was the main propaganda tool of the CHP mindset.
Yücel died in 1961 and was buried in Cebeci Asri Mezarlığı (Cebeci Modern Cemetery) in Ankara. His son, Can Yücel, is an eccentric minor poet who wrote "Hayatta Ben En Çok Babamı Sevdim" (I Loved My Father the Most in Life) in homage to the late minister.