The 1960s were abundant for progressive intellectual and artistic initiatives in Turkey. Leftist populism and Marxism, on the one hand, inspired a wide range of intellectuals, while artistic movements such as Turkish psychedelic folk, Second New poetry and Yeşilçam cinema, on the other hand, offered newly constructed bridges between the high and popular cultures, the old and the new, and the Western and the domestic.
Especially the case of modern popular music needs a closer look because of three reasons. First, the progress of Anatolian pop has not been thoroughly studied for sociological or musicological aspects. For this reason, the new sounds of the 1960s and 70s have stayed enigmas for generations. Second, music can be credited as the most urgent art since its audience gives urgent responses. The young musicians of the 1960s became living legends hand in hand with their audience, who were as young as the musicians they adored. This close relation between the musical innovators and their initial audience can give us a key-point for a better understanding of the Turkish society in the 1960s and 70s.
The third reason is for the need to study Anatolian rock with a closer look is that the young musicians of the 1960s later clarified their common music and refined their individual sounds. The general view of modern Turkish music can be compared to a Turkish carpet with a thousand colors, figures and shapes, each independent while all combining to make a general gesture. We hear Anatolian pop as a bulk of psychedelic sound, while various artists can be recognized individually in their mature works. For instance, Fikret Kızılok is within the sentimental and serious sound frame including also Bülent Ortaçgil, Barış Manço and Cahit Oben, however, many of his individual works carry his personal stamp on them.
Early life
Fikret Kızılok was born on Nov. 10, 1946 in Istanbul into a middle-class family. He began playing music with a red accordion, a birthday present, in 1954 when he was studying in the elementary part of Galatasaray High School. He received music lessons from the father of a school friend. He played his accordion for the public for the first time at the Taksim Music Hall for a school event. The elementary school band he led was named Fikret Kızılok and the Orchestra.
During his time in secondary school, Kızılok continued playing music with his band. However, they changed the name into Fikret Kızılok and the Crown Princes.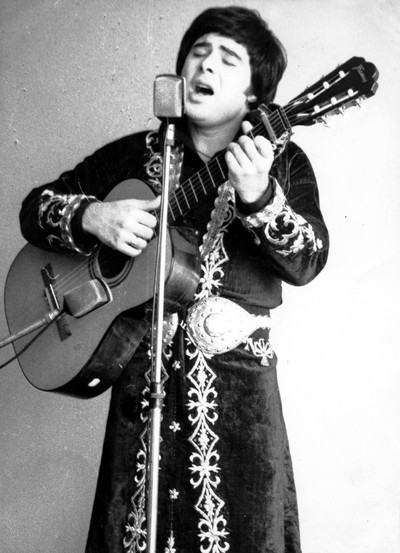 Kızılok tried various genres including psychedelic folk and groovy funk. He also made epic political songs.
Kızılok left his accordion began playing a guitar, which would be his soul mate for the rest of his life. He continued leading his band in the high school, too. Manço and Timur Selçuk, great musicians who were at higher grades of the same school, supported him greatly.
Professional
Kızılok and the Crown Princes split after playing for a few years more after high school. They often played rock and roll at music halls on the Asian side of Istanbul since the band members lived in Kadıköy. After the band split, Kızılok joined Oben's orchestra, which was more professional and better known to the rock-and-roll listeners of that time in Istanbul. Oben and Kızılok organized a new band, Cahit Oben 4, in 1964 and began to make half-professional recordings.
Cahit Oben 4 recorded three EP's launching some rock-and-roll pieces and some psychedelic Turkish folk arrangements and original songs composed by Kızılok. When Oben left the band to marry Füsun Onal, another famous rock star, Kızılok was also playing his guitar with the Barış Manço band.
Dentist
Kızılok took a break to graduate from the School of Dentistry, though he had already launched his first solo EP in 1966. In his last year at school, Kızılok visited Aşık Veysel, the famous folk bard living in Sivas, central Anatolia, with his friend Arda Uskan. The trip is believed to change his music career from top to the bottom since he left rock and roll and began working on folk variations. Veysel had a great impact on musicians at that time thanks to his authenticity and simplicity.
Kızılok rearranged a famous song by Veysel and recorded it in 1969. The song resembles a political turn in Kızılok's attitude, though its lyrics had no political implications. It was because Veysel, an Alewite bard, was a flag for the Marxist left in Turkey in those days. Kızılok wears a green parka, another symbol of leftism, in the photograph used for the EP cover.
The following year, Kızılok composed two new songs on the lyrics of Veysel. The EP containing these two songs was his first hit gaining him a reputation as a dissident artist.
Composer
The originality of Kızılok is his composing, not being a dissident or depending on folk lyrics. He launched two new songs in 1971. Especially, one of the songs, "Söyle Sazın" (Speak My Lute), was an experiment because of the Western polyphonic rearrangement of three Turkish instruments. The second song, "Güzel Ne Güzel Olmuşsun" ("O Beatiful, How Beatiful You've Become"), which was a rearrangement of the popular and classical folk song, helped the EP become a hit.
Kızılok's attitude toward Turkish folk music was different than his peers. He took folk songs very seriously and gave his attention to modernize them without changing their original affection. His voice and instrument playing goes deeper in the songs he rearranged or composed from the beginning in the early 1970s. His singing began reflecting the sorrowfulness of the authentic folk songs rather than psychedelic irrelevance.
Indeed, the highest of Kızılok is his sad-singing best articulated in such songs as "Gönül" ("My Heart"), "Zaman Zaman" ("From Time to Time"), "Güzel Ne Güzel Olmuşsun" ("O Beatiful, How Beatiful You've Become"), "Bu Kalp Seni Unutur Mu?" ("Can This Heart Forget About You?") and "Yeter Ki" ("If Only").
Kızılok tried various genres including psychedelic folk and groovy funk beside to his rock- and-roll background. He also made epic-political songs, though weaker than his folk variations in musical meaning.
Kızılok died on Sept. 22, 2001 from a heart attack.