Turkey's position with regard to the Western sciences has been adoptive. In most cases, the state, whether the Ottoman Empire or the Turkish Republic, sent brilliant students to Western capitals to acquire up-to-date scientific education required to carry science to Turkey as researchers and professors were expected to raise new generations with the help of the newly adopted sciences. Many university faculties and departments have been established based on a Western example. They are known as the true followers of the West, and sometimes they are known as "the German school," "the American school," etc.
However, sociology in Turkey has walked a completely different path. The sociology department at Istanbul University was the second sociology department established in the world, the first being the sociology department at Bordeaux University founded by Emile Durkheim, the famous French sociologist. Established by Ziya Gökalp in 1914, the Istanbul University Sociology Department has been the center of public-oriented sociological approaches for more than a century.
Since Ziya Gökalp, the Istanbul University Sociology Department has passed through various stages depending on the professors leading the department; however, the fundamental approach has never changed, and the department's way has been defined as "Turkish sociology," meaning that the sociological attitude of the department has never been to be a simple conveyor of Western influences to Turkey.
The most outstanding figure among the many professors in the Istanbul University Sociology Department over the years was Baykan Sezer, who as a follower of Kemal Tahir, a famous novelist, social critic and philosopher, who put his stamp on the character of the department in the last quarter of the 20th century. According to Sezer, sociology is about modernity and its crisis in the West, while Turkish sociology deals with the modernization of Turkey together with its problems.
Early life
Baykan Sezer was born on Aug. 7, 1939, in Malatya, in eastern Turkey. His father Necdet was an ophthalmologist at Malatya State Hospital. His mother Melahat was an elementary school teacher. The Sezer family moved to Istanbul when Necdet Bey was assigned as a professor in the School of Medicine at Istanbul University in 1942.
Little Baykan started school at Gedikpaşa Elementary School. After third grade, he attended Great Reşit Pasha Elementary School from where he graduated.
After elementary school, Baykan took an exam to enroll at Galatasaray High School. He passed, though he had little hope of that. Sezer wrote that in those years you could only enroll in Galatasaray High if a relative had graduated there; and there were no Galatasaray graduates from his family. Galatasaray High School has been named "Turkey's window to the West," which was criticized by Sezer. He says, "Galatasaray is referred to by the name Tevfik Fikret. But, Kemal Tahir was also a student there." He refers to the political views of the late poet and novelist, since Fikret was a humanist in favor of full-Westernization, while Tahir was an opponent of the West.
Baykan Sezer was a boarding student at Galatasaray High School, which meant that he was not among the privileged. He remembers weekends at school when "permanent boarding students" had to stay at school and could only watch movies provided by the school, while his privileged schoolmates could watch whatever they liked at movie theaters in Beyoğlu where the school is located. This is especially important since he was very fond of cinema. He would later think and write on Turkish cinema.
Sociologist
Sezer graduated from the Literature Department at Galatasaray High School in 1959. Then, he moved to Paris to follow literature and sociology lectures at Sorbonne University. Meanwhile, he watched many movies and stage plays in Paris.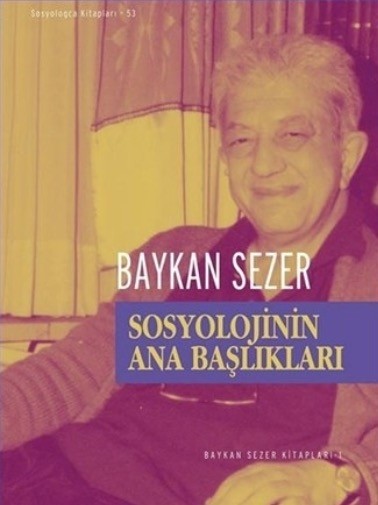 Sezer's book reads "Main Themes of Sociology".
Sezer stayed in Paris until 1966 when he had to leave for Turkey before his graduation because of his military duty. He prepared his undergraduate thesis while he served in the military. Sezer's style of writing emerged in his undergraduate thesis, which discusses the question with generalizations without details because he had to write based on what he remembered from the books and essays he had read earlier, since he had no access to a library.He says this was his writing style, but not the style of his studying. He studies in detail but writes in a very general manner. Baykan Sezer wrote only two essays in French. He says: "I'm not interested in writing in foreign languages. I study and write for my students and my people first of all.
Sezer graduated from the Istanbul University Sociology Department in 1968 and was assigned as a research assistant in the Behavioral Sciences Department of the Faculty of Management in 1969. He received his Ph.D. in sociology in 1971 with his thesis "A Sociological Approach to Sociological Features of the Settled and Nomadic Societies in the East."
Sezer said sociology was his field of interest but not his profession. He saw lecturing as a profession.
Kemal Tahir, East-West clash
Sezer was influenced by the sociological and political thoughts of Kemal Tahir. His father was a friend of Kemal Tahir and his physician. Sezer began reading Tahir's books while in high school and continued reading his novels in Paris.
Mostly, Kemal Tahir influenced Baykan Sezer with his thoughts on Turkey's position in the East-West clash. Tahir and Sezer were originally Marxists. According to Baykan Sezer, Turkey as a territory has been a focal point of the East-West clash. Turkey's role is to defend the East against exploitation by the West. Therefore, Turkish sociology's duty is to study features and problems and explore for the good of Turkish society.
From 1982 until 1993, Sezer worked as the head of the Istanbul University Sociology Department. He retired in 1998. Baykan Sezer died on Sept. 7, 2002 due to heart attack. He is buried at the Zincirlikuyu Cemetery.