The elite members of the first generation of the Turkish Republic had great admiration for Mustafa Kemal Atatürk, the first president. He was not only a great political leader to them but they tended to see him as the initiator of the modern Turkish enlightenment.
The point of view that puts Mustafa Kemal as the guardian of the elite youth of the early Turkish Republic is not totally rootless. He sent many young artists and scientists to European capitals in order to receive a modern education, which they were expected to use in teaching younger generations, who in turn would spread Mustafa Kemal's secular reforms to the homeland. The majority of these young people adored, nearly worshipped the first president until the last day of their lives. Besides, some of them became engaged thinkers of Kemalist ideology.
The case of the first generation of social scientists working at the "Dil-Tarih ve Coğrafya Fakültesi" (Faculty of Languages-History and Geography) of Ankara University, founded in 1935 to raise the flag of the Kemalist cultural policy in humanities, is particularly remarkable.
Niyazi Berkes, Behice Boran, Pertev Naili Boratav and Muzaffer Şerif Başoğlu (later would become Muzafer Sherif, an American social psychologist) were sent to the United States by the Turkish Republic in the late 1920s or early 1930s for postgraduate studies and employed at Ankara University after their return. The shocking thing about them is that all four were fired by the same administration in the late 1940s for political reasons. There have been so many speculations and interpretations of their being fired from the academy until now. However, the only thing we can be certain is that the only one of the four who struggled to turn back on his teaching position at the "Dil-Tarih ve Coğrafya Fakültesi" was Niyazi Berkes. Berkes managed to take back his post via a court decision but was fired again a few times until 1952, when he eventually left the country for Canada, where he taught at McGill University until his retirement in 1975. He remained a committed Kemalist.
Early years
Ahmet Niyazi Berkes was born on Sept. 21, 1908 in Nicosia/Lefkoşa, Cyprus, shortly after the Young Turk Revolution, which would impact Berkes' entire life. He was named after Resneli Niyazi Bey, a hero of the revolution, while his twin brother Enver was named after another hero of the same revolution, Enver Bey (later Enver Pasha, the Minister of War and Deputy Head of the General Staff). Their father Hüseyin Hüsnü Bey worked at the Nicosia hospital. Mustafa Zahit, elder brother of the twins was a pharmacist in Lefka. Their mother Dervişe Hanım, daughter of a wealthy notable family, inherited many shops that she used to give on rental.
Berkes refers the neighborhood where he was raised in Nicosia as a miniature of Ottoman territory of that time. Though their social relationship with their Greek neighbors had been continuing for centuries, the political situation created mutual discontent among them. Winds of nationalism hadn't passed the Turkish Cypriot family. Little Niyazi and his twin brother Enver were fond of looking at pictures of the 1908 Revolution heroes.
The Lausanne Treaty signed in 1923 authorized British rule in Cyprus, which caused Berkes' family to leave their homeland for Istanbul. Niyazi and Enver were enrolled at the Istanbul Sultani (high school).
Niyazi Berkes liked his history teacher, Muhsin Bey, who he says was as follows: "He was not a snob of any kind. He didn't pretend to be European. He was progressive-minded. He was a just man and always opposed the unjust." Berkes would share the same character lines with his teacher. Though he spent most of his life abroad, he never pretended to be a Westerner, or a world citizen. He was also progressive in the ideological meaning of the word. Lastly, he opposed injustice.
In and out of the academy
After graduating from Istanbul Sultani in 1927, Berkes was enrolled at the School of Law. After his first year, he changed his mind and was enrolled at the Philosophy department of the Darülfünun (Istanbul University), from where he would graduate in 1932. He worked as a librarian, a school principal, and a research assistant at university before he served in the military.
After completing his military duty in 1935, Berkes was sent to Chicago University for doctoral studies in the field of sociology, which was interrupted by World War II. He started working as a research assistant at the newly founded "Dil-Tarih ve Coğrafya Fakültesi" in Ankara.
After its foundation in 1935, "Dil-Tarih" hosted a group of Kemalist and leftist social scientists including Pertev Naili Boratav, Behice Boran, Azra Erhat, Mediha Esenel (Berkes' first wife) and Muzaffer Şerif Başoğlu. Under the influence of pragmatic and empirical American social sciences, these young scholars did field work together with methodological studies. Boran and Berkes explored village communities for social change and modernization. They also wrote articles and essays in Istanbul periodicals including "Yurt ve Dünya" ("Homeland and World"), "İnsan" ("Human"), "Adımlar" ("Steps") and "Görüşler" ("Views"), while the latter would be used as a device in their dismissal from the academic environment.
Laicism or secularism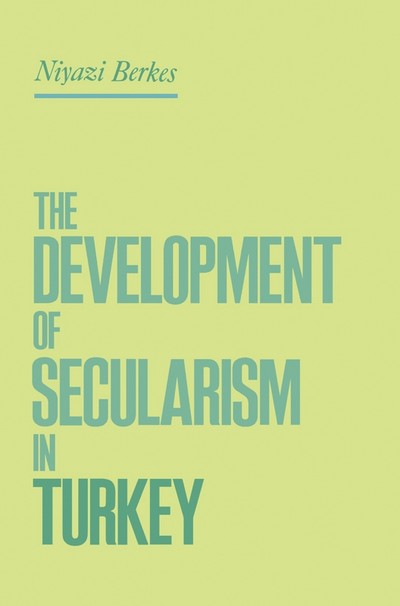 "The Development of Secularism in Turkey" is an important reference for scholars and educated readers, detailing the history of modernization and secularization of Turkey.
After being dismissed from the "Dil-Tarih ve Coğrafya Fakültesi," Berkes left for the Institute of Islamic Studies at the McGill University. He discussed the differentiation between laicism and secularism in his Ph.D. thesis in order to portray the Westernization of Turkey as "the development of secularism," which he equalized with modernity. Though he completed the thesis in 1959, he would manage to publish it as a book in 1964.
"The Development of Secularism in Turkey" has become a legend for scholars and close readers of the modernization and secularization history of Turkey. Berkes translated his masterpiece in Turkish and published it in 1973.
Berkes has other books including his memoirs, volumes of articles on Turkey's modernization history, clash between traditionalism and progressiveness. Indeed, Berkes kept his love for Atatürk, but he didn't hide his antipathy for İsmet İnönü, Atatürk's successor, who he blamed for degenerating the revolution he believed Atatürk made in his time. Berkes moved to England after he retired from McGill University. He died on Dec. 18, 1988.