Paris city councillors voted on Tuesday in favour of hotly-contested plans for a giant triangular tower that would be the capital's first modern skyscraper in more than 40 years.
The building, 180 metres (600 feet) high and vying on the skyline with the Eiffel Tower, will house a 120-room hotel and 70,000 square metres of office space.
A common sight in most major capitals, skyscrapers have faced deep opposition in Paris ever since the 300-metre high Eiffel Tower was built for the 1889 Universal Exposition.
Paris' Socialist Mayor Anne Hidalgo diluted opposition to the new "Tour Triangle" last November after some of its planned office space was sacrificed for childcare and cultural centres.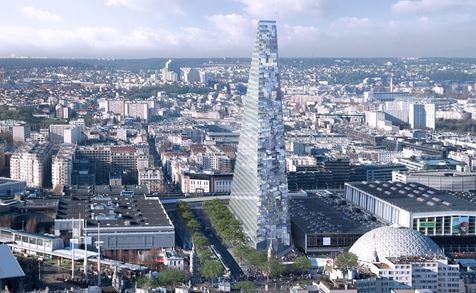 The building was designed by Basel-based architects Herzog & de Meuron, who were behind the conversion of London's Bankside Power Station into the Tate Modern art museum and Beijing's "Bird's Nest" National Stadium for the 2008 Olympics.
Europe's biggest listed property group Unibail Rodamco is putting 500 million euro ($560 million) into the project, due to be completed in 2018.
The last major skyscraper built within the city proper was the 59-floor, 210-metre Montparnasse building in southern Paris opened in 1973. Since then, most skyscrapers have been concentrated in the La Defense business district in the western outskirts.
The "Tour Triangle" will be on the city's southwestern fringe in the Porte de Versailles neighbourhood, alongside vast convention halls.