One of the most important and distinctive features of DKY's Coast project is its location on the first parcel parallel to the 12-kilometer long coastal road extending from Kadıköy to Pendik, according to the company's Chairman Ali Dumankaya. All the apartments in the project will have an uninterrupted sea view at all times.
Daily Sabah: Can you tell us about your recent project? What makes it different from the others?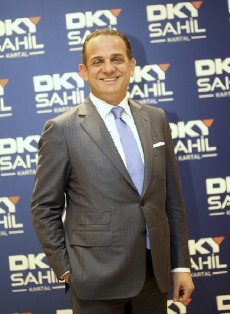 Ali Dumankaya:
The DKY Sahil (Coast) Project launched last week is a special project consisting of two 23-storey blocks and 138 residences on a project area of 5,000 square meters and a construction site of 34,000 square meters. Our project also has a landscape area of 3,500 square meters.
One of the most important and distinctive features of our project is its location on the first parcel parallel to the 12-kilometer long coastal road extending from Kadıköy to Pendik. Since we are located on the first parcel parallel to the coastal road, all the apartments in our project will have an uninterrupted sea view at all times. You will not have get stuck in traffic just to take a long walk along the 12-kilometer coastline. All you have to do is to cross the road by using the traffic lights and enjoy the seafront hiking trail and green areas. This is an incredible privilege.
Another difference is the implementation of the +1.5 concept in our projects. If you are curious about this one-and-a-half concept, our project includes sea view balconies covered with sliding and folding glass which has both kitchen and hillside entrances which have their own radiators. This section's function actually offers more than just a balcony. Since this feature offers an area that provides uninterrupted use in both summer and winter thanks to its folding glass system and radiator, it turns a 2+1 bedroom apartment into a 2+1.5 bedroom apartment. That is why we call it the "half" concept.
DS: Which elements have the strongest influence on foreign customers in terms of choosing your projects?
A.D.:
The most influential aspects that affect the foreign sales in our projects are the facts that several factors provide the right combination. To be able to bring together the right project concept with the appropriate campaigns in the right location... For this purpose, we are launching different project and service concepts in different locations with our periodical campaigns in the DKY, DKY CADDE, DKY BUSINESS and DKY ON categories.
For example, our "DKY Sahil" project is equipped with apartment types and social areas suitable for family life with the DKY Category. With the "DKY ON" concept, DKY ON Kağıthane is a project equipped with functional square meters at the business and living centers of the city, along with high technological infrastructure and possibilities that prioritize sharing in social areas for young and newly married couples or the single majority.
DS: Do individual or investor/company-based purchases make up most of your sales?
A.D.:
We make most of our sales in our housing projects to individual customers. In our office projects, such as DKY BUSINESS KARTAL in the category of DKY BUSINESS, on the other hand, we are making investment-oriented sales especially to corporate companies.
DS: How would you define the reasons for choosing Turkey for real estate investment?
Turkey has an important historical and cultural position in the world thanks to its geographical location. It is surrounded by the sea on three sides, and it has natural beauties which during the four seasons can be experienced in the best way possible. Since it has hosted different cultures throughout its history, it knows well how to embrace and integrate people from different languages, religions and cultures. It is also the world's 18th and Europe's seventh largest economy.
Europe's largest airport project and the Ataşehir Financial Center project, which aims to make Istanbul an international financial center, are among the most important mega projects in our country.
Additionally, Turkey has been in an advantageous position thanks to the deep-rooted economic reforms realized in the past decade. The establishment of a safe environment is ensured by providing appropriate legal regulations for foreign investors to invest in Turkey.
Important legal regulations have been made in the real estate sector for foreign investors. The most important one is the granting of Turkish citizenship and tax exemption to foreign real estate investors. Turkey has become one of the world's leading investment centers due to the large-scale removal of bureaucratic obstacles and improvements in the taxation system.
DS: What are you expectations for the real estate industry in Turkey for 2017?
We foresee that the Turkish real estate sector will continue to be Turkey's locomotive sector for the next 20 years and maintain its vitality thanks to urban transformation studies that have continued without any interruption over the last five years in accordance with the Urban Transformation Law numbered 6306, Turkey's young population and the housing needs projected for this population, the increase in per capita income due to the economic stability and growth, the importance given by Turkish investors to real estate investment, and the incentives and laws provided for foreign investors.
DS: What do you expect from MIPIM 2017?
Just like in previous years, once again MIPIM (a real estate exhibition, conference and networking event) is a platform which strengthens our country and brand image for both Turkey and the Turkish real estate sector, and a platform where we interact globally with the sector, share innovations in the Turkish real estate sector, introduce brand-based concepts, and develop new collaborations with potential investors within the context of networking.
So it is an activity that we expect with the same enthusiasm every year. After the political coup and the terrorist attacks we have experienced, our representation of our country is even more important in terms of the image of our country and our sector. I wish all participating municipalities and companies to have a productive event.