Daily Sabah: Can you tell us about your KİPTAŞ Vaditepe project? What makes it different from the others?
İsmet Yıldırım:
Every project realized since KİPTAŞ's establishment has made a difference in the sector compared to other, similar projects. This difference has sometimes been in terms of demand, sometimes in terms of project concept, and sometimes in terms of location or position. When the Vaditepe project is also compared with projects launched in the Bahçeşehir region, we see many differences emerge. The project is one step ahead of similar undertakings due particularly to its location. This project, which is located on a hill overlooking Bahçeşehir, gives its residents a panoramic view.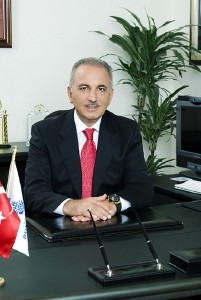 Secondly, it appeals to the vast majority of the public with its environment, landscape and general concept. Another advantage compared to the similar projects is the social and sports facilities we built within the scope of the project. The facilities were designed exactly like the professional sports facilities.
Vaditepe project is also of importance since it appeals to the middle-income group with its prices despite the superior segment characteristics. That's why we do not hesitate to put about 4,000 houses on sale in one sitting. As you know, so many houses in our sector are not offered to the public in one sitting. This is our other difference.
D.S.: Which elements have the strongest influence on foreign customers in terms of choosing your projects?
İ.Y.:
Foreigners look for trust first while purchasing residences from our country. The fact that we are an establishment of the Istanbul Metropolitan Municipality satisfies them exceedingly. That is why, foreign customers are convinced that the residences will be delivered well in terms of price, efficient time and quality. So, they believe that they will not be deceived. In addition, the foreign clients see that the residences they will purchase from us are suitable for both accommodations and investment as the result of their observations on the projects we have completed or the researches they have done.
D.S.: How would you define the reasons to choose Turkey for real estate investment?
Our largest foreign customer portfolio currently comes from Middle Eastern countries. The citizens of these countries do not see Turkey as a foreign country. They feel more comfortable in a Muslim country. To them, Turkey is a developed country, and regardless, it is a Muslim country. This is a source of pride for them. Our country's cuisine, beverages , travel opportunities, shopping and entertainment are also more suitable for them. Besides, they can buy two properties here for the same amount of money compared to real estate in Europe.
D.S.: What are your expectations about the real estate industry in Turkey for 2017?
İ.Y.:
Our country's real estate sector, mainly housing, is a very vibrant and dynamic sector. The current stagnation in the market is temporary. I think that after the referendum on April 16, the industry will return to its former vitality.
D.S.: What do you expect from MIPIM 2017?
The construction sector leads the way among the sectors we compete with the world. If we take a very active part in such fairs, we can get opportunities in marketing and signing new projects.
D.S.: As you may know, some recently approved regulations; namely tax reductions, are enabling foreigners to buy properties in Turkey. Moreover, according to a new amendment, foreigners, who purchase at least $1 million worth of immovable properties without selling them within three years, will be eligible to acquire Turkish citizenship. How do you think these regulations will affect real estate sales to foreigners?
İ.Y.:
As you know, the number of foreign investors holds an important share in our sector. I think it is a right decision that our government has brought tax concession for foreigners. However, the bar was kept very high on the other issue. $1 million is a very high amount. There are countries in the world that grant citizenship for investments made far below this figure. For example, you can get citizenship in the British colonial countries if you buy a $400,000 property. Even when you do not buy a property and just donate $250,000 to the state, you can still get citizenship. And with the passport you get, you can go to many countries of the world, including the U.K. and the EU, without a visa. If we grant Turkish citizenship with a similar application, I think that there will be significant amount of foreign currency entry into the country with the fluctuation that will take place in our sector.