Astaş Holding attracts foreign investors with luxurious segment projects at hot spots in Turkey. The world's elites prefer the company's Mandarin projects thanks to its exceptional standards, according to chairman Vedat Aşçı, who shared details of the projects with Daily Sabah.
Daily Sabah: Can you tell us about your Mandarin projects?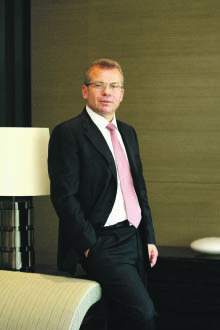 Vedat Aşçı:
As Astaş Holding, we are continuing our investments for a stronger Turkey. We have made an investment worth $750 million with the Mandarin Oriental Bodrum in Bodrum, Turkey. We sold 40 percent to foreigners. We are currently building one of the most luxurious hotels in Turkey with the Mandarin brand worth $500 million in Kuruçeşme in Istanbul. In addition, we plan to start investing in the Mandarin Residence project in Istanbul within one year.
D.S.: Which elements have the strongest influence on foreign customers in terms of choosing your projects?
V.A.:
Thanks to the popularity of the Mandarin Oriental by the world's elites, our hotel guests come from all around the world. As Mandarin Oriental Bodrum, we represent Turkey very well. V.A.: Our standards are exceptional at every level. Particularly our hotel in Bodrum, one of the most important locations in the Mediterranean, has made a serious name for itself in the world as well as in the Turkish market. We know that we are preferred by the world and especially by European tourists because of its nature, service and unique location.
D.S.: Do individual or investor/company-based purchases make up most of your sales?
We generally receive demands from elite families in Turkey and around the world, followed by international investment companies.
D.S.: How would you define the reasons to choose Turkey for real estate investment?
Our country attracts foreign investors with its location, nature, hospitality, and historical texture, which has hosted many civilizations for centuries. I would especially recommend foreign investors gravitate to projects that are focused on elite and branded investors in Turkey's special and unique locations. As Astaş, we are planning to provide more foreign investors and foreign currency to our country by developing more branded projects.
D.S.: What are your expectations about the real estate industry in Turkey for 2017?
The laws and regulations on urban transformation in Turkey are very accurate and important for Istanbul, and the legislation issued in this field has been very useful. Turkey now creates very important opportunities for all domestic and foreign investors. Now the environment is very suitable for investing, and the timing is very accurate. I am convinced that the investments will increase, and home buyers among the foreign investors will purchase more properties.
D.S.: What do you expect from MIPIM 2017?
We visit the MIPIM every year as well. The MIPIM is a fair that all international and Turkish real estate companies should attend. Fairs are also a great opportunity to follow the developments and investments of new projects worldwide. It is one of the most important opportunities for the meeting of professional investors in terms of seeing new construction projects and trends. I would recommend that real estate fairs in Turkey be organized as professional fairs where foreign customers are invited as well.
D.S.: As you may know, some recently approved regulations; namely tax reductions, are enabling foreigners to buy properties in Turkey. Moreover, according to a new amendment, foreigners, who purchase at least $1 million worth of immovable properties without selling them within three years, will be eligible to acquire Turkish citizenship. How do you think these regulations will affect real estate sales to foreigners?
Foreign sales in Turkey happened at the right place and right time. Advantages for foreigners in sales such as tax exemptions and residence permits provide great opportunities. I believe that sales will increase in the coming years. In order to make sales to foreigners, Turkey needs to strengthen its sales and marketing at international fairs, especially in the Gulf countries and in real estate. The participation of the countries where Turkish construction companies are more concentrated is very significant. The new laws are also of great importance in this regard.