Satya Construction describes itself as a new-generation construction company, as it brings a breath of fresh air to the real estate sector with a new outlook. "We are a construction company that considers real estate to be an investment instrument and adopt a win-win principle that enables not only ourselves but also our customers to win," Yılmaz Aydoğan, CEO of Satya Construction, told Daily Sabah. As a growing and developing brand of the industry, the company employs 300 people. In an exclusive interview with Daily Sabah, Aydoğan shared his views on the sector.
Daily Sabah: Can you tell us about your projects for 2017?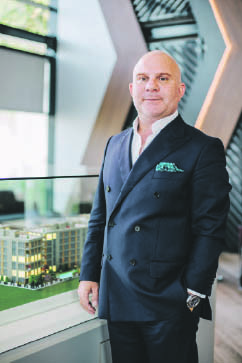 Yılmaz Aydoğan:
As Satya, we are focusing on two projects in 2017 and planning to invest TL 370 million in the real estate sector. Our work on two housing projects in Istanbul's Tuzla and Pendik districts are ongoing. Our sales in Satya Kriya Time Tuzla, which consists of 188 houses, are continuing. We will also actualize the Satya Yayalar Pendik Project, which consists of 362 houses and 25 commercial units, in Pendik.
D.S.: Which elements have the strongest influence on foreign customers decisions about which of your projects they choose?
Y.A.:
From a foreigner's point of view, Turkey has a developing and promising economy. For the citizens of countries with valuable currencies, there is nothing more natural than to invest in such an economy. I think that the lifestyle and culture in Turkey plays a part in this interest.
D.S.: Do individual or investor/company-based purchases make up most of your sales?
Mainly individual investors are taking interest in both our Satya Kriya Time Tuzla project, where real estate sales are ongoing, and the Satya Yayalar Pendik project, in which book-building process is continuing. Here is an issue that goes unnoticed: The middle-income bracket needs to have housing. Merely 20 percent of such families own their own homes and there is pending supply in the domestic market. Therefore, supply and demand must be brought together under the right conditions.
D.S.: How would you define your reasons for choosing Turkey for real estate investment?
Y.A.:
Turkey is mostly preferred by the Gulf region's investors today. The most important factor is Turkey's geopolitical position and cultural richness.
D.S.: What are your expectations for the real estate industry in Turkey for 2017?
The real estate sector is one of the most important sectors for the national economy because of both its added value and its positive effect on different sectors. As a result of both urban renewal projects and the Reciprocity Law, the interest of both Turkish and foreign investors in the real estate sector in recent years have proven satisfactory. This interest will continue to increase with the legal regulations and large-scale campaigns that have been introduced in 2017.
D.S.: What do you expect from the world's leading property market exhibition, MIPIM 2017?
Turkey and the Turkish real estate sector have a distinctive place in MIPIM. Turkey is proud to be an honorary country in MIPIM which is of critical importance for the country in the European arena. Even though hot sale figures are low in MIPIM, it is a good showcase for our sector.
D.S.: As you may know, some recently approved regulations; namely tax reductions, are enabling foreigners to buy properties in Turkey. Moreover, according to a new amendment, foreigners, who purchase at least $1 million worth of immovable properties without selling them within three years, will be eligible to acquire Turkish citizenship. How do you think these regulations will affect real estate sales to foreigners?
The objective of all legal regulations made in the sector is to provide added value for the economy and make Turkey an investment hub. It is important for Turkey to be a hub of both corporate and individual investments. We can achieve this with direct real estate sales. The sector is very actively working in this area. We are observing both legal regulations and the steps being taken by players in the sector, and we expect to reap the benefits of these steps in the first half of the year.