Traveling to a country that observes Ramadan, which falls on the ninth month of the Islamic calendar, and is believed to be the time when the Quran was revealed to Prophet Muhammad, has its own rules of etiquette. In Turkey, Ramadan is a time that can be memorable for international tourists. Keeping in mind some dos and don'ts might help visitors better plan their trip to the city. Historic mosques become more crowded during Ramadan as people visit and observe prayers both before and after iftar, the fast-breaking meal. Large masses gather to break their fast in areas close to the mosques, which host more people for the Tarawih prayer, a voluntary prayer that Muslims commonly observe throughout Ramadan. Here are some tips that can help both Muslim and non-Muslim travelers get into the Ramadan spirit.
Your guide to Ramadan in Turkey
Drummers pop up in dawn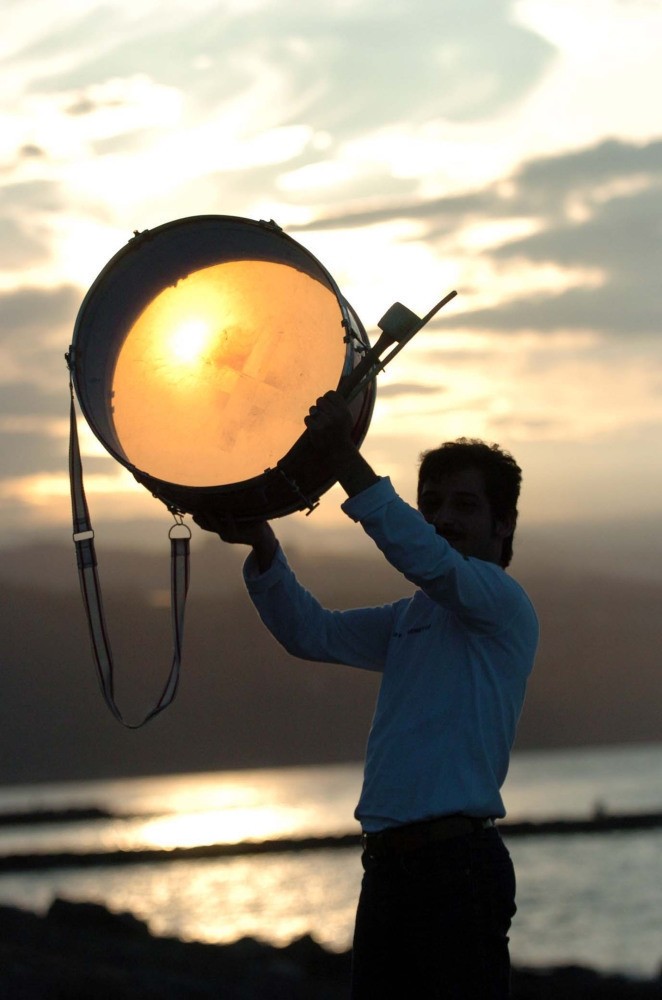 While enjoying a deep sleep in your hotel room or a friend's house, an unexpected drumming sound mixed with a man's loud voice may wake you up. These Ramadan drummers are employed to help Muslims wake up for sahur, the pre-dawn meal, and take to the streets for the entire month. Although the tradition is dying out, you can still see them appear on the streets in the middle of the night, beating their drums in a rhythmic manner and reciting "mani," a Turkish folk poem tradition. Some of them appear in traditional clothes and each neighborhood has its own drummer. People sometimes give them money for the work they do.
Waiters serve 'İftariyelik'
Both luxury and budget-friendly restaurants have special iftar menus for customers. The tables are adorned in a traditional Turkish way with sherbets, samovars filled with fresh tea and "iftariyelik," appetizers generally consumed before the main course. In Turkey, dates and olives are staple Ramadan appetizers, and they are the first foods to be eaten when breaking the fast. However, it is also possible to break the fast by drinking water. Eating dates during Ramadan is a very old tradition, dating back to the time of Prophet Muhammad, who recommends consuming it for its health benefits such as its anti-inflammatory effect.
Mahya: An old craft

In each city, big mosques are decorated with the celebrated craft of "mahya," illuminated messages placed between two minarets during Ramadan. The dangling lights feature religious messages like "Ramazan Berekettir" (Ramadan is bountiful), "Hoşgeldin Ramazan" (Welcome Ramadan), "On bir ayın sultanı" (The sultan of eleven months). The language of mahya also changes in certain places in the city, so travelers may come across Arabic and English messages on Istanbul's mosques. The tradition of mahya also dates back to the Ottoman era in the early 1600s. Also, many mosques are illuminated when the evening call for prayer, the adhan is recited, especially in Ramadan, a sign for the public that it is time to break fasting.
Eid al-Fitr
Eid al-Fitr is a three-day holiday to mark the end of the Islamic month of Ramadan. Many Muslims attend communal prayers and give alms during this holiday. Elderly people are visited, relatives gather at dinners and entertaining activities are organized for children to celebrate the occasion.

Top Tips

Try iftar or sahur: In Muslim countries, food and entertainment services in hotels and other public venues may be influenced with the arrival of Ramadan. In Istanbul, many five-star hotels, luxury and budget restaurants in addition to special tents are serving iftar or sahur with traditional food and cultural decorations. As they are open to all, it would be nice to attend one of these and participate in the Ramadan spirit.
Do charity work: One of the main principles that practicing Muslims are expected to remember in Ramadan is that this month is a time for generosity. Muslim communities make donations and hold iftar meals for the poor and the less fortunate. Every year, Turkish aid organizations buckle down during Ramadan to reach out to as many people as they can around the world. Ramadan's charitable atmosphere can be a chance to engage yourself in helping people in need. Charity events by both institutional and private groups like Turkish Red Crescent, an organization similar to Red Cross, Turkey's Presidency of Religious Affairs (DİB) and expats are available to help refugees or the poor.
Join Ramadan events: Tourists traveling to Istanbul in Ramadan are probably the luckiest groups to soak up the Ramadan atmosphere. Various Ramadan events are ting place along the Yenikapı coast, Maltepe Park and the historic Sultanahmet Square, where old Ramadan traditions have been revived. Join Ramadan festivities to celebrate the holy month with local people. Watching Sufi dervishes at Galata Dervish Lodge is highly recommended.
Be respectful: Those who want be kind to someone fasting in Ramadan may say or greet with "Ramadan Mubarak" or "Ramadan Kareem" ("Hayırlı Ramazanlar" in Turkish), meaning "Have a blessed Ramadan." Another traditional saying that is heard either before or after the iftar meal is "May God accept your fast." For Muslims, fasting during Ramadan is mandatory, but some groups are excluded from this practice. Pregnant women or breastfeeding mothers, people who are very sick, travelers, or those in bad health should not fast. Children that have not reached the age of puberty are not required to fast.