For those who fast in Ramadan it is important to eat healthy and besides eating healthy, what is also important is to be able to sit at a delightful iftar (fast breaking meal) table. This week I would like to tell you about a few places in Istanbul where you can experience a pleasant iftar.
My first suggestion would be Atlas Balık along the Bosporus. The seafood restaurant gets its name from Greek mythology's Atlas, son of legendary mermaid Klymene, who carries the world on her shoulders.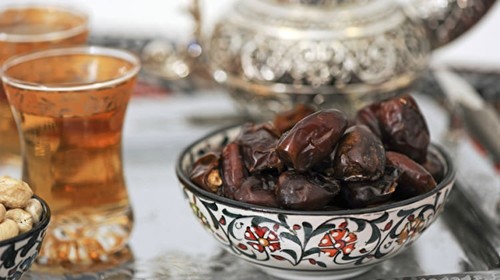 With its rich seafood choices, this particular restaurant is preferred by those looking for a variety in iftar. The restaurant in Istanbul's Arnavutköy district offers a beautiful views of the Bosporus with its seafront location.
Among its Ramadan-exclusive flavors, I loved the Ottoman style seabass and the light salads. Atlas Balık makes its own pide flat bread during the holy month of Ramadan and offers a variety of "meze" (delicatessen). Out of the different meze options, I loved the eggplant puree and the one with tahini.
The decoration of the place bears Turkish tones with some turquoise wicker sofas and Piri Reis maps on the walls. Atlas Balık can be a good option for family, work or group dinners.
My second suggestion along the Bosporus is a pearl of the Anatolian shore, Lacivert Restaurant. Right at the pier of the second bridge, the restaurant really mesmerizes with its magnificent views.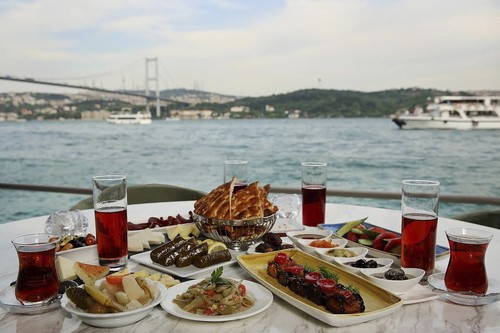 As for starter on their iftar menu, prepared by their Executive Chef Hüseyin Ceylan and his team, the "iftariye Dish" includes flavors like Konya molded cheese, smoked Circassian cheese, Kars gruyere, beef ribs, smoked meat, Kayseri pastrami, buffalo cream and Medina dates. All the flavors are carefully collected from Anatolia.
Antep style vegetarian dried stuffed eggplant and mücver, prepared with herbs from Mount Ida enables you to smoothly move to the main dinner. My suggestion for the main course would be siyez bulghur with lamb meat or umbra on eggplant puree with mastic.
Besides the most popular Ramadan desserts like güllaç and ekmek kadayıf with cream, other desserts such as keşkül, a pudding made of almonds, and Hatay pumpkin desert with tahini crown add variation to this exclusive iftar menu.
Guests can reach Lacivert in just four minutes, without getting into the Istanbul's traffic, by Lacivert's very own boat that makes trips from Rumelihisari to the restaurant, free of charge.
My last suggestion on the Bosporus shore would be the Feriye Restaurant. Feriye's story begins in the second half of the 19th century when the Ottoman Sultans moved from the Topkapı Palace to their sumptuous palaces on the Bosporus.
It used to be a police station during Ottoman time and is still considered as one of the most interesting examples of Ottoman Architecture from that period. It was restored by Kabataş Boy's High School Education Fund in 1995. Today, however, the Feriye Palace hosts guests with its rich and varied menu.
You're going to love the menu that offers Turkish and Ottoman cuisines, prepared especially for the month of Ramadan, under the supervision of Executive Chef Aydın Demir.
Besides sherbets and jams, you are sure to have a good start to your dinner with their cold starters. Strained lentil soup, originating back to the Ottoman period, Feriye's traditional herb soup, Bosnian pastry products, Hünkâr Beğendi Kebab, lamb tandoori and Islim Kebab are just a few of the dishes prepared especially for Ramadan.
You're going to have a hard time deciding on the desert as it is offered in an open buffet. Starting with the most popular Ramadan dessert Güllaç, baklavas, milk puddings, mousse with tahini and molasses, kadayıf and seasonal fruits dominate the long list of this special menu.
After an enjoyable iftar at sundown at the Feriye Palace, you'll have the time to enjoy the Bosporus with some tea or coffee with your family and the loved ones. The historical texture of the place and designs of the dinnerware is sure to put you in the right spirit for Ramadan.
It may feel good to walk a little after dinner after iftar during Ramadan. You can stop by the Sultanahmet square, Üsküdar or Eyüp to enjoy the special Ramadan programs. Booths selling souvenirs, nostalgic flavors like paste and sherbet will only add to the delight.
I would suggest you visit artists exhibiting the art of marbling. In addition, you can also capture the memory of a pleasant Ramadan by posing for photographers using Polaroid cameras. Wishing everyone a happy, healthy and holy Ramadan!

Tips of the week

Top 3 Venues of the Week

- Lacivert / Anadoluhisarı
- Atlas Balık / Arnavutköy
- Feriye / Ortaköy

Top 3 Hotels of the Week

- Paramount Hotel / Bodrum
- Viento / Alaçatı
- Sacred House / Cappadocia

Top 3 People to Follow This Week

- Şah Yaycı / Influencer
- Nedim Zeper / Businessman
- Çağatay Odabaş / Artist