Fossils dating to at least 3.77 billion years ago have been found in Canadian rock, providing the earliest evidence yet of life on Earth, scientists said Wednesday.
An international team of scientists uncovered organisms in rock that dates to at least 3.8 billion years ago and may be as old as 4.3 billion years.
The bacteria, which appears as red or white layers in rock, is at last 100 million years older than previous finds, the Canadian Broadcasting Corporation (CBC) reported.

They were discovered in quartz from the Nuvvuagittuq Supracrustal Belt in Quebec, where some of the world's oldest sedimentary rocks are found.
Details were published Wednesday in a study in the journal Nature.
Study co-author Jonathan O'Neil of the University of Ottawa said the fossilized remains are "the oldest record of life on Earth," CTV television news reported.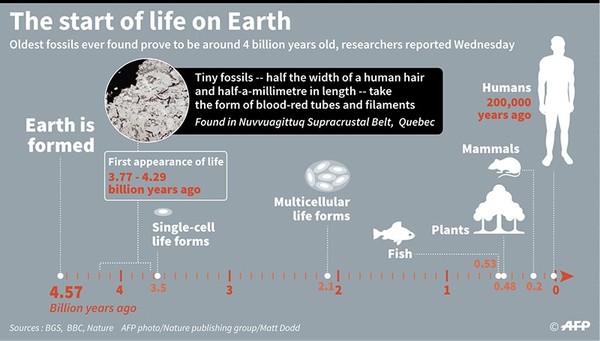 "It's impressive," he said, holding a rock from the Nuvvuagittug Greenstone Belt, the name of the area where the find was made. "We now have evidence in rock that I can hold in my hand that we had life already established extremely early on the Earth."
O'Neil said when the Earth was formed about 4.6 billion years ago, it was thought by scientists to be inhospitable with no water or life. The new find, along with other evidence, tends to disprove that idea.
"Within the last 15, 20 years we have more and more evidence that that's not the case," he said. "Very quickly after its formation, the Earth became closer to what it is today. We already have evidence of water at the surface of the Earth by about 4.3 billion years ago."
Scientists dated the age of the organisms using techniques similar to those used to determine the age of ancient space rocks.
Lead co-author Michael Dodd of University College London (England) said the discovery could lead scientists to new clues about how life on Earth and other planets emerged.
"These discoveries demonstrate life developed on Earth at a time when Mars and Earth had liquid water at their surfaces, posing exciting questions for extra-terrestrial life," Dodd said. "Therefore, we expect to find evidence for past life on Mars 4,000 million years ago, or if not, Earth may have been a special exception."
It was previously thought the earliest evidence of life on Earth was in rocks 3.7 billion years old found in Greenland, the CBC reported in August 2016.