Azerbaijan, the first country to host the European Games, sat ahead of the traditional European sporting powerhouses at the top of the Baku 2015 medal table as of Monday. Turkey have earned their fourth gold medal of the European Games after Rıza Kayaalp beat Azerbaijan's Sabahi Shariati in the men's 130kg Greco-Roman wrestling final.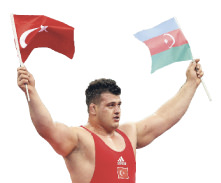 Kayaalp dominated the first period having collected three points, while Shariati was only able to claw back one in the second set of three minutes at the Heydar Aliyev Arena.
Elsewhere in the weight's bronze medal matches, Ioseb Chugoshvili and Heiki Nabi were able to earn medals for Belarus and Estonia respectively.
Turkey currently sit in third place in the medals table in Baku, with hosts Azerbaijan leading in first place and Russia in second. Kayaalp said that consistently working hard during training helped him to claim gold in the men's Greco-Roman 130kg final at the European Games. "I insisted that I put in all of my effort in order to make my country proud. I work so hard in training, even harder than in some of my fights today, hundreds of times - all so I can see the Turkish flag fly and hear the anthem," said Kayaaalp after the contest. "I did what was expected of me here, and I was able to win and hear the anthem."
Enes Erkan has also added European Games gold to his World Championships success of last year by beating Jonathan Horne in this afternoon's men's kumite +84kg final.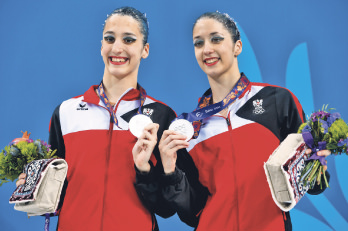 The 18-year-old beat his German opponent 2-1 in the gold-medal face-off in Baku to reign supreme, just like he did last November in Bremen. Meanwhile, Turkey's women national volleyball team defeated Italy 3-0 yesterday after they lost against Poland 3-2 in their first match in the tournament. Elsewhere, Austrian twins Anna-Maria and Eirini-Marina Alexandri won silver the medal in the women's synchronized swimming duet at the European Games yesterday, days after watching three team-mates get hit by a shuttle bus in the athletes' village. Tears flowed when the twins dedicated their medal to Austrian team-mate Vanessa Sahinovic, who is in a coma in hospital in Vienna after being run over by a bus on the eve of the Games in Baku.
Sahinovic, 15, was placed in an artificial coma after being flown back from Baku and undergoing a lengthy operation last Thursday. Elsewhere, the Czech Republic defeated Ukraine to claim the first ever European Games table tennis medal in the women's team event.
In the other branches, Gordon Benson secured Team Great Britain's first gold at the inaugural European Games in Baku yesterday by winning the men's triathlon.
Team Great Britain triathlete Gordon Benson exited the water on his way to winning gold at the European Games. The result means that Benson has qualified for next year's Rio Olympics.The Synchronized Swimming duets free routine was won by the Russian duo Valeriya Filenkova and Daria Kulagina at the Baku Aquatics Center. Austrians Anna-Maria Alexandri and Eirini-Marina Alexandri won silver, while Yana Nariezhna and Yelyzaveta Yakhno of Ukraine took bronze. Russia finished on 169.0568 points, while Austria had 162.8395 points and Ukraine won bronze with 161.6500.The high-ranked German side lost 3-1 to Russia in the men's volleyball. Germany coach Vital Heynen received a red card for his courtside behavior as his team went down to a weakened Russia 3-1 on Sunday evening.
Heynen was incensed after he was denied the opportunity to challenge a point at the end of the third set, and voiced his frustration in forceful terms. Having withdrawn from the FIVB World League, Germany brought their strongest team to Baku, but came up against a determined Russian side, and lost the first set 25-20. The world's number seven team then hit back in the second set as coach Sergei Shliapnikov's team lost momentum, with a Marcus Bohme spike winning the Germans the set 25-20.The third set was another tight affair, but one that Russia came out on top 25-23, despite Heynen's protestations, when he was shown a red card by referee Kari Partiainen. In keeping with the previous three sets, the fourth was close as both teams traded points, before Russia found some consistency to close another lengthy encounter 25-21.In the final game of the night, Poland defeated France 3-2 in a see-sawing contest.