The Golden State Warriors won their first NBA championship in 40 years. At age 33, Serena Williams completed a Serena Slam and came within one major title of a calendar Slam. At just 21, Jordan Spieth became the youngest golfer to win the first two legs of a Grand Slam. Carli Lloyd scored a record three goals in the World Cup final to lead the U.S. to the championship. American Pharoah won horse racing's first Triple Crown in 37 years. Here is a collection of stories that helped define 2015.
April 12:
Jordan Spieth wins the Masters at age 21 by shooting 18 under par, tying the record held by Tiger Woods and drawing comments that he is the "next Tiger," which his girlfriend hopes will not be the case.
May 2:
After beating Manny Pacquiao, heavyweight champion Floyd Mayweather says he will retire unless he is allowed to keep fighting only one-armed boxers.
May 27:
Following the arrests of a half-dozen senior FIFA officials, Sepp Blatter declares, "I am shocked - shocked - to find that corruption is going on inside of FIFA!" He then orders investigators to shut down Rick's Cafe and takes his share of the winnings.
June 2:
Sepp Blatter announces he is "resigning" as head of FIFA, and then mulls whether to stay on anyway or take over as the head of the IOC, the NCAA, Russia's track and field federation and the University of Louisville basketball program.
June 16:
Steph Curry and the Warriors follow up the cross-Bay Giants' recent tradition of winning a World Series championship every even-numbered year with the tradition of winning the NBA championship every 40 years.
June 21:
Jordan Spieth wins the U.S. Open at the bizarre and heavily criticized Chambers Bay course after Dustin Johnson's possible tournament-winning putts on the 18th hole are upended by head groundskeeper Carl Spackler's attempts to blow up a gopher.
July 5:
Carli Lloyd scores three goals in the first 16 minutes of the World Cup final and Team USA goes on to whip Japan, which cannot come anywhere close to scoring enough against U.S. goalkeeper Han Solo.
Sept. 20:
100-year-old Don Pellmann breaks an astounding five world records in the 100-meter dash, shot put, discus, long jump and high jump at the San Diego Senior Olympics.
Oct. 31:
Triple Crown winner American Pharoah becomes the first horse to win racing's Grand Slam at the Breeders' Cup.
Nov. 1:
After 30 years, the Kansas City Royals win their first World Series, a championship so unexpected that not even Pete Rose bet on them.
Dec. 13:
After winning the first 24 games of the season, Golden State's hopes of breaking the Harlem Globetrotters' record streak finally come to an end when the Warriors fall in overtime.
2016 World Sporting Event Calendar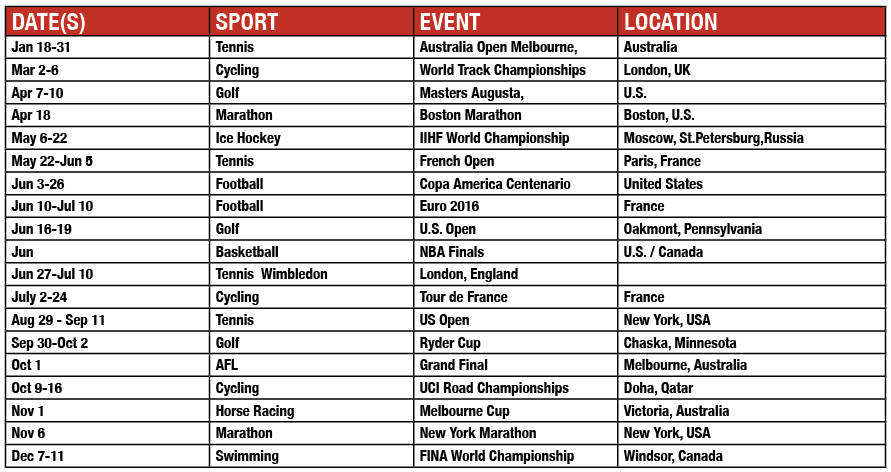 The major events of 2015 have been completed.