President Recep Tayyip Erdoğan and other world leaders that traveled to the United States to bid farewell to the World champion Muhammad Ali attended the funeral ceremony held in his hometown, Louisville. The presidential plane landed at 4 a.m. Thursday morning.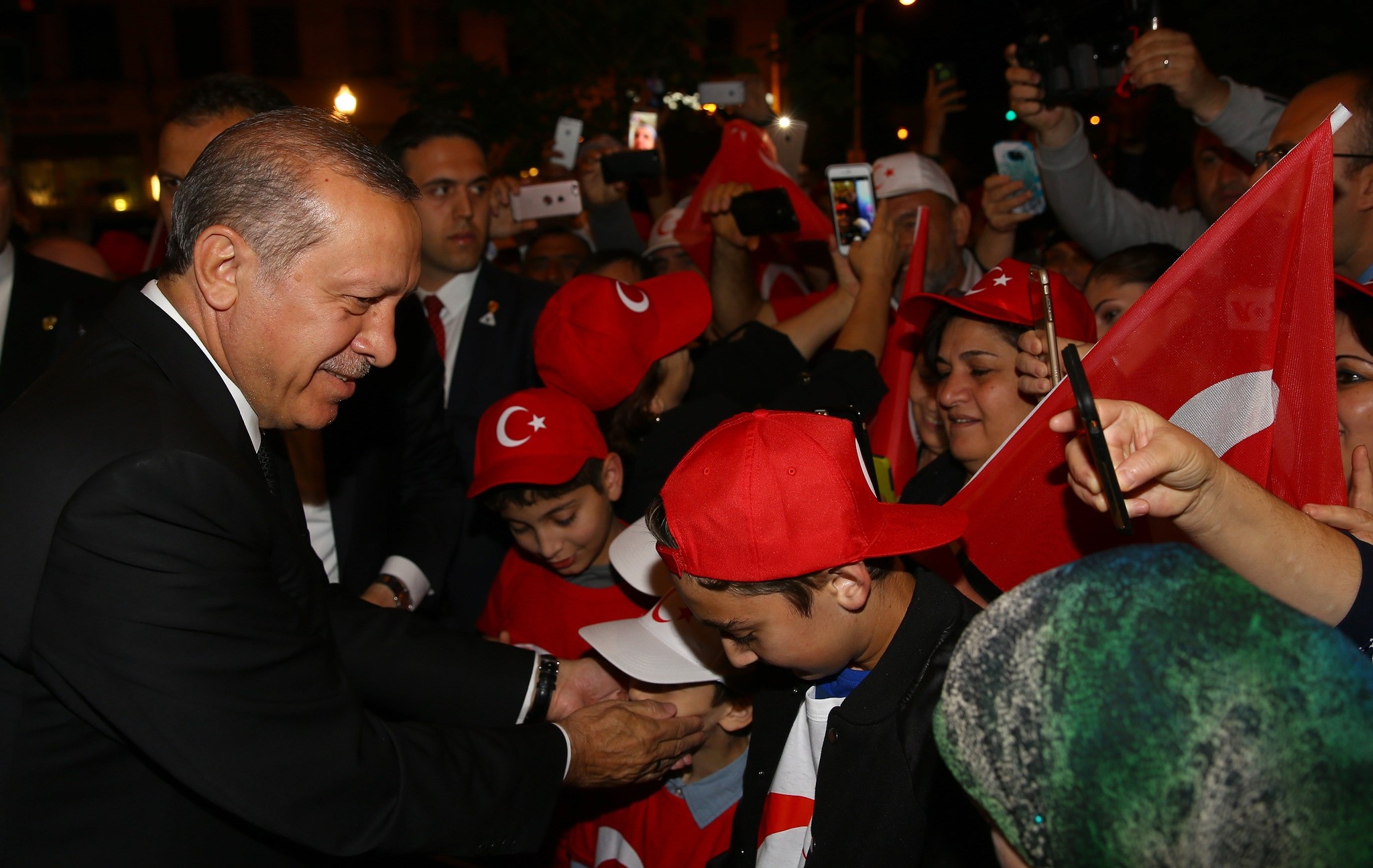 After the funeral ceremony of the boxing legend, the president met Hasim Shariff Rahman, a heavyweight world champion, who considered Ali as a role model for his career. In the meeting at the Muhammad Ali Center, Erdoğan gifted him his kufi – a traditional skull cap worn by Muslims worldwide.
President Erdoğan meets boxing champion Hasim Rahman, gifts his kufi at Muhammad Ali Centerhttps://t.co/bQaxeq4H8L pic.twitter.com/d30NGC7ucr

— DAILY SABAH (@DailySabah) June 9, 2016
Nicknamed "The Rock", Rahman began his professional career on December 3, 1994, at age 22.
Rahman is a former two-time heavyweight world champion capturing the unified Lineal, WBC, IBO, & IBF titles in 2001 with a shock defeat of Lennox Lewis by knock-out in the fifth round, however he subsequently lost them back to Lewis in the rematch, which was Rahman's first title defense and then capturing the WBC "Interim" title before being promoted to full WBC champion in 2005. He also captured the WBU heavyweight title from future WBO heavyweight world champion Corrie Sanders in 2000. Rahman has the distinction of being the only other man to have beaten Lennox Lewis the other being Oliver McCall in September 1994.
A boxing legend, Ali won the heavyweight title three times and was known for his unorthodox fighting style merging power and agility. Off the ring, he was famous throughout the globe for his charismatic personality, as well as social and political activism.
In 1976, Muhammed Ali visited Istanbul, where he met with thousands of fans. Here, Ali met with prominent late Turkish politician Necmettin Erbakan and performed prayers at Istanbul's Sultanahmet Mosque (Blue Mosque).
Muhammad Ali was remembered in tributes worldwide for his iconic fight for social justice as well as his legendary boxing battles.
In memory of Ali, Erdoğan said in a tweet: "May Allah have mercy on Muhammad Ali, whose courage, conviction and determination inspired all of humanity."
"Ali was an extraordinary athlete and a remarkable man of good deeds who conquered the hearts of millions," Erdoğan also tweeted. "This boxing legend's life-long struggle against racism and discrimination will never be forgotten," the president added.Ali, who died last Friday at 74, famously joined the Nation of Islam, the black separatist religious movement, as a young athlete, then embraced traditional Sunni Islam years later, becoming a global representative of the faith and an inspiration to other Muslims. In addition to the traditional funeral prayers, an interfaith memorial service is planned for today which will include representatives of several religions including Jews and Christians. Muslim organizations are asking mosques around the country to participate by saying a special prayer for Ali this week.Surprisingly, the first African-American President of the U.S. Barack Obama and his wife Michelle Obama will not be among those attending. "They will be attending Malia's high school graduation ceremony in Washington, D.C.," said spokeswoman Jen Friedman. Instead, a close aide to Obama "will read a letter from the president and the first lady as part of Friday's service in Louisville," said Friedman.
Earlier this week, Obama called Ali's widow, Yolanda "Lonnie" Williams to offer his condolences. He also remembered a man "who fought for what was right" and whose gloves sit in his private White House study. Local authorities have received more than 2,000 accreditation requests from U.S. and world media, and hotels in Louisville - no stranger to big events, as the home of horse racing's marquee Kentucky Derby - are booked solid.
EVENTS NOT POLITICAL BUT POSITIVE ASPECTS OF RELIGION
The memorials are taking place after a burst of assaults on U.S. mosques and Muslims following the extremist attacks last year in Paris and San Bernardino, California, as well as a sharp rise in anti-Muslim rhetoric during the presidential election campaign. Organizers of Ali's memorials say the events are not meant to be political. Still, many Muslim leaders say they are glad for the chance to highlight positive aspects of the religion through the example of the boxing champ.
"One of the most loved, one of the most recognized persons in the world happens to be a Muslim — everyone is coming from all over to celebrate this Muslim's death," said Imam Abdullah El-Amin, founder of the Muslim Center in Detroit, who will attend the prayer service. "They will see the true nature of the religion and the way that Muslims — the majority of Muslims — live."
Muslims typically bury their dead within 24 hours, but the timeline is not a strict obligation, and accommodations are often made, either to follow local customs or, in the case of a public figure like Ali, provide time for dignitaries and others to travel to the service. The world-famous athlete died in Arizona, and time was needed to transport his body to Louisville, Gianotti said. "Islam is about accommodating culture," said Imam Mohamed Magid, of the All Dulles Area Muslim Society, or ADAMS, one of the largest Islamic communities in the greater Washington, D.C. area, who will attend the Louisville services. "The most important thing is that the prayer will be done correctly." Gianotti said in a phone interview that he and three others — two Phoenix-area Muslims and Imam Zaid Shakir, a prominent U.S. Muslim scholar who will lead Thursday's prayers — washed, anointed and wrapped Ali's body within a day of his death. The body is typically wrapped in three pieces of simple fabric.
"The idea is to remind those who are still alive that when you came to life, you were completely money-less and you will leave money-less. What matters is if you live a simple life or do good," said Imam Yahya Hendi, the Muslim chaplain at Georgetown University and a specialist in Islamic studies. As is customary, the prayers Thursday will be said over the body, which in this case will be in a coffin facing Mecca.
The Jenazah service lasts only a few minutes, with people customarily standing in lines, divided by gender, as they recite the prayers. At Ali's service, Muslims lining up to join the recitation will be separated by gender, but the wider audience will not, Gianotti said.
The service is comprised of four recitations of "Allahu Akbar" or "God is Great," with silent prayers in between of a reading from the first chapter of the Quran, a blessing for Abraham, a general prayer for the well-being and forgiveness of the deceased for the next life, and a prayer for everyone at the funeral, Hendi said.
Shakir will lead the service at Freedom Hall, which he said in a phone interview will include a recitation from the Quran, a talk by an American Muslim scholar and some other remarks.
Ali is far from the first major Muslim leader to be publicly mourned in the United States.
When Malcolm X was assassinated in 1965, at least 14,000 people filed through the public viewing of the body, according to estimates at the time, while several thousand more lined the streets for his Islamic funeral, which was broadcast on TV. Organizers distributed a booklet at the service explaining the Muslim ritual, according to a report by The Boston Globe.
His widow, Betty Shabbazz, died in 1997 and was mourned in a funeral at a New York mosque and a memorial service at Riverside Church that drew dignitaries, including a representative from the White House, among the thousands of mourners. A much smaller funeral was held in 2008 in suburban Chicago for Imam W.D. Mohammed, considered one of the most important Muslim leaders in North America for bringing thousands of blacks out of the Nation of Islam into Sunni Islam.
Still, none had the global stature of Ali, nor access to the technology that will bring his Jenazah service to a worldwide audience. "I think just the significance of Muhammad Ali, of what he represented, the sacrifices he made, the stands that he took, the grace with which he accepted his illness — all of these things and many, many more — magnified his stature to such an extent that the community loves him," said Shakir, who has worked with the Ali family for years. Ali planned the services to reflect his desire that "people come together and have an opportunity to appreciate the love and the peace and the unity that can be generated by a single great soul."

Greatest of all time

Cemal Kamacı, a prominent Turkish boxer whose career spanned roughly the same period as Ali's, said: "The world has not seen a boxer like him. He was a boxer who could knock out his opponent at any moment."
The 73-year-old, a former super lightweight who was the first Turkish boxer to win a European title, recalled meeting Ali in a gym during a trip to the U.S.
"When he learned that I was a Muslim he hugged me," Kamacı told Anadolu Agency.
Elsewhere in sport, Turkey and Barcelona footballer Arda Turan tweeted: "RIP the greatest of all time."
Hidayet Türkoğlu, a former basketball player and now an advisor to Turkey's president, said Ali conquered hearts and boxing rings while Deputy Prime Minister Numan Kurtulmuş paid tribute to Ali as "a world star as well as a strong voice for Muslims."
Turkish Foreign Minister Mevlüt Çavuşoğlu wrote in a tweet: "Muhammed Ali, who was a source of inspiration for thousands of people with his sports prowess and faith, has passed away. May he rest in paradise."
Turkey's former Prime Minister Ahmet Davutoğlu also sent a tweet on Muhammad Ali: "May Allah with His mercy embrace Muhammad Ali, defender of human rights, who fought not with his fists but with his mind and soul." Davutoğlu added that the current [racial] debates in the U.S. presidential elections show how important Muhammad Ali's legacy is.
Kemal Kılıçdaroğlu, leader of the main opposition Republican People's Party, highlighted Ali's stand against injustice and unfairness and many social media users commented on his opposition to the Vietnam War in spite of the damage it did to his early career.

Turkey mourns Muhammad Ali's passing

The death of boxing legend Muhammad Ali was greeted with widespread grief across Turkey, particularly among boxing figures and fans. Seyfullah Dumlupınar, coach of the Turkish boxing team, described the loss of the man widely recognized as the world's greatest boxer and one of its most influential sporting figures. "Boxing lost its father and idol," Dumlupınar, 48, told Anadolu Agency. "Because of Ali, many people became boxers and Muslims." Dumlupınar said he had been inundated with phone calls from friends and members of the boxing community grieving Ali's death. "Ali was a legend," Eyüp Gözgeç, chairman of the Turkish Boxing Federation, said. "He had a unique style and profile, as well as an exemplary persona." Gözgeç said Ali's death was a tragedy for Muslims as well as boxing fans. Ali was known as Cassius Clay before he embraced Islam in the early 1960s with the Nation of Islam, which combined Islam with black political activism, before turning to Sunni Islam in 1975.