At the 2017 European Youth Olympic Winter Festival (EYOF 2017), set to take place between Feb. 11-18, eight athletes will have the honor of representing Turkey in its first ever participation in a biathlon event. The group has been undergoing some intensive training at the Kandilli Sky Center in Aşkale, Van.
Turkey's Coach, Nihan Erdiler, said, "We have been working hard for a long time to prepare for the EYOF. We are aiming high; we have gotten some good results in competitions we participated in before. This makes us hopeful of good results at the EYOF."
Meanwhile, Erdiler said that with Turkey's rivals being very strong, they had some very well planned preparations.
"There are some very difficult competitions ahead of us. We hope to find a place in the middle rankings among these rivals. I hope our efforts will not be in vain. Although the biathlon is a new branch of sport for us, we are at a good level. We will give it our best to represent Turkey," he said. "We are putting in a lot of effort to popularize the biathlon in Turkey. It is not very well-known here and it is not as popular like it is in some other European countries. However, our athletes have shown great development and success within a short period of time. We think it is very important to make the biathlon more popular in Turkey. Thanks to the EYOF, we will be able to promote the biathlon in Turkey and hopefully our athletes will become successful. The fact that their families will be watching them will make them even happier. They want to win medals. I hope they will achieve that," the national team coach said.
"Last week, our athletes brought in some good results at a competition held in Slovenia. We are expecting similar successes in the EYOF," Erdiler added.
One of the Turkish biathlon athletes, Gülşah Aga said that she has been a skiing athlete for six years and has been performing the biathlon for the last two years.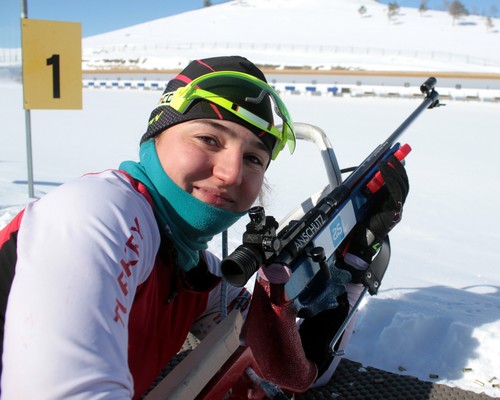 "The biathlon is more difficult than other sports. It requires focus and strength, but we love it and have fun while doing it. I hope we will be able to represent Turkey in the best way possible. We are happy that the EYOF will be held in Turkey. We are very excited," she said.
The EYOF 2017 had initially been planned for Sarajevo and east Sarajevo, Bosnia and Herzegovina, whereas the 2019 event had been planned for Erzurum. In November 2015, the two cities agreed to swap their events because Sarajevo could not be ready in time, while Erzurum already had facilities in place from the 2011 Winter Universiade.
Jacques Rogge, the former president of the International Olympic Committee, became the founder of the EYOF, originally called EYOD (European Youth Olympic Days) at the beginning of the 1990s. Summer sports had their premiere in Brussels in 1991 and the winter sports followed, two years later, in Aosta, Italy.
"This Festival provides young European athletes with great motivation, as it renders sense to their carriers from the very beginning," Rogge said.
Since 1991, many stars announced their arrival at these summer and winter festivals, and later won medals in European championships, World Championships, World Cups and even at the Olympics.